Facebook Privacy: Three Ways to Safeguard Your Facebook Profile and Posts
Want to ensure that only the right people can view your profile, read your content, and tag you on Facebook? Facebook has recently simplified its privacy settings, making it easier to control exactly who can see your content[md]and who can't. In this video article,
Using Facebook
author Patrice-Anne Rutledge shows you three ways to protect your privacy on Facebook and demonstrates the many options available on the Privacy Settings page.
Like this article? We recommend
Managing your privacy is a concern for every Facebook user. You want to enjoy using Facebook to share with family, friends, colleagues, and other likeminded people, yet you still want to be in control of who can see your posts as well as how other Facebook users interact with you. In this article I'll show you three ways you can specify privacy settings on Facebook and walk you through the options on the Privacy Settings page in a video tutorial.
On Facebook you can:
Specify who you want to share each wall post with. When you share content on your wall, click the audience selector and choose who you want to share with (see Figure 1). Your options include sharing with the public (everyone), your friends, people on a list, or a customized group of people. Facebook displays the last audience you shared with by default, but you can change this for each item you share. You can also change the privacy setting of content you've already shared.

Figure 1 You're in control of deciding whom to share each wall post with.

Specify who can view each section on your profile. Click the Edit Profile button on your profile and then select your preferred privacy setting from the drop-down list to the right of each section (see Figure 2). For example, you might want to display your relationship status, friend list, and favorite activities only to your friends rather than to the public.

Figure 2 Establish privacy settings for each section on your profile.

Control your overall privacy settings. The Privacy Settings page enables you to control your privacy across Facebook features, such as who can send you private messages, post on your wall, tag you, check you into Places, and so forth. The video below walks you through the many privacy options available on the Privacy Settings page.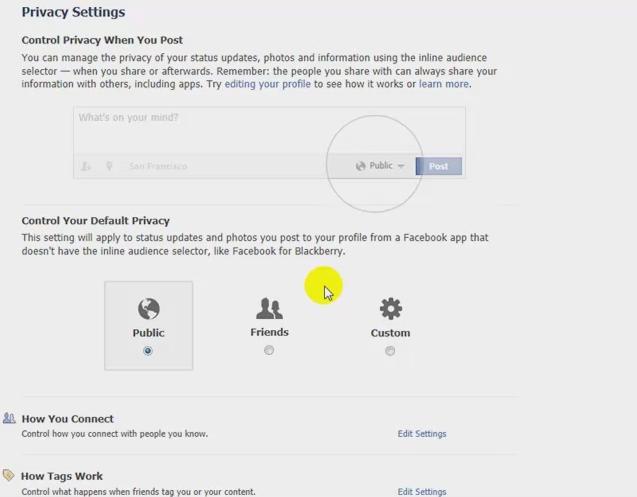 You need to upgrade your Flash Player. You need version 9 or above to view this video. You may download it here. You may also see this message if you have JavaScript turned off. If this is the case, please enable JavaScript and reload the page.