LinkedIn Profile Power: Give Your Profile Some Pizzazz with LinkedIn Applications
Want to enhance your LinkedIn profile's wow factor and add content that generates better profile results? Use LinkedIn applications to display a variety of content on your profile including blog posts, your resume, your portfolio, a company brochure, presentations, and more. In this video article, business technology author Patrice-Anne Rutledge shows you how to choose and install the right applications for your profile.
Like this article? We recommend
LinkedIn applications are optional extensions to LinkedIn that enhance your profile content, give your profile the wow factor, and provide additional information that attracts potential employers and clients. LinkedIn currently offers more than a dozen applications, with more in development. Here are a few of my favorites:
WordPress and Blog Link—display your blog posts
Box.net Files—post a resume, brochure, or other document
Portfolio Display—display a portfolio of samples, particularly suitable for designers and photographers
SlideShare Presentations and Google Presentation—display presentations and other documents (embed a YouTube video in your presentation to share video on LinkedIn)
LinkedIn applications offer many options for sharing information. At times, the number of choices is overwhelming. Although some applications are unique in terms of the features they provide, others overlap in their functionality. For example, both Blog Link and WordPress enable you to share blog posts on your profile (use Blog Link if your site isn't run on the WordPress platform). You can share presentations using Google Presentation, SlideShare Presentations, and even Box.net Files.
Here are some tips for making the most of LinkedIn applications:
Analyze how each application fits into your strategic plan and helps you meet your goals. Just because something sounds interesting doesn't make it worthwhile to add.
If more than one application performs the same function, compare features before you pick one to use. Fortunately, LinkedIn applications are easy to add and remove.
Focus on quality rather than quantity when choosing the documents and presentations you would like to share. A resume, portfolio, or presentation that highlights your business can enhance the effectiveness and reach of your LinkedIn profile, but don't add so many documents that the important ones are lost in the mix.
In this video, I'll teach you how to add applications and show some sample applications on an actual profile.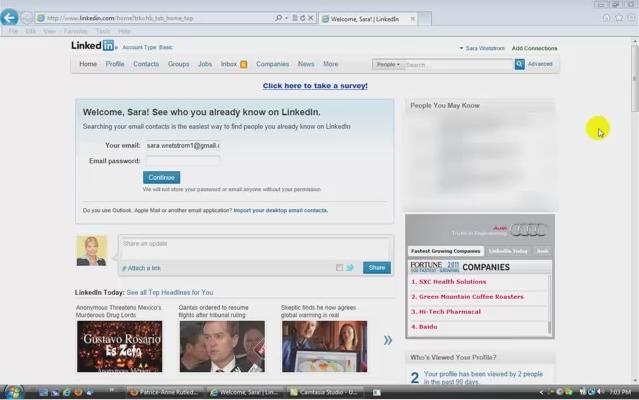 You need to upgrade your Flash Player. You need version 9 or above to view this video. You may download it here. You may also see this message if you have JavaScript turned off. If this is the case, please enable JavaScript and reload the page.
Related Videos: