iOS Developer's Bookshelf: A Reading List by Michael Bluestein
MonoTouch developer Michael Bluestein shares some of the most important books in his programming library and explains why each is so valuable.
Like this article? We recommend
Michael Bluestein is a software developer, consultant, and active participant in the MonoTouch developer community. A former Principal Software Engineer at Dassault Systèmes Solidworks Corporation, he has developed software professionally since the early 1990s. Michael is the author of Learning MonoTouch: A Hands-On Guide to Building iOS Applications with C# and .NET.
Cocoa Design Patterns, by Erik M. Buck and Donald A. Yacktman
This is a fantastic book for understanding the concepts behind the design of Cocoa and how to apply them in your own applications. Also available in Safari Books Online.

Cocoa® Programming for Mac® OS X, 4th Edition, by Aaron Hillegass
The third editon of this book is the first book for developing on Apple technologies that I read. If you have development experience on another platform and want to get started with Cocoa, this is where to begin. [Editor's note: We've linked to the 4th edition above, which will be available in early- to mid-November 2011. Until then, the 3rd Edition is still available.] The third edition is also currently available in Safari Books Online (4th Edition coming to Safari Books Online soon).

Expert F# 2.0 (2010 Apress, ISBN 9781430224310), by Don Syme, Adam Granicz, and Antonio Cisternino
Learning F# is one of those things that will make you a better programmer. Lots of interesting ideas from F# are making their way into C# as well.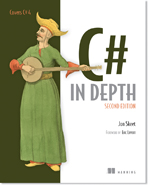 C# in Depth, Second Edition (2010, Manning Publications, ISBN 9781935182474), by Jon Skeet
I've written a lot of C# code and read many C# books, and this one is the best hands down. In fact, it's not even close. There is a new edition out now too. Just buy it.