Google+ Pages for Business and Brands: Six Steps for Success
␡
1. Understand the Difference Between a Google+ Page and a Google+ Profile
Patrice-Anne Rutledge offers six tips for making the most of your Google+ page. Learn how to promote your business with a photo scrapbook, connect your page to your website and AdWords account, create a Google+ badge, enhance your search engine visibility, and more.
Like this article? We recommend
In November 2011, Google launched Google+ Pages, which enable businesses, brands, and organizations to create a presence on the Google+ network. Within a week, more than 60 percent of the world's top brands had created a Google+ page to take advantage of the online visibility and SEO benefits that pages provide, with many smaller organizations quickly following suit. In this article, I offer six tips to help you make the most of your Google+ page.
1. Understand the Difference Between a Google+ Page and a Google+ Profile
At first, the difference between a Google+ page and a Google+ profile seems pretty clear. A profile is for an individual person; and a page is for a business, brand, or organization. In addition, Google+ identifies pages with the Google+ Pages icon, which displays to the right of the page name, as shown in Figure 1.

Figure 1 Google identifies pages with a square icon.
When you pause your mouse over the square grey icon, it changes color and displays the word "page" next to it.
There are other more important differences between pages and profiles, however. Figure 2 offers a quick overview of these differences.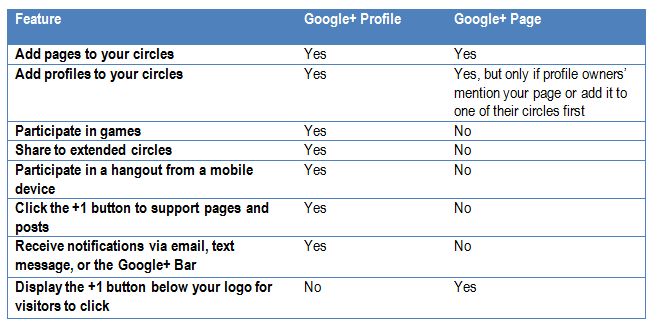 Figure 2 Google+ pages and profiles have some distinct differences.
Understanding what you can—and can't—do with a Google+ page is critical to your page's success. This knowledge makes it easier to develop a solid Google+ page strategy and to integrate your page with the profiles of those who work for your company.