For years The C++ Primer from Stan Lippman, Josée LaJoie, and Barbara E. Moo has been a favorite among those who want to add C++ to their language set. We take a look at why it's become such a well-loved classic.
Not intended for those new to programming, but more appropriate for those with at least some basic experience, the most common praises attributed to this introduction to C++ are: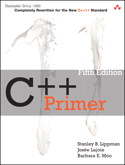 Complete
Detailed
Well organized
Well written
Those who have found it useful call out the way the book builds slowly on each concept, providing "building blocks" for easier learning and the numerous exercises are appreciated. Many folks keep the book around as it has proven to be a useful reference as well. One of the most valued attributes for the book is the way this author team presents object-oriented programming (OOP) concepts, which can be tough for anyone, regardless of their programming experience.
With over 200 positive reviews for the just the last two editions alone, The C++ Primer is proving to be a favorite for learning C++!
If you are interested in more about what's new in C++ and the book's approach, check out our interview with author Barbara Moo.