On a Saturday in early February I was fortunate to attend NYCBSDCon, an event organized by the New York City BSD User Group (NYC*BUG), and the 5th such event it's produced since 2005.
We've had the opportunity to sponsor each one, while representing our professional technical publishing brands, with an emphasis on some of Addison-Wesley and Prentice Hall Professional's most renowned texts on C, Unix and network programming. In keeping with past experiences, I enjoyed chatting with the friendly, enthusiastic and well-informed attendees, hearing about their appreciation for our authors and learning products. For my part as a public relations and community manager, I divide my time across many technical communities, representing a diverse range of operating systems and languages; so while the technical details of the day mostly escaped me, I sought to hone in on what defines the essence of BSD!
For Starters: NYCBSDCon In 2014- What Were Its Goals?
According to George Rosamond, a long-time leader within NYC*BUG, the objectives for this year's event were to keep it short (one-day), focused in subject matter, primarily local in attendance, and to recruit some new faces from outside the BSD community. About (100) attendees turned out to Suspenders Restaurant in downtown Manhattan, making it a sold-out house!
BSD: What Makes It Unique as a Technology & A Community
According to Rosamond, "In BSD, there is a commitment to the ideals of the Unix tradition: that is, code clarity, detailed and accurate documentation, the notion of 'the right tool for the right job,' and more. All these lessons remain relevant when building or administering systems today. These lessons also serve to reinforce the mindset that a lot of the questions currently faced by programmers and administrators, from virtualization to security modeling, are not newly discovered issues. We need to stop thinking that we are facing completely new questions and that the past has no useful answers." He continued, "As such, we believe there is strength in appreciating the lessons of the giants on whose shoulders we all stand."
On a practical note, Rosamond said the very clear two- and three-clause BSD licenses simplify development, enabling an enormous leap in the usage of BSD-rooted software, as evidenced by: the significant impact on Apple's Mac OSX and iOS; Blackberry's QNX operating system; the widespread utilization of FreeBSD in appliances from backup device firms like NetApp and EMC Isilon; not to mention, OpenBSD's OpenSSH suite dominating the market. And pulling an example from the conference itself, speaker Scott Long highlighted the role that FreeBSD plays in Netflix's massive data distribution operation.
Author Chat with George Neville-Neil
I also spoke with notable NYCBSDCon attendee George Neville-Neil, co-author of the best-seller, "The Design and Implementation of the FreeBSD Operating System", who also graciously answered some questions:
Q: What is unique/especially strong about the BSD community and its four projects (Dragonfly BSD, FreeBSD, NetBSD and OpenBSD)?
A: "The BSD projects draw their strength from their simple philosophy of sharing code without restrictions. From a technological standpoint, the fact that the BSDs are willing to experiment with large sub-systems, such as DTrace, Netmap and ZFS, means that we can all continue to advance our systems using stable and tested technologies."
Q: What were some of your best takeaways from NYCBSDCon 2014?
A: "ZFS is the wave of the future for large file systems and the work is happening now, in FreeBSD, where it's been shipping for several releases.The plethora of new tools to work with data stored in ZFS allows us to build systems that not only contain petabytes, and more, of data but also to manage that data effectively."
Q: What is the value of coming together face to face as developers working on a shared platform?
A: "While the Internet has many advantages, nothing compares to face to face discussions with other developers. Having over 100 folks interested in a topic in the same room gives a great cross-pollination effect as people overhear conversations and join in."
And, drumroll.... in a special conference launch, Neville-Neil announced publication of the new "FreeBSD Journal", a digital-only publication, covering all aspects of FreeBSD, set to publish six times a year, and now available on iTunes, Google and Kindle stores. (The 1st edition had a special hard-copy printing, held here by Neville-Neil)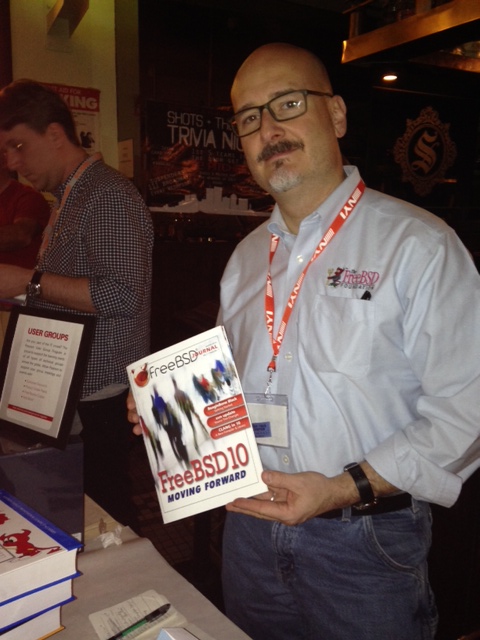 Q: Regarding the launch of the FreeBSD Journal, why did you consider now an opportune time to initiate such a resource?
A: "The FreeBSD Community needed a place where longer-form written content could be regularly published. While many open source projects depend on mailing lists, forums, and blogs to disseminate information, a high-quality, well-edited publication is something that can help both the project and our users. With the advent of electronic publishing technology from Apple, Google and Amazon, it's now possible to produce a magazine at a lower cost and with less hassle and so we felt that the technology had matured enough that we could use it to effectively reach a new, and broader, reader base."
In closing, hats off to NYC*BUG for their hard work in creating yet another community gathering space. To quote one attendee--the grand prize winner of our Donald Knuth box set, "I came to the event to learn more about BSD. As an engineer and Linux SysAdmin, I came away with a stronger understanding of what new technologies are out there in my field. The lectures were fascinating and the people very warm, tech savvy, and helpful. I plan to go to the next one and recommend anyone who manages networks or databases to do the same." -- Isiah Schwartz, Teledyne Lecroy
NYCBSDCon 2014: The Scene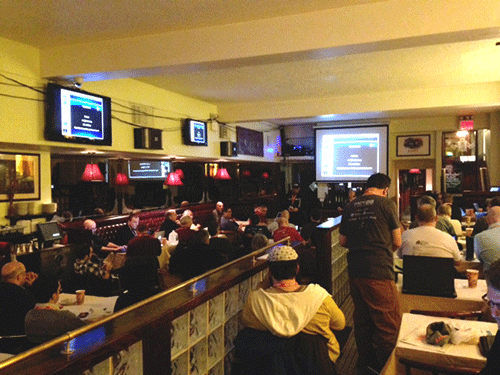 Speaker Dru Lavigne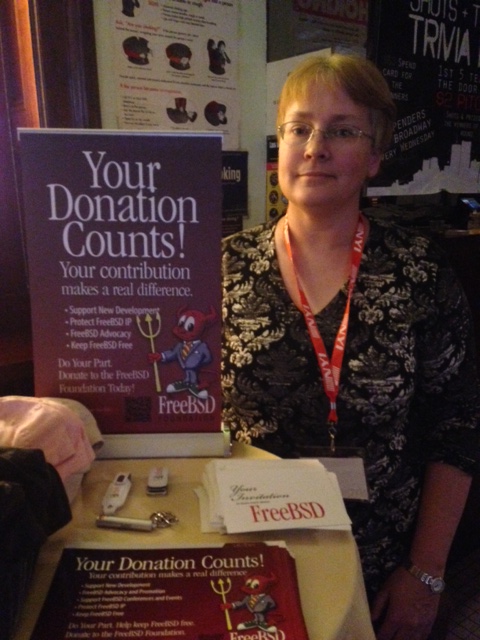 Will Backman (Host of the BSDTalk Podcast)