You can fix a lot of Windows problems – if you understand command-line utilities like NET, SC, and REGSVR32. Now, even if you're command-line-challenged, you can fix problems with Windows XP, Windows Server 2003 (and older versions, too) with Dial-a-Fix.
Dial-a-fix, a freeware utility developed by Michael Cook (aka 'DJLizard'), is a godsend for Windows XP and Windows Server 2003 users (as well as older versions back to Windows 98), enabling you to easily fix problems with:
Windows Update
Windows Installer (MSI) services
SSL/HTTPS/Cryptography
ActiveX controls
Control Panel applets
DirectX
programming cores and runtimes
Windows Explorer and other shell programs
Internet Explorer
OLE.
To fix a problem, click the appropriate checkbox, then click Go.
Behind the Magic
Dial-a-fix is actually a graphical front end for a large collection of scripts that use command line utilities such as regsvr32, net, and sc. By default, Dial-a-fix has tooltips enabled, making it easy to find out what it's doing. With tooltips enabled, click a checkbox, then hover your mouse over each selected repair step to display the actions it will perform.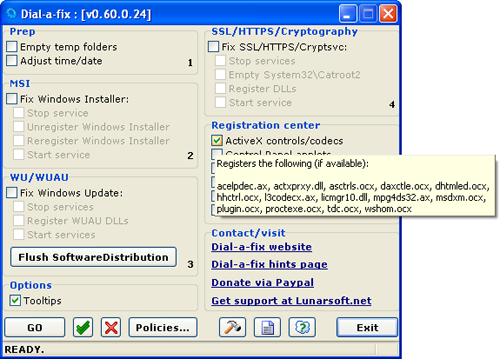 Saving Time, Trouble, and Typos
A couple of mouse clicks with Dial-a-fix can save you lots of time in solving Windows problems. You don't need to worry about typos or about downloading a lot of repair scripts.