Need to secure your wireless network? Windows XP SP2 makes it easy to create strong WEP or WPA keys for any Wi-Fi network.
One of the improvements included in Windows XP SP2 is its wireless network wizard. It's intended primarily as a way to set up a brand-new wireless network, but you can also use it to help you generate strong WEP or WPA keys without much effort.
To use it as a key generator, follow these steps:
1. Start it (click Start, All Programs, Accessories, Communications, Wireless Network Setup Wizard)
2. At the opening dialog, click Next.
3. Whether you have an existing wireless network, or not, select Set Up a New Wireless Network.
4. Click Next.
5. Enter any name for the SSID.
6. Select Automatically Assign a Network Key
7. If you want to create a key for a WPA network, click the Use WPA Encryption checkbox. To create a key for a WEP network, leave this checkbox empty.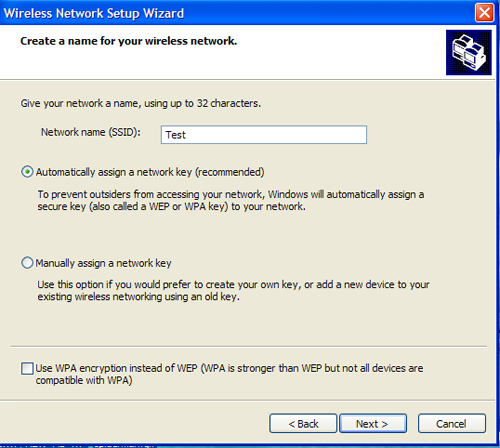 8. Click Next.
9. Select Set Up a Network Manually.
10. Click Next.
11. Click Print Network Settings.
12. Notepad opens, displaying a document with your network key.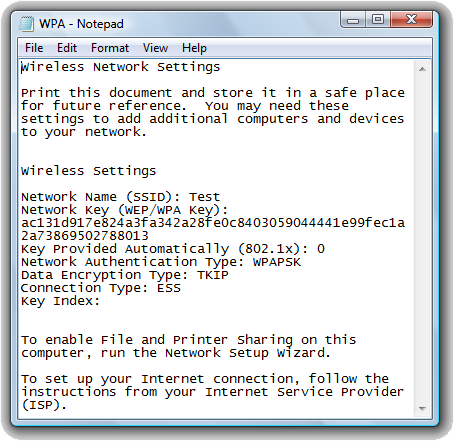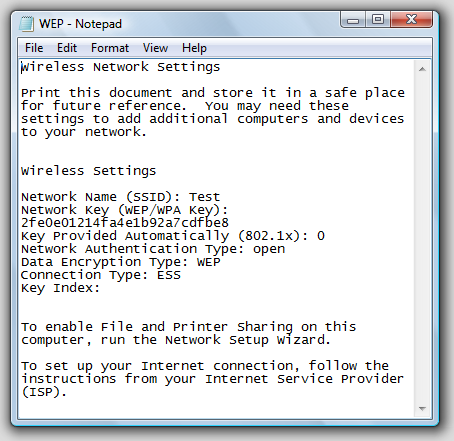 13. Save the document to a USB flash drive.
14. Use copy and paste to place the key into your router and client setup screens.
Begin Note: If your router and network adapters support Windows Connect Now, follow the instructions on the Windows XP: Windows Connect Now technology page to transfer settings to the router and client PCs.