Donald Knuth—The Art of Computer Programming


Countless readers have spoken about the profound personal influence of Donald E. Knuth's work. Scientists have marveled at the beauty and elegance of his analysis, while ordinary programmers have successfully applied his "cookbook" solutions to their day-to-day problems. All have admired Knuth for the breadth, clarity, accuracy, and good humor found in his books. For more about Donald Knuth's love of programming, read his interview with Quanta Magazine and listen to his ACMBytes podcast interview.

Primarily written as a reference, some people have nevertheless found it possible and interesting to read each volume from beginning to end. Whatever your background, if you need to do any serious computer programming, you will find your own good reason to make each volume in this series a readily accessible part of your scholarly or professional library.

eBooks include EPUB, MOBI, and PDF formats. Free shipping in the U.S.
Complete Volumes and Box Set
Fascicles and Supplements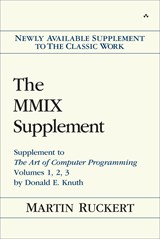 The MMIX Supplement: Supplement to The Art of Computer Programming Volumes 1, 2, 3 by Donald E. Knuth
Book:
$23.99 $29.99
eBook:
$19.19 $23.99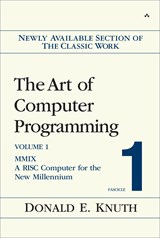 Volume 1, Fascicle 1: MMIX -- A RISC Computer for the New Millennium
Book:
$23.99 $29.99
eBook:
$19.19 $23.99
Volume 4 Fasicles 0-4 are included in the complete Volume 4A: Combinational Algorithms, Part 1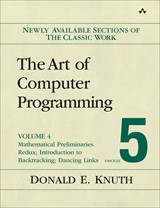 Volume 4, Fascicle 5: Mathematical Preliminaries Redux; Introduction to Backtracking; Dancing Links
Book:
$27.99 $34.99
eBook:
$22.39 $27.99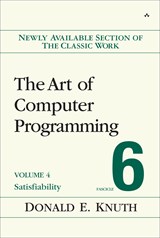 Volume 4, Fascicle 6: Satisfiability
Book:
$23.99 $29.99
eBook:
$19.19 $23.99
---
---
Displayed prices reflect our everyday savings price and are subject to change. Any discount codes are not valid on book + eBook bundles, book/eBook + video bundles, individual video lessons, non-discountable products, software, Rough Cuts, Safari Books Online, titles on promotion with our retail partners, or any title featured as eBook Deal of the Day or Video Deal of the Week. Discount codes may not be combined with any other offer and are not redeemable for cash.