"Beyond Requirements" Case Study: Commission System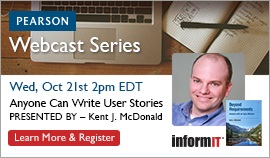 This chapter is from the book
Introduction
McMillan Insurance is a midsize health insurance company located in a midsize city in the middle of the United States. McMillan has grown through acquisition, and until recently one of its practices was to let each company keep its own identity when dealing with anyone outside the walls of headquarters. This included the relationships with independent agents and the resulting commission structures. This meant that Arthur, the manager of the commissions area, had to deal with a slew of different very unique commission rules down to the individual agent level, and the resulting hodgepodge of commission "systems" required to administer those different commission plans. McMillan has finished its acquisition binge and now realizes that some commonality needs to be introduced in many areas, including commissions.
Arthur was charged with making the commissions area more efficient, so his first instinct was to find a new commission system that would allow him to administer all the various commission plans in one place, while still maintaining all the unique commission structures. He sat down with a couple of more experienced members of his staff, and they started scouring the Internet for possible products. A quick search revealed several options. (Of course, this should have been obvious just from the seven different software applications McMillan had inherited from the acquired companies, only one of which was built in-house.)
It was at this point that they reached out to IT for some help figuring out what to do. Arthur was a little hesitant to do that at first because he was concerned that IT would want to build something in-house. He was pleasantly surprised when Heather, a business analyst from IT on the team, suggested that instead of immediately going out and looking for specific products they should step back and think about what need they were trying to satisfy. Heather and Arthur sat down to discuss the current situation and what Arthur hoped to accomplish.