Video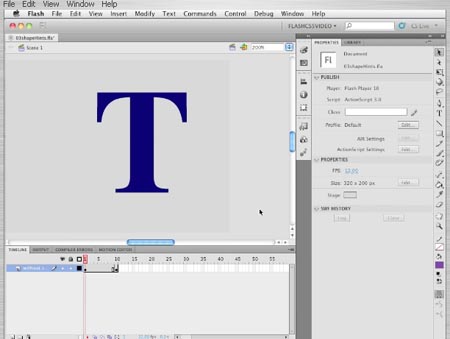 You need to upgrade your Flash Player. You need version 9 or above to view this video. You may download it here. You may also see this message if you have JavaScript turned off. If this is the case, please enable JavaScript and reload the page.

Copyright 2012
Edition: 1st
Online Video
ISBN-10: 0-13-269700-9
ISBN-13: 978-0-13-269700-2
Learn Flash Professional CS5 the quick and easy way with almost two full hours of video training from bestselling author Russell Chun. Get expert guidance on using the powerful new tools and important features in Flash Professional CS5. Explore the following topics:
Motion and Shape Tweening strategies

Using Masks and Inverse Kinematics
Working with Video in Flash
Understanding Objects, Classes, Methods, and Properties
Writing with Dot Syntax
Using Objects, Functions, and Code Snippets
Working with Buttons
Creating Continuous Actions
Working with Paths and Movie Clip Containers
Changing Visual Properties
Creating Drag-and-Drop Interactivity
Detecting Collisions
Generating Graphics, Shapes, and Motion Tweens Dynamically
Working with Sounds
Using Variables and Expressions
Creating Classic Text and TLF Text Fields
Keeping Track of Objects with Arrays
Sharing Library Symbols
Saving Files in an Uncompressed Format
Optimizing Your Movie
After you finish watching the video, continue to build your Flash skills with the author's bestselling guide, Flash Professional CS5 Advanced: Visual QuickPro Guide.
