Video
This video clip has been formatted and modified to fit this page. The actual video product provides a larger screen size and higher resolution, as well as standard player control tools such as fast forward, reverse, and scrubbing.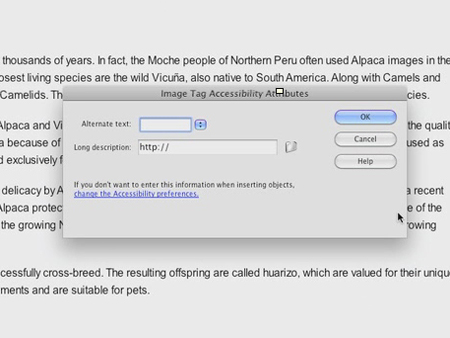 You need to upgrade your Flash Player. You need version 9 or above to view this video. You may download it here. You may also see this message if you have JavaScript turned off. If this is the case, please enable JavaScript and reload the page.

Copyright 2011
Edition: 1st
Online Video
ISBN-10: 0-13-248108-1
ISBN-13: 978-0-13-248108-3
With the release of Adobe Creative Suite CS5, Dreamweaver solidifies its role as the de facto tool of choice for anyone designing for the Web. Adobe Dreamweaver CS5 for Windows and Macintosh: Video QuickStart Guide covers the Dreamweaver basics and compliments the exercises in Adobe Dreamweaver CS5 for Windows and Macintosh: Visual QuickStart Guide (ebook or print book edition). Using a combination of task-based instruction and strong visuals, the QuickStart Guide will teach beginning or intermediate users how to create, design, and publish powerful, innovative Web sites with Dreamweaver. Leading technology authors Tom Negrino and Dori Smith take you step-by-step through the basics in Adobe Dreamweaver CS5, with completely updated information on critical tools like styling pages with CSS. You'll learn to create your first Web site, add text, style and lay out page content, manage styles, work with links, incorporate images, media, tables, forms, and frames, design site navigation, and so much more.

Table of Contents

Note: This product is meant to be used in conjunction with our print or ebook version of the Dreamweaver CS5: Visual QuickStart Guide. As such the first two chapters do not have an associated video.

Chapter 1: Introducing Dreamweaver
No videos for this chapter.

Chapter 2: Starting Your First Site
No videos for this chapter.

Chapter 3: Building Your First Page
3.1 Create your first page. 7:04
3.2 Add text to your page. 5:27
3.3 Name and save your page. 2:08
3.4 Preview your page in a browser. 4:28

Chapter 4: Adding Text to Your Pages
4.1 Applying HTML formatting. 7:43
4.2 Find and Replace. 7:44
4.3 Advanced Find and Replace. 4:54

Chapter 5: Including Images and Media
5.1 Add images and placeholders. 4:02

Chapter 6: Working with Links
6.1 Create, target, and format links. 8:56

Chapter 7: Styling Page Content
7.1 Introduction to CSS. 1:38
7.2 Working with tags. 7:22
7.3 Creating and using styles. 2:19
7.4 CSS tour of Dreamweaver. 7:54
7.5 Set styles with the Property Inspector and related files. 3:57

Chapter 8: Using Styles for Layout
8.1 CSS layout basics. 4:59
8.2 Laying out a page. 5:34
8.3 Laying out navigation. 8:58

Chapter 9: Managing Styles
9.1 Working with internal styles. 4:26
9.2 Working with external styles. 2:16
9.3 Using CSS tools. 5:22


