Agile Development: Are You Sure
You're Building the Right Thing?
Live Event • Wednesday, December 16 • 2:30 p.m. EST / 11:30 a.m. PST
Presented by Janet Gregory and Lisa Crispin
You're using agile development to build in quality and prevent defects, but are you building what your customers really want? In agile development, we focus on building quality in and preventing defects, rather than finding defects at the tail end of a development cycle. Focusing our testing efforts on the things customers care about most is key. In this webcast, Janet and Lisa will explain how testers and agile teams can ensure they are building the right thing. They'll give an overview of some frameworks that help elicit examples from stakeholders that will help you explore various dimensions of quality while gathering specifications. This includes using examples to create tests that help developers know they're delivering the right feature behavior. Janet and Lisa will also share tips of potential pitfalls to avoid during this process.
What you will learn:
Techniques to guide conversations about stories, such as example mapping and guiding development with examples and tests
Ways to change the testing mindset from finding bugs to preventing them
Ways to focus testing efforts on the areas of most value to customers
How to avoid time-wasting pitfalls of using examples to guide coding

Janet Gregory is the founder of DragonFire Inc., an agile quality process consultancy and training firm. Her passion is helping teams build quality systems. For the past ten years, she has worked as a coach and tester introducing agile practices into both large and small companies. Her focus is working with business users and testers to understand their role in agile projects.

Lisa Crispin is dedicated to helping agile teams and testers discover good ways to deliver the best possible product. She specializes in showing testers and agile teams how testers can add value and how to guide development with business-facing tests. Lisa joined her first agile team in 2000, having enjoyed many years working as a programmer, analyst, tester, and QA director. Since 2003, she's been a tester on a Scrum/XP team at ePlan Services, Inc..
This live event is limited to 150 attendees. Be sure to add this to your calendar, join the WebEx event, and dial-in early so you won't miss out on valuable information. A recording of this session and PPT presentation will be posted to this page around 2 weeks after the live event. All registrants will receive an email once these are available.
---

Save 40% on related books and eBooks*—use discount code AGILEWC
Agile Testing
Book *$35.99 $59.99
eBook *$28.79 $47.99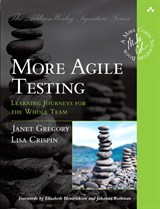 More Agile Testing
Book *$28.79 $47.99
eBook *$23.39 $39.99
Agile Testing eBook Collection
eBooks *$37.99 $62.99
---
* Book and eBook sale prices displayed reflect 40% discount achieved with purchase of eligible titles and application of discount code AGILEWC during checkout. Discount code AGILEWC confers 40% discount off the list price of ISBNs 9780321534460, 9780321770394, 9780321967053, 9780133749588, or 9780134190624 when purchased on InformIT.com. Discount may not be applied to book + eBook "Best Value" or "Additional Savings" bundles, Rough Cuts, Safari Books Online, non-discountable titles, or any title featured as eBook Deal of the Week. Discount code may not be combined with any other offer and is not redeemable for cash. Offer expires 11:59 p.m. EST Jnuary 16, 2015. Offer subject to change.