Content Update Program
Important Program Update
All content in the Content Update Program is now final. No further updates will be released. Please contact community@informit.com with questions.
Looking for new editions? Search the store.
---
What is the Content Update Program?
In response to customer requests for content that stays current with rapidly changing software, we created the Content Update Program for early editions of selected books.
Books in this program received periodic updates to address significant software changes for 12 to 18 months following the original publication date. Final updates to the Web Editions are now complete and will remain available in your account on informit.com.
Frequently Asked Questions
Q. How do I know if a product is part of the Content Update Program?
A. If you are looking at a physical book, there will be information on the cover and within the book indicating that the book was part of the Content Update Program. Look for the Content Update Program logo, as shown: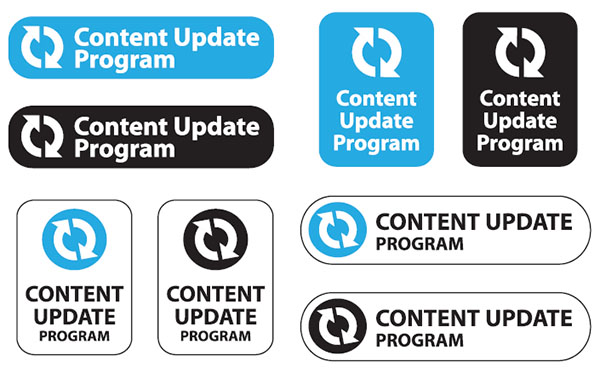 If you are looking at our website or a retailer's website:
The title will contain "Content Update Program"
The cover and product description will include information about the Content Update Program
A Web Edition will be available for sale on the book product page on quepublishing.com or informit.com (Web Editions are only sold on the Que and InformIT sites)
Look for the Content Update Program logo
Q. Where do I get the content updates?
A. The content updates are reflected in the current Web Edition of your book, which can be accessed with any Internet connection from your InformIT account.
Q. How do I access my Web Edition?
A. Instructions to access your Web Edition can be found within the product you purchased, typically on the inside front or back cover, or you can follow these instructions:
If you purchased your book from quepublishing.com or informit.com, your book is automatically registered. Go to the Digital Purchases tab in your Account and click on "Launch" for the Web Edition (see screenshot below).

If you purchased your book in any other channel, it must be registered:

Go to informit.com/register
Sign in or create a new account
If you purchased a print book, enter the ISBN found at the bottom of the back cover
or
If you purchased an eBook, enter the ISBN found in the instructions found within your eBook
Answer the question presented on screen, as proof of purchase
The Web Edition will appear under the Digital Purchases tab on your Account page; click "Launch" to access the product
Q. How do I access the videos for my Web Edition?
A. Only certain Web Editions have videos (e.g. My Windows 10). To access these videos, click the "Access Bonus Content" link for the corresponding book, eBook, or Web Edition you purchased in the Registered Products section of your Account page.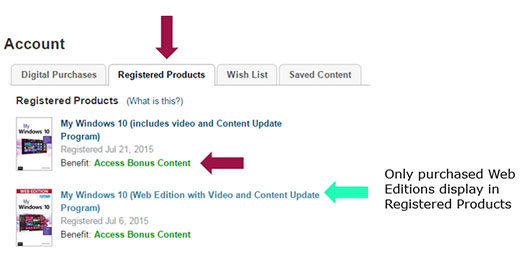 Q. How often will the Web Editions be updated?
A. All updates are now complete and the current Web Edition is final. There will be no more updates.
Q. Can I read the Web Edition on my eReader device?
A. No. The Web Edition may be accessed online, but cannot be downloaded to an eReader device. An eBook must be purchased for use on an eReader.
Q. Can I read the Web Edition on my Tablet?
A. Yes, you can easily access the Web Edition on tablets that use current web browsers. Simply log into your informit.com account and access the Web Edition from the "Digital Purchases" tab.
Q. Which browsers support Web Editions?
A. Viewing a Web Edition requires a web browser that fully supports HTML5. Supported platforms are:
Windows XP (Firefox only)
Windows 7, 8, or 10 (IE10, IE11, Chrome, Firefox, Edge—Windows 10 only)
Mac OS X (Safari, Firefox, or Chrome)
Linux (Chrome or Firefox)
iOS 6, 7, or 8 (Mobile Safari)
Android (Chrome)
If you have additional questions, please email community@informit.com.