Home > Blogs > Outlook: Make a Send to Blocked Senders List Button
Outlook: Make a Send to Blocked Senders List Button
Use the Tools > Customize Feature of Outlook to create a button that sends a selected message to Junk Mail and blocks the Sender
When you click Tools - Customize in Outlook, in the Commands tab select Actions and Highlight the Add Sender to Blocked Senders List command. Then just drag it up to your main menu or into any other toolbar. Then select any message and with a click of the button send the Sender to Blocked Senders List and the message into Junk Mail. Future messages from that senders will also go to Junk Mail and you will feel empowered.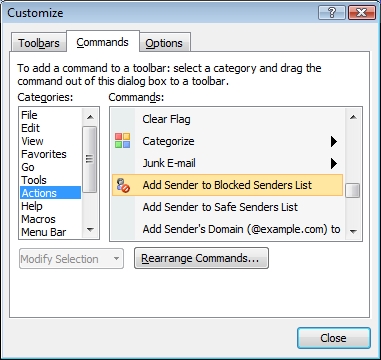 Become an InformIT Member
Take advantage of special member promotions, everyday discounts, quick access to saved content, and more! Join Today.
Other Things You Might Like
iOS Programming: The Big Nerd Ranch Guide, 7th Edition

My Google Chromebook, 4th Edition