Featured Video
Learn how to design and create Java code using the new language features added with Java 8. Functional Programming for Java provides a solid foundation for designing and creating Java code using the functional programming style. Simon Roberts has created a unique video course using live-action lectures, code demos, and whiteboard instructions to take learners on a learning journey by telling a story. Watch Lesson 1 and learn more.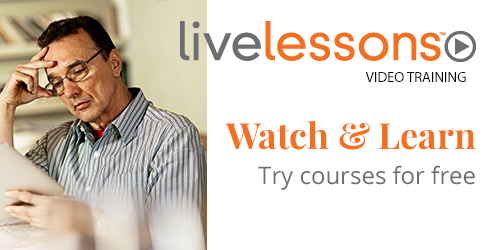 Who is InformIT
We are the online presence of the family of information technology publishers and brands of Pearson, the world's largest education company, and your one-stop technology learning resource for reliable and qualified content to help you do your job better.
---
Our Imprints
Become a Reviewer
Provide valuable feedback and suggestions on current and new releases from us. Learn more.

Sale Price: $19.99
You Save 50%

Sale Price: $69.99
You Save 65%
Quick Links
Connect with Us
Take advantage of special member promotions, quick access to saved content, and more!
Best Sellers in the Store