Featured Book
Learning Amazon Web Services (AWS) is the perfect foundational resource for all administrators, developers, project managers, and other IT professionals who want to plan and deploy AWS services or earn AWS certification. Top cloud trainer and evangelist Mark Wilkins teaches best practices that align with Amazon's Well-Architected Framework, introduces key concepts in the context of a running case study, carefully explains how core AWS services operate and integrate, and offers extensively tested tips for maximizing flexibility, security, and value.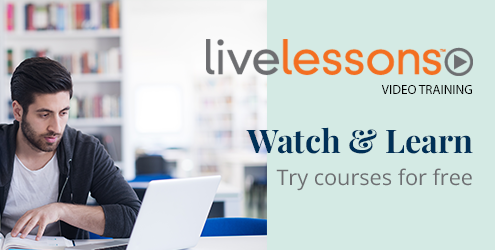 Who is InformIT
We are the online presence of the family of information technology publishers and brands of Pearson, the world's largest education company, and your one-stop technology learning resource for reliable and qualified content to help you do your job better.
---
Our Imprints
Become a Reviewer
Provide valuable feedback and suggestions on current and new releases from us. Learn more.


Sale Price: $24.99
You Save 48%

Sale Price: $59.99
You Save 70%
Quick Links
Connect with Us
Take advantage of special member promotions, quick access to saved content, and more!
Bestsellers in the Store