Featured Video
Many Java developers today are working on applications written before the release of Java SE 8. Even after Java 8 is adopted for new features, it's likely that these legacy applications will not take full advantage of Java 8 without significant refactoring. In Refactoring to Modern Java LiveLessons, Java Champion Trisha Gee discusses the benefits of using Java 8 and shows how to identify code to refactor. She also demonstrates how Java 8 can improve performance and the benefits of applying Java 8 idioms. In this video training, Trisha provides hands-on techniques using a real application, Morphia, written in Java 6, to show when and how to apply the new features in Java 8 to an existing mature code base.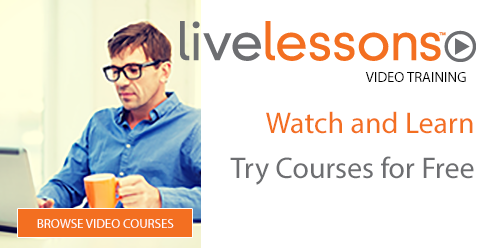 Who is InformIT
We are the online presence for the world's leading technology publishers and your source for reliable and qualified content to help you do your job better.
---
Our Imprints
Become a Reviewer
Provide valuable feedback and suggestions on current and new releases from us. Learn more.

Sale Price: $15.99
You Save 56%
Sale Price: $119.99
You Save 60%
Quick Links
Connect with Us
Take advantage of special member promotions, quick access to saved content, and more!
Best Sellers in the Store
eBook (Watermarked) $31.99 (Save 20%)