Featured Book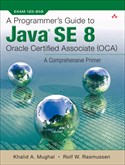 Unique among Java books, the 4th edition of A Programmer's Guide to Java SE 8 Oracle Certified Associate (OCA) combines an integrated, expert guide to Java SE 8 with comprehensive coverage of Oracle's new Java SE 8 OCA exam. This tutorial/reference/prep guide has been thoroughly revised to reflect major changes in the new exam, including increased focus on analyzing code scenarios, and not just individual language constructs. Each exam objective is thoroughly addressed, reflecting the latest Java SE 8 features, API classes, and best practices for effective programming.
Who is InformIT
We are the online presence for the world's leading technology publishers and your source for reliable and qualified content to help you do your job better.
---
Our Imprints
Become a Reviewer
Provide valuable feedback and suggestions on current and new releases from us. Learn more.

Sale Price: $24.99
You Save 48%

Sale Price: $59.99
You Save 60%
Quick Links
Connect with Us
Take advantage of special member promotions, quick access to saved content, and more!
Best Sellers in the Store
eBook (Watermarked) $31.99 (Save 20%)