Featured Sample Chapter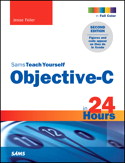 This chapter from Sams Teach Yourself Objective-C in 24 Hours, 2nd Edition explains the messaging structure that is at the heart of Objective-C., using the common alloc and init methods as examples.
Robert C. Seacord, author of Secure Coding in C and C++, Second Edition, describes how accessing shared objects in signal handlers can result in race conditions that can leave data in an inconsistent state. Historically, the only conforming way to access a shared object from a signal handler was to read from or write to variables of type volatile sig_atomic_t. With the advent of C11, atomics are now a better choice for accessing shared objects in signal handlers.
By Robert C. Seacord - Apr 24, 2014
Apps for mobile platforms might seem simple, but they're far from it. Programs that run on smartphones and tablets have their own style and rules, which are far different from the protocols and techniques established on their desktop computer ancestors. Cameron Banga and Josh Weinhold share five tips for perfecting your app designs in ways that will help you meet or exceed your users' expectations.
By Cameron Banga, Josh Weinhold - Apr 24, 2014
Introduction to Inventory Management: Principles and Strategies for the Efficient Flow of Inventory across the Supply Chain

Inventory is a fundamental measure of the overall health of supply chain and logistics activities. The authors of The Definitive Guide to Inventory Management discuss what inventory is, the role of inventory in supply chain management, and why inventory is such an important metric in supply chain management.
By CSCMP, Terry L. Esper, Matthew A. Waller - Apr 24, 2014
In this chapter you'll find a general strategic outlay for planning the design of a mobile application. Using the steps and techniques presented, you'll be prepared for the different phases a design evolves through during its infancy, before a programmer writes the first lines of code.
By Cameron Banga, Josh Weinhold - Apr 23, 2014
Java SE 8's New Language Features, Part 2: Predefined Functional Interfaces, Method References, and More

Java 8 has significantly evolved the Java language by adding support for default and static methods to interfaces, by introducing lambda expressions and functional interfaces, and more. In Part 2 of a two-part series on Java 8 language features, Jeff Friesen introduces you to predefined functional interfaces, method references, enhanced generic type inference, and type annotations.
By Jeff Friesen - Apr 22, 2014
See All Articles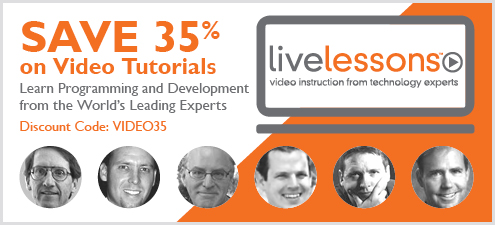 Traenk offers a friendly reminder that this is shape of things to come...


By John Traenkenschuh - Apr 11, 2014 - Business & Management, Data, Home & Office Computing, Information Technology, Networking, Open Source, Programming, Security, Software Development & Management, Web Development, Web Services, Architecture and Design, Cloud Computing, General Business, General Security and Privacy, HTML/CSS, Linux/UNIX/Open Source Operating Systems, Network Administration & Management, Network Design & Architecture, Network Security, Sales & Marketing, Software Security, The Web/Virtual Worlds/Social Networking
With today's "connected life" running 24/7, we recognize it's hard to keep up with all your favorite websites and tech resources. The IT List is here to help you cut through the noise. Check back each Friday for a quick digest of articles, resources, promotions, and other goodies worth a first or second look on InformIT.




By Emily Nave - Apr 4, 2014 - Home & Office Computing, Information Technology, Software Development & Management, Programming, Open Source, Web Services, Networking, Web Development, Data, Security, Business & Management, Certification, Engineering, Graphics & Web Design, Hardware, Mobile Application Development & Programming, Operating Systems, Server, Process Improvement
See All Blogs
Who is InformIT
We are the online presence for the world's leading technology publishers and your source for reliable and qualified content to help you do your job better.
---
Our Imprints
Become a Reviewer
Provide valuable feedback and suggestions on current and new releases from us. Learn more.

Sale Price: $19.99
You Save 50%
Sale Price: $129.99
You Save 57%
Quick Links
Connect with Us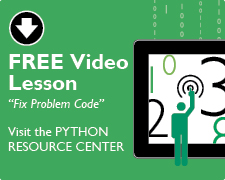 Best Sellers in the Store
| | |
| --- | --- |
| | $55.99 (Save 20%) |
| | |
| | $31.99 (Save 20%) |
| | |
| | |
Take advantage of special member promotions, everyday discounts, quick access to saved content, and more!