Featured Book
The Python 3 Standard Library contains hundreds of modules for interacting with the operating system, interpreter, and Internet—all extensively tested and ready to jump-start application development. In The Python 3 Standard Library by Example, Python expert Doug Hellman introduces every major area of the Python 3.x library through concise source code and output examples. Hellman's examples fully demonstrate each feature, and are designed for easy learning and reuse.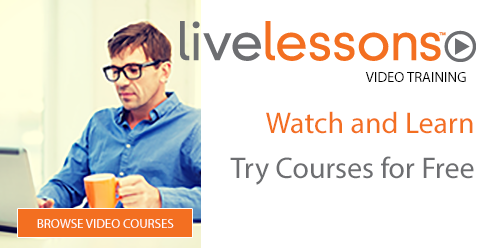 Who is InformIT
We are the online presence of the family of information technology publishers and brands of Pearson, the world's largest education company, and your one-stop technology learning resource for reliable and qualified content to help you do your job better.
---
Our Imprints
Become a Reviewer
Provide valuable feedback and suggestions on current and new releases from us. Learn more.


Sale Price: $19.99
You Save 44%
Sale Price: $74.99
You Save 70%
Quick Links
Connect with Us
Take advantage of special member promotions, quick access to saved content, and more!
Best Sellers in the Store