Featured Book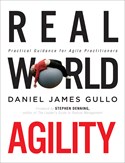 In Real World Agility, leading Agile expert and Scrum trainer Daniel Gullo has identified and addressed nearly sixty widespread challenges faced by individuals and teams trying to drive value from Agile. Each solution is presented with maximum clarity and brevity, while covering everything you need to act effectively. Throughout, you'll find vignettes that show exactly how Agile problems manifest in the real world--and how Gullo's actionable solutions help you overcome them.
Who is InformIT
We are the online presence for the world's leading technology publishers and your source for reliable and qualified content to help you do your job better.
---
Our Imprints
Become a Reviewer
Provide valuable feedback and suggestions on current and new releases from us. Learn more.


Sale Price: $17.99
You Save 50%
Sale Price: $149.99
You Save 50%
Quick Links
Connect with Us
Take advantage of special member promotions, quick access to saved content, and more!
Best Sellers in the Store
eBook (Watermarked) $31.99 (Save 20%)