Featured Video
Cybersecurity Complete Video Course provides a complete learning path for building your skills as a cybersecurity professional. Start with the fundamental concepts and then quickly move on to actually working through pen testing and ethical hacking projects—so you can start to build your skills. Omar Santos, best-selling Cisco Press security author and trainer, has compiled the lessons in this title from other training courses and they are presented in an easy-to-follow organization, so you can move through the topics at your own pace.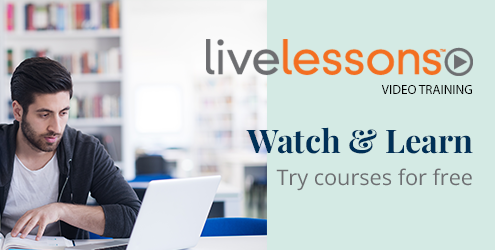 Who is InformIT
We are the online presence of the family of information technology publishers and brands of Pearson, the world's largest education company, and your one-stop technology learning resource for reliable and qualified content to help you do your job better.
---
Our Imprints
Become a Reviewer
Provide valuable feedback and suggestions on current and new releases from us. Learn more.


Sale Price: $19.99
You Save 44%
Sale Price: $99.99
You Save 60%
Quick Links
Connect with Us
Take advantage of special member promotions, quick access to saved content, and more!
Best Sellers in the Store