Featured Book
As far as new web frameworks and libraries go, React is quite the runaway success. It not only deals with the most common problems developers face when building complex apps, it throws in a few additional tricks that make building the visuals for such apps much, much easier. What React isn't, though, is approachable. In Learning React, author Kirupa Chinnathambi brings his fresh, clear, and very personable writing style to help web developers new to React understand its fundamentals and how to use it to build really performant (and awesome) apps.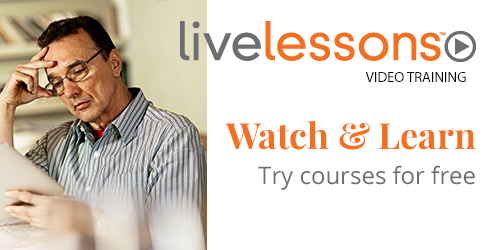 Who is InformIT
We are the online presence of the family of information technology publishers and brands of Pearson, the world's largest education company, and your one-stop technology learning resource for reliable and qualified content to help you do your job better.
---
Our Imprints
Become a Reviewer
Provide valuable feedback and suggestions on current and new releases from us. Learn more.

Sale Price: $19.99
You Save 50%
Sale Price: $99.99
You Save 67%
Quick Links
Connect with Us
Take advantage of special member promotions, quick access to saved content, and more!
Best Sellers in the Store