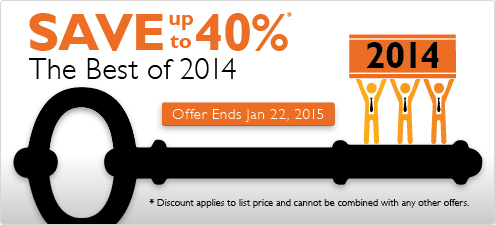 Stephen B. Morris describes how to get ahead in the new era of multi-language programming. Do you get bogged down with complex script coding in multiple languages? Are you having problems producing robust concurrent C, C++, or Java solutions? You can use metrics to apply your existing programming skills in learning new languages.
By Stephen B. Morris - Dec 22, 2014
This chapter from The Ultimate Player's Guide to Minecraft - Xbox Edition is about building the foundation you can use to launch into the rest of the game. Your focus is on a few key points: build an outdoor shelter, find food to stave off hunger, improve your collection of tools, and build a chest to safely store items.
By Stephen O'Brien - Dec 22, 2014
Video: Fundamentals of Data Analytics with Python: Understanding Python's Graphics Data Exploration Tools

In this excerpt from Fundamentals of Data Analytics in Python LiveLessons (Video Training), learn about Python's graphics data exploration tools.
By Peter Wang, Aron Ahmadia - Dec 19, 2014
This chapter from CCNP Routing and Switching SWITCH 300-115 Official Cert Guide presents the various Ethernet network technologies used to establish switched connections within the campus network and also details the switch commands required for configuring and troubleshooting Ethernet LAN ports.
By David Hucaby - Dec 18, 2014
Use the iPad to organize your life with the default Contacts, Calendar, Notes, and Reminders apps. Gary Rosenzweig takes a close look at some of the things you can do with these apps in this chapter from My iPad mini, 3rd Edition.
By Gary Rosenzweig - Dec 18, 2014
See All Articles
On the level of global commerce, we are addicted to

devices

. By the start of 2015, it is estimated there will be 3 billion Android devices in circulation around the world. Of those, there are roughly 19,000 distinct devices in operation. On the same accord, there are roughly 550 million active iOS devices globally with another few hundred million being phased out. As a global culture we love our mobile devices. Yet here is the thing, by all measures, our devices aren't all that secure. In both data and physicality, our devices have an operational tendency to betray us.




This said, a question: what is more worrisome, mobile data security risks or mobile device physical security risks?






Google drives online life. There are roughly 40,000 global search queries every second. 40,000 search queries every second equates to roughly 3.5 billion global search queries per day. 3.5 billion search queries per day translates to roughly 1.2 trillion global search queries per year. As of the writing of this article 3:38 EST on 11/25/14, there have been 2.618 billion searches today.

Search is critical to online life. Like blood flowing in your veins, search is the life force of the Internet. And yet, no one ever tells you how to search. There are tips and tricks you can use to make your search queries more effective, more targeted. Below are some of those search tips.

By Brad Yale - Dec 1, 2014 - Information Technology
See All Blogs
Who is InformIT
We are the online presence for the world's leading technology publishers and your source for reliable and qualified content to help you do your job better.
---
Our Imprints
Become a Reviewer
Provide valuable feedback and suggestions on current and new releases from us. Learn more.


Sale Price: $14.99
You Save 52%
Sale Price: $199.99
You Save 33%
Quick Links
Connect with Us
Best Sellers in the Store
Take advantage of special member promotions, everyday discounts, quick access to saved content, and more!