Featured Book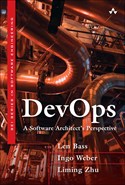 In DevOps: A Software Architect's Perspective, three leading architects address these issues head-on. The authors review decisions software architects must make in order to achieve DevOps' goals and clarify how other DevOps participants are likely to impact the architect's work. They also provide the organizational, technical, and operational context needed to deploy DevOps more efficiently, and review DevOps' impact on each development phase.
Specials, specials, specials!
Traenk returns to some true love work--teaching and learning and VB...
Who is InformIT
We are the online presence for the world's leading technology publishers and your source for reliable and qualified content to help you do your job better.
---
Our Imprints
Become a Reviewer
Provide valuable feedback and suggestions on current and new releases from us. Learn more.

Sale Price: $9.99
You Save 64%
Sale Price: $59.99
You Save 70%
Quick Links
Connect with Us
Newly Published!
eBook (Watermarked) $47.59
Best Sellers in the Store

eBook (Watermarked) $51.19 (Save 20%)

Take advantage of special member promotions, everyday discounts, quick access to saved content, and more!