Featured Book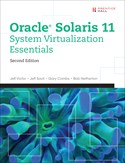 Oracle Solaris 11 System Virtualization Essentials, Second Edition has been fully updated for Oracle 11 and is a complete, practical, and up-to-date guide to selecting, implementing, and applying today's Oracle virtualization technologies to real-world business problems. Four Oracle experts thoroughly cover current Oracle Solaris virtualization options, help you understand key use cases, and compare and address each leading approach to virtualization.

The Leading Introduction to Biochemical and Bioprocess Engineering, Updated with Key Advances in Productivity, Innovation, and Safety
Bioprocess Engineering, Third Edition is an extensive update of the world's leading introductory textbook on biochemical and bioprocess engineering and reflects key advances in productivity, innovation, and safety. The authors review relevant fundamentals of biochemistry, microbiology, and molecular biology, including enzymes, cell functions and growth, major metabolic pathways, alteration of cellular information, and other key topics. They then introduce evolving biological tools for manipulating cell biology more effectively and to reduce costs of bioprocesses.

Quick Links
Articles & Sample Chapters

Contact Us

Join the Site

Newsletter

Promotions

RSS Feeds

Series

Store

Video Tutorials
---