Featured Book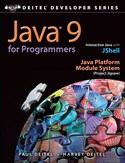 Written for programmers with a background in another high-level language, this book applies the Deitel signature live-code approach to teaching programming and explores the Java 9 language and APIs in depth. Java 9 for Programmers presents concepts in fully tested programs, complete with code walkthroughs, syntax shading, code highlighting and program outputs. It features hundreds of complete Java 9 programs with thousands of lines of proven code, and hundreds of software-development tips that will help you build robust applications.

A Concise, Up-to-Date Guide to Oracle Virtualization Technologies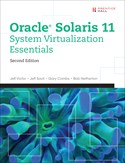 Oracle Solaris 11 System Virtualization Essentials, Second Edition has been fully updated for Oracle 11 and is a complete, practical, and up-to-date guide to selecting, implementing, and applying today's Oracle virtualization technologies to real-world business problems. Four Oracle experts thoroughly cover current Oracle Solaris virtualization options, help you understand key use cases, and compare and address each leading approach to virtualization.

Quick Links
Articles & Sample Chapters

Contact Us

Join the Site

Newsletter

Promotions

RSS Feeds

Series

Store

Video Tutorials
---