Featured Book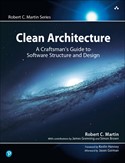 Building upon the success of best-sellers The Clean Coder and Clean Code, legendary software craftsman Robert C. "Uncle Bob" Martin shows how to bring greater professionalism and discipline to application architecture and design. As with his other books, Martin's Clean Architecture doesn't merely present multiple choices and options, and say "use your best judgment": it tells you what choices to make, and why those choices are critical to your success.

The Professional Programmer's Deitel® Guide to Java® 9 and the Powerful Java Platform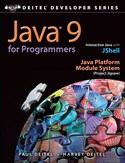 Written for programmers with a background in another high-level language, this book applies the Deitel signature live-code approach to teaching programming and explores the Java 9 language and APIs in depth. Java 9 for Programmers presents concepts in fully tested programs, complete with code walkthroughs, syntax shading, code highlighting and program outputs. It features hundreds of complete Java 9 programs with thousands of lines of proven code, and hundreds of software-development tips that will help you build robust applications.

Quick Links
Articles & Sample Chapters

Contact Us

Join the Site

Newsletter

Promotions

RSS Feeds

Series

Store

Video Tutorials
---