Featured Book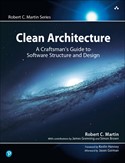 Building upon the success of best-sellers The Clean Coder and Clean Code, legendary software craftsman Robert C. "Uncle Bob" Martin shows how to bring greater professionalism and discipline to application architecture and design. As with his other books, Martin's Clean Architecture doesn't merely present multiple choices and options, and say "use your best judgment": it tells you what choices to make, and why those choices are critical to your success.

Today's Definitive, Undergraduate-Level Introduction to Chemical Reaction Engineering Problem-Solving
For 30 years, H. Scott Fogler's Elements of Chemical Reaction Engineering has been the #1 selling text for courses in chemical reaction engineering worldwide. Now, in Essentials of Chemical Reaction Engineering, Second Edition, Fogler has distilled this classic into a modern, introductory-level guide specifically for undergraduates. This is the ideal resource for today's students: learners who demand instantaneous access to information and want to enjoy learning as they deepen their critical thinking and creative problem-solving skills.

Quick Links
Articles & Sample Chapters

Contact Us

Join the Site

Newsletter

Promotions

RSS Feeds

Series

Store

Video Tutorials
---