Home > Store > Business & Management > Finance & Investing > Personal Finance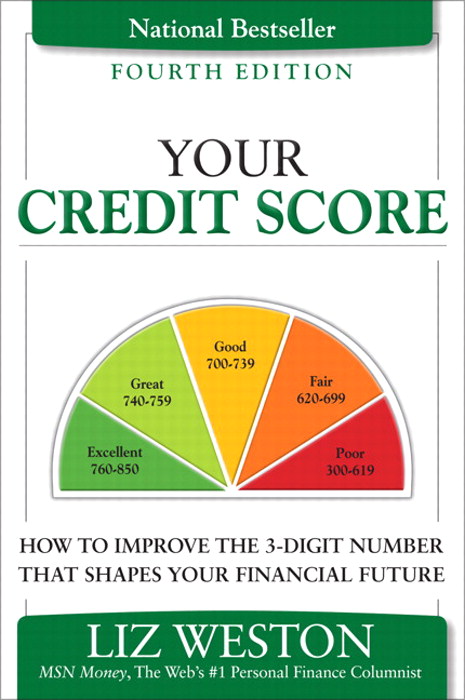 Your Credit Score: How to Improve the 3-Digit Number That Shapes Your Financial Future, 4th Edition
eBook (Watermarked)
Your Price: $19.99
List Price: $24.99
Includes EPUB, MOBI, and PDF

This eBook includes the following formats, accessible from your Account page after purchase:

EPUB The open industry format known for its reflowable content and usability on supported mobile devices.

MOBI The eBook format compatible with the Amazon Kindle and Amazon Kindle applications.

PDF The popular standard, used most often with the free Adobe® Reader® software.

This eBook requires no passwords or activation to read. We customize your eBook by discreetly watermarking it with your name, making it uniquely yours.
Copyright 2012
Dimensions: 6" x 9"
Pages: 288
Edition: 4th
eBook (Watermarked)
ISBN-10: 0-13-282354-3
ISBN-13: 978-0-13-282354-8
Today, a good credit score is essential for getting decent terms on credit--or for getting credit at all. But that's just the beginning: Your credit score rating can be reviewed by everyone from employers to cell phone carriers. Now, MSNBC/L.A. Times journalist Liz Weston has thoroughly updated her best-selling guide to credit scores, with crucial new information for protecting (or rebuilding) yours. Your Credit Score, Fourth Edition thoroughly covers brand-new laws changing everything from how your credit score can be used to how you can communicate with collectors. This edition also adds simple graphics revealing exactly how much skipped payments, bankruptcies, and other actions will lower your credit ratings, and how long it takes to rebound. You'll find new information on "FAKO" alternative scores, expanded coverage of short sales, foreclosures, the new FICO 8 Mortgage Score, and when to "walk away" from a mortgage. Learn how to protect yourself against new credit risks from social networking and mobile banking and how to safeguard against unethical or illegal use of credit scores by employers. Weston updates her expert guidance on using FICO 08 to raise your score, fighting lower limits and higher rates, maintaining the right mix of cards and balances, bouncing back from bad credit, choosing credit "solutions" that help, not hurt… and much more!

Table of Contents
Introduction xxii

Chapter 1 Why Your Credit Score Matters 1
How Your Credit Score Affects You 1
What It Costs Long Term to Have a Poor or Mediocre Credit Score 3
How Credit Scoring Came into Being 6
How Credit Use Has Changed over the Years 7
Consumer's Fight for Truth About Credit Scores 8
Credit Controversies 9
Credit Scoring's Vulnerability to Errors 9
Credit Scoring's Complexity 10
Credit Scoring's Use for Noncredit Decisions 11
Credit Scoring's Potential Unfairness 11

Chapter 2 How Credit Scoring Works 15
What Is a Good Score? 17
Your Credit Report: The Building Blocks for Your Score 18
How Your Score Is Calculated 19
The Five Most Important Factors 20
Your Payment History 20
How Much You Owe 21
How Long You've Had Credit 22
Your Last Application for Credit 22
The Types of Credit You Use 23
Your Credit Scorecard 24
Your Results Might Differ 25
How Do I Get My Score? 26
What Hurts, and for How Long 31
New Versions of the FICO Score 33

Chapter 3 FICO Versus "FAKO"--Competitors to the Leading Score 39
The VantageScore Scale 40
How VantageScores Are Calculated 42
Comparing the Scoring Systems 43
Some Rules Remain the Same 44
So Which Is Better? 45
VantageScore's Future 45
Other Scores Lenders Use 47

Chapter 4 Improving Your Score--The Right Way 51
Step 1: Start with Your Credit Report 51
Check the Identifying Information 52
Carefully Review the Credit Accounts 53
Parse Through Your Inquiries 54
Examine Your Collections and Public Records 54
Dispute the Errors 55
Step 2: Pay Your Bills on Time 56
How to Make Sure Your Bills Get Paid on Time, All the Time 57
Step 3: Pay Down Your Debt 60
You Need to Reduce What You Owe Rather Than Just Moving Your Balances Around 61
You Might Need to Change Your Approach to Paying Off Debt 61
You Need to Pay Attention to How Much You Charge--Even If You Pay Off Your Balances in Full Every Month 62
How to Find Money to Pay Down Your Debt 64
Step 4: Don't Close Credit Cards or Other Revolving Accounts 65
Step 5: Apply for Credit Sparingly 65
How to Get a Credit Score if You Don't Have Credit 66
Credit Scores Without Credit 70

Chapter 5 Credit-Scoring Myths 71
Myth 1: Closing Credit Accounts Will Help Your Score 72
Myth 2: You Can Boost Your Score by Asking Your Credit Card Company to Lower Your Limits 73
Myth 3: You Can Hurt Your Score by Checking Your Own Credit Report 74
Myth 4: You Can Hurt Your Score by Shopping Around for the Best Rates 75
Myth 5: You Don't Have to Use Credit to Get a Good Credit Score 76
Myth 6: You Have to Pay Interest to Have a Good Credit Score 77
Myth 7: Adding a 100-Word Statement to Your File Can Help Your Score if You Have an Unresolved Dispute with a Lender 78
Myth 8: Your Closed Accounts Should Read "Closed by Consumer," or They Will Hurt
Your Score 79
Myth 9: Credit Counseling Is Worse Than Bankruptcy 79
Myth 10: Bankruptcy Hurts Your Score So Much That It's Impossible to Get Credit 80

Chapter 6 Coping with a Credit Crisis 83
Step 1: Figure Out How to Free Up Some Cash 86
Step 2: Evaluating Your Options 89
Task 1: Prioritize Your Bills 89
Task 2: Match Your Resources to Your Bills and Debts 91
Task 3: Figuring Out a Repayment Plan 92
The Real Scoop on Credit Counseling 94
Debt Settlement: A Risky Option 97
Should You File for Bankruptcy? 100
The Effects of Bankruptcy Reform 101
The Type of Bankruptcy That You File Matters 102
Should You Walk Away from Your Home? 104
Step 3: Choose Your Path and Take Action 106
Option 1: The Pay-Off Plan 106
Option 2: Credit Counseling 107
Option 3: Debt Settlement 107
Option 4: Bankruptcy 107

Chapter 7 Rebuilding Your Score After a Credit Disaster 109
Part I: Credit Report Repair 111
Scrutinize Your Report for Serious Errors 112
Know Your Rights 113
Organize Your Attack 115
What You Need to Know About Unpaid Debts and Collections 116
What You Need to Know About Statutes of Limitations 119
Should You Pay Old Debts? 122
"But You've Got the Wrong Guy!" 125
Part II: Adding Positive Information to Your File 126
Try to Get Positive Accounts Reported 126
Borrow Someone Else's History 127
Get Some Credit or Charge Cards if You Don't Have Any 127
Part III: Use Your Credit Well 128
Pay Bills on Time 129
Use the Credit You Have 129
Keep Your Balances Low 129
Pace Yourself 129
Don't Commit the Biggest Credit-Repair Mistakes 130

Chapter 8 Identity Theft and Your Credit 133
New Options That Might Help 137
How to Reduce Your Exposure to Identity Theft 139
Buy a Shredder 139
Get a Locking Mailbox 139
Protect Your Outgoing Mail 139
Keep Track of Your Receipts 140
Keep Your Financial Documents Under Lock and Key 140
Get Stingy with Your Social Security Number 140
Know What's in Your Wallet 140
Ask About Shredding Policies 141
Don't Let Your Debit Card out of Your Sight 141
Opt Out of Credit Card Solicitations, Junk Mail, and Telemarketing 142
Don't Use a Cell or Cordless Phone to Discuss Financial Matters 143
Be Wary of Telephone Solicitors and Emails Purporting to Be from Financial Institutions 143
Be Smarter About Social Media 143
Safeguard Your Social Security Number 145
Monitor Your Credit Reports 145
Consider a Credit Freeze 147
What to Do if You're Already a Victim 148
Keep Good Notes of Every Conversation You Have Regarding the ID Theft 148
Contact the Credit Bureaus by Phone and Then with a Follow-Up in Writing 149
Contact the Creditors by Phone and Then Follow Up in Writing 149
Contact the Police or Local Sheriff 149
Contact Bank and Checking Verification Companies 150
Contact the Collection Agencies 150
Get Legal Help 151
Don't Give Up 151
What to Do if the Credit Bureau Won't Budge 153

Chapter 9 Emergency! Fixing Your Credit Score Fast 157
Repairing Your Credit in a Matter of Hours: Rapid Rescoring 158
Boosting Your Score in 30 to 60 Days 161
Pay Off Your Credit Cards and Lines of Credit 161
Use Your Credit Cards Extremely Lightly 162
Focus on Correcting the Big Mistakes on Your Credit Reports 162
Use the Bureaus' Online Dispute Process 163
See if You Can Get Your Creditors to Report or Update Positive Accounts 163
What Typically Doesn't Work 163
Disputing Everything in Sight .164
Creating a "New" Credit Identity 164
Closing Troublesome Accounts 164

Chapter 10 Insurance and Your Credit Score 167
History of Using Credit Scores to Price Insurance Premiums 169
But What's the Connection? 171
What Goes into an Insurance Score 175
Keeping a Lid on Your Insurance Costs 176
Start Thinking Differently About Insurance 177
Raise Your Deductibles 178
Don't Make Certain Kinds of Claims 178
Be a Defensive Driver 180
Use the Right Liability Limits 180
Drop Collision and Comprehensive on Older Cars 181
Shop Around 181
Protect Your Score 182

Chapter 11 Can Bad Credit Cost You a Job? 183

Chapter 12 Keeping Your Score Healthy 189
The Do's of Credit Health 190
Pay Off Your Credit Card Balances 190
Have an Emergency Fund 192
Have Adequate Insurance 194
The Don'ts of Credit Health 195
Don't Buy More House Than You Can Afford 195
Don't Overdose on Student Loan Debt 196
Don't Let Your Fixed Expenses Eat Up Your Income 197
Don't Raid Your Retirement or Your Home Equity to Pay Off Credit Cards 198
Your Score 199
Get Your Credit Reports 200
Take Action 200
Don't Be Late 201
Dealing with Mortgages, Car Loans, and Other Secured Debt 201
Consider a Fraud Alert or Credit Freeze 202
Look for Lenders Who Aren't FICO-Driven 202
In Conclusion: The Three-Year Solution 203

Index 205


