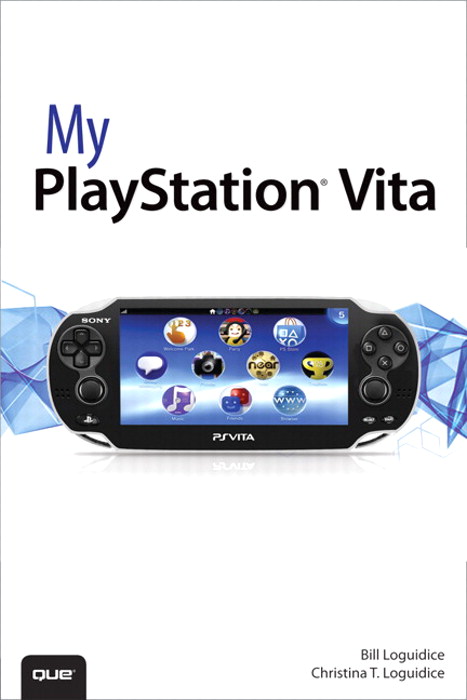 Share
|



Register your product to gain access to bonus material or receive a coupon.
My PlayStation Vita
eBook (Watermarked)
Your Price: $15.99
List Price: $19.99
Includes EPUB, MOBI, and PDF

This eBook includes the following formats, accessible from your Account page after purchase:

EPUB The open industry format known for its reflowable content and usability on supported mobile devices.

MOBI The eBook format compatible with the Amazon Kindle and Amazon Kindle applications.

PDF The popular standard, used most often with the free Adobe® Reader® software.

This eBook requires no passwords or activation to read. We customize your eBook by discretely watermarking it with your name, making it uniquely yours.
Copyright 2013
Dimensions: 6" x 9"
Pages: 320
Edition: 1st
eBook (Watermarked)
ISBN-10: 0-13-310743-4
ISBN-13: 978-0-13-310743-2
Step-by-step instructions with callouts to PlayStation Vita images that show you exactly what to do.
Help when you run into problems with your PlayStation Vita.
Tips and Notes to help you get the most from your PlayStation Vita.

Full-Color, Step-by-Step Tasks Show You How to Have Maximum Fun with Your PlayStation Vita!
Unbox your PS VitaTM, get connected, and start having fun, fast
Master PS Vita's built-in and downloadable apps, from games to social media
Discover hot new PS Vita games—and play PlayStation classics, too
Chat with groups of friends in real time—even if they're playing different games
Leave gifts for nearby gamers to find and play with or launch neighborhood competitions
Post on Facebook and Twitter right from your PS Vita
Use "augmented reality" cameras to embed yourself into the game
Make the most of PS Vita's advanced HTML5 web browser
Take great photos and videos with PS Vita's built-in cameras
Control your PS3 from your PS Vita—even if you're thousands of miles away
Transform your PS Vita into a world-class music player
Get instant walking or driving directions from Google Maps
Set parental controls to protect your kids
Create Privacy Zones so other gamers don't know what you're doing
Buy or rent videos from the PlayStation Store
Safely back up your PS Vita on your PC, Mac, or PS3
Solve PS Vita and connectivity problems fast and get back to having fun
Table of Contents
1 Getting Started 3
Unboxing Your Vita 4
Understanding the Vita Models 4
Breaking Down the Components 5
Charging the Vita 12
Using the AC Adapter 13
Using the USB 14
Setting Up Your Vita 14
Beginning First-Time Setup 15
Operating the Vita 16
Standby Mode and Powering On or Off 20
Understanding Card Media 20
Memory Cards 20
PlayStation Vita Cards 22
SIM Card 24
Understanding Your Warranty 25
Accessorizing Your Vita 26
Cases 26
Screen Protectors 26
Docks 28
Headphones 28
Styluses 30
2 Understanding and Working with the Interface Screens 33
Unlock Screen 34
Changing the Unlock Screen Wallpaper 34
Home Screen 37
Examining Your Vita's Preinstalled Apps 37
Getting Into Edit Mode 40
Moving App and Game Icons 41
Deleting an App or Game 42
Changing the Home Screen Wallpaper 43
Obtaining Vita Wallpaper Online 44
LiveArea Screen 45
Application Screen 46
Info Bar 47
Index Screen 49
Playing in Welcome Park 49
Digit Chase 51
Snap + Slide 53
Skate Axis 54
Sound Loop 54
Hello Face 55
3 Settings and Networking on Your Vita 57
LiveArea Screen for Settings 58
Flight Mode 59
System Update 59
Connecting Over Wi-Fi or 3G 60
Connecting to a PlayStation 3 61
Connecting to a Computer 62
Network 63
Deleting a Bluetooth Device 67
Finding IMEI and ICCID Numbers 70
Purchasing a Data Plan Using Your Vita 71
Purchasing a Data Plan Via a Web Browser 72
Checking Usage Period for Your DataConnect Pass 72
PlayStation Network 74
Setting Up an Account on Your Vita 75
Adding an Existing PlayStation Account 77
Signing In to Your Account 78
Signing Out of Your Account 79
Account Information 79
Application Data Management 82
Notifications 82
Sound & Display 83
Location Data 84
Security 84
Checking an Apps Restriction Level 85
Date & Time 86
Language 87
System 88
Format 89
Power Save Settings 90
Using Safe Mode to Troubleshoot 91
4 Getting Oriented with Near and Maps 93
Accessing Near and Enabling Location Data 94
Touring Near's LiveArea and Application Screens 96
Near LiveArea Screen 96
Near Application Screen 97
Near Settings 98
Location Data 98
Sharing Settings 99
Establishing Private Zones 101
Unit of Distance 103
Game Good Settings 103
Delete All "Near" Data 103
Terms of Service and Privacy Policy 104
Getting Out and About 104
Out-and-About History Screen 104
Out-and-About Radar Screen 105
Out-and-About and Local Charts 107
Players' Voice Screen 108
Checking on Friends 109
Viewing Discoveries 110
Working with Profiles 111
Sending Friend Requests 113
Updating Your Avatar and Profile 115
Finding Your Way with the Maps App 116
Accessing Maps for the First Time 117
Maps LiveArea Screen 118
Maps Application Screen 118
Searching for a Location 119
Accessing the Information Screen for a Search Result 120
Obtaining Directions 121
Placing a User Flag 122
Deleting a User Flag 123
Bookmarking a Location 124
Hiding a Bookmarked Location 125
Viewing a Bookmarked Location 125
Viewing Search History for Locations and Directions 126
Editing Bookmarks and Search Histories 127
Working with Maps Settings 128
5 Shopping in the PlayStation Store 131
Navigating the Online Shop 132
Examining the Store 133
Understanding Content Items 134
Downloading Content 135
Paying for Purchases 136
Adding Funds 137
Managing Sub Account Funds 138
Checking PlayStation Store Usage 139
Redownloading Content 141
6 Exploring Social Apps 143
Getting to Know the Party App 144
Party LiveArea and Party and Application Screens 144
Creating Parties 146
Joining Parties 148
Conducting Text Chats 150
Recommending a Friend 151
Approving Recommended Persons 152
Using the Friends App 153
Friends LiveArea and Application Screens 153
Sending Friend Requests 154
Blocking Individuals 155
Unblocking Individuals 156
Group Messaging with Friends 157
LiveArea Screen 157
Sending Messages 158
Managing Messages 160
Connecting and Sharing with Facebook 161
Facebook LiveArea Screen 161
Navigating the Facebook App 162
Sharing and Discovering with Twitter 166
Twitter LiveArea Screen 166
Authorizing LiveTweet 167
Navigating LiveTweet 168
Checking in with foursquare 171
foursquare LiveArea Screen 172
Getting a Handle on foursquare 172
Making the Call with Skype 177
Getting Started with Skype 178
Examining the Skype Application 179
7 Surfing with the Internet Browser 183
Using the LiveArea Screen for the Browser 184
Surfing the Web 185
Entering Web Addresses 186
Working with Pages 187
Opening Multiple Browser Windows 187
Saving Images 188
Uploading Files 188
Working with Bookmarks and Browsing History 189
Adding Bookmarks 189
Opening a Bookmark 190
Organizing Bookmarks 190
Viewing Your Browsing History 191
Browser Settings 191
8 Managing Media with Content Manager 195
Using LiveArea Screen for Content Manager 196
Working with a Computer 196
Installing Content Manager Assistant for Windows 198
Installing Content Manager Assistant for Macintosh 200
Copying and Deleting Content 201
Backing Up and Restoring Content 203
Working with a PlayStation 3 204
Copying and Deleting Content 204
Backing Up and Restoring Content 206
Deleting Outdated Backups 207
9 Gaming on Your Vita 209
Trophies 210
Using LiveArea for Trophies 210
Synchronizing Trophies 211
Viewing Vita Trophies 211
Viewing Trophies for All Systems 212
Remote Play with the PlayStation 3 214
Using LiveArea Screen for Remote Play 214
Registering Your Vita with a PlayStation 3 215
Playing Remotely via PlayStation 3 Wi-Fi 217
Playing Remotely via the Internet 218
Enabling PlayStation 3 Remote Start 219
Controlling the PlayStation 3 220
Other Interactions with the PlayStation 3 222
Cross-Platform Play 222
Cross-Controller 222
Cross-Save 223
Cross-Goods 223
Companion Apps 224
Must-Play Vita Games 224
Must-Play PlayStation Minis Games 231
Must-Play PlayStation One Games 234
Must-Play PlayStation Portable Games 237
10 Snapping Pictures and Video with the Cameras 241
Viewing the Photos LiveArea Screen 242
Getting into Shooting Mode 243
Taking Photos 245
Capturing Video 246
Looking at Viewing Mode 247
Examining the Thumbnails Screen 247
Deleting Images and Videos 248
Viewing Individual Photos and Videos 249
Adjusting Slideshow Settings 251
Cropping Photos 253
Sharing Photos 254
Getting to Know Flickr 255
Examining the Flickr LiveArea Screen 256
Touring the Flickr Interface 256
Browsing Photos with Flickr 258
Uploading Images to Flickr 259
Taking a Picture and Uploading It 260
Uploading a Stored Photo 261
Adding Tags and Information to Your Photos 262
Tweaking Flickr's Layout on Vita 263
11 Viewing Video Content 265
Understanding the Videos App 266
Examining the Videos LiveArea Screen 266
Playing Video via the Videos App 267
Controlling Playback with Buttons 269
Adjusting Video Settings 270
Watching Netflix 270
Getting Started with the Netflix App 271
Navigating the Netflix App 272
Watching YouTube with the YouTube App 273
Video Sharing with Niconico 276
Getting Started with Niconico 276
Navigating the Niconico App 278
12 Tuning in to Music 281
Understanding the Music App 282
Examining the Music LiveArea Screen 282
Listening to Music via the Music App 283
Playing Music in the Background 286
Getting to Know Music Unlimited 287
Signing Up for Music Unlimited 288
Disabling Auto-Renewal 288
Understanding the Music Unlimited Interface 289
Making Songs Available Offline 292
Getting Help with Your PlayStation Vita 293
Index 295


FREE

ONE MONTH ACCESS!
WITH PURCHASE
---
Get unlimited 30-day access to thousands of Books & Training Videos about technology, professional development and digital media If you continue your subscription after your 30-day trial, you can receive 30% off a monthly subscription to the Safari Library for up to 12 months.
Other Things You Might Like

By Paul Sheer
Book $31.99

Book $23.99