Home > Store > Home & Office Computing > Entertainment/Gaming/Gadgets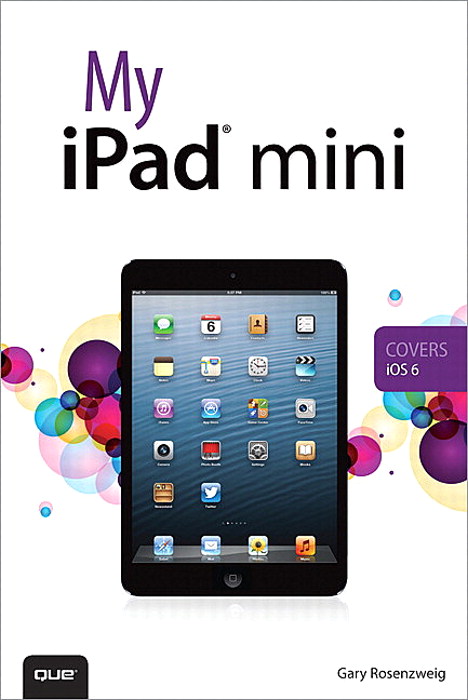 Share
|



Register your product to gain access to bonus material or receive a coupon.
My iPad mini
eBook (Watermarked)
Your Price: $15.99
List Price: $19.99
Includes EPUB, MOBI, and PDF

This eBook includes the following formats, accessible from your Account page after purchase:

EPUB The open industry format known for its reflowable content and usability on supported mobile devices.

MOBI The eBook format compatible with the Amazon Kindle and Amazon Kindle applications.

PDF The popular standard, used most often with the free Adobe® Reader® software.

This eBook requires no passwords or activation to read. We customize your eBook by discretely watermarking it with your name, making it uniquely yours.
Copyright 2013
Dimensions: 6" x 9"
Pages: 416
Edition: 1st
eBook (Watermarked)
ISBN-10: 0-13-337172-7
ISBN-13: 978-0-13-337172-7
Covers iOS 6
Step-by-step instructions with callouts to iPad mini photos that show you exactly what to do.
Help when you run into iPad mini problems or limitations.
Tips and Notes to help you get the most from your iPad mini.

Full-color, step-by-step tasks walk you through getting and keeping your iPad mini working just the way you want. Learn how to:
• Connect your iPad mini to your Wi-Fi and 3G/4G LTE networks
• Record and edit video using iMovie for iPad mini
• Use Siri to control your iPad mini or get information by speaking commands
• Take photos, and then edit them using iPhoto for iPad mini
• Video chat with your friends using Skype and FaceTime
• Stream audio and video to Apple TV and other devices
• Use Dictation to create notes, emails, text messages, search the Internet, and more
• Use iCloud to synchronize data between your devices
• Watch movies, TV shows, or home videos
• Surf the Web, and send and receive email
• Download apps to make your iPad mini even more useful
• Manage your contacts, and then connect with others using Messaging
• Stay organized with the Calendar app
• Use Pages and Numbers to create documents and spreadsheets
• Use Keynote to build and display presentations
Table of Contents
Chapter 1 Getting Started 3

The Evolving iPad 4
Generations of iPad 4
iOS 6 5
The iPad mini's Buttons and Switches 6
The Home Button 6
The Wake/Sleep Button 7
The Volume Control 8
The Side Switch 8
Orientation and Movement 9
Screen Gestures 9
Tapping and Touching 10
Pinching 10
Dragging and Flicking 10
Pull Down and Release Update 11
Four-Finger Gestures 11
iPad mini Screens 11
The Lock Screen 11
The Home Screen 12
An App Screen 13
The Search Screen 13
The Settings Screen 14
Interacting with Your iPad mini 15
Common Interface Elements 15
Using the On-Screen Keyboard17
Dictating Text 18
Editing Text 19
Copy and Paste 21
Using Siri 22
Chapter 2 Customizing Your iPad 27
Changing Your Wallpaper 28
Getting Details About Your iPad 30
Setting Alert Sounds 32
Password Protecting Your iPad 34
Setting Parental Restrictions 36
Setting Side Switch Functionality 38
Setting Your Date and Time3 9
Modifying Keyboard Settings 40
Changing Safari Settings 42
Changing Music Settings 43
Notification Center Settings 44
More Settings 46
Chapter 3 Networking and Syncing 49
Setting Up Your Wi-Fi Network Connection 50
Setting Up Your 3G/4G Connection 52
Syncing with iTunes 54
Syncing Contacts, Calendars, and Other Information 57
Syncing Apps 59
Syncing Documents 60
Syncing Music 62
Syncing Photos 64
Syncing Using iCloud 66
Keeping Your iPad Up-to-Date 68
Chapter 4 Playing Music and Video 71
Playing a Song 72
Building a Playlist 75
Making iTunes Purchases 77
Downloading Podcasts 81
Playing Video 83
Using AirPlay to Play Music and Video on Other Devices 85
Home Sharing 86
Chapter 5 Reading Books 89
Buying a Book from Apple 90
Reading a Book 92
Using Reading Aids 94
Adding Notes and Highlights 95
Adding Bookmarks 97
Organizing Your Books 98
Using iBooks Alternatives 100
Chapter 6 Organizing Your Life 103
Adding a Contact 104
Searching for a Contact 106
Working with Contacts 107
Creating a Calendar Event 108
Using Calendar Views 111
Day View 111
Week View 112
Month View 113
List View 114
Creating Notes 115
Setting Reminders 117
Setting Clock Alarms 119
Chapter 7 Surfing the Web 123
Browsing to a URL 124
Searching the Web 125
Viewing Web Pages 128
Returning to Previously Visited Websites 130
Bookmarking Websites 132
Deleting Your Bookmarks 133
Delete a Single Bookmark 134
Another Way to Delete Bookmarks 134
Creating Home Screen Bookmarks 135
Building a Reading List 136
Filling in Web Forms 138
Opening Multiple Web Pages 140
Copying Text and Images from Web Pages 141
Using Images from Web Pages 142
Viewing News Articles with Safari Reader 143
Chapter 8 Communicating with Email, Messaging, and Twitter 145
Configuring Your Email 146
Reading Your Email 149
Composing a New Message 150
Creating a Signature 152
Deleting and Moving Messages 153
Searching Email 154
Configuring How Email Is Received 154
More Email Settings 156
Setting Up Messaging 157
Conversing with Messages 158
Setting Up Twitter 160
Following People on Twitter 161
How to Tweet 162
Chapter 9 Taking and Editing Photos 165
Taking Photos 166
Using Photo Booth 168
Browsing Your Photos 170
Editing Photos 171
Sharing Photos 173
Viewing Albums 175
Creating Albums 176
Creating a Slideshow 177
Turning Your iPad into a Picture Frame 178
Capturing the Screen 180
Deleting Photos 181
Adjusting Photos in iPhoto 183
Using Brushed Effects on Photos in iPhoto 186
Applying Special Effects to Photos in iPhoto 187
Sharing Photos with iPhoto 188
Creating Online Journals with iPhoto 189
Chapter 10 Recording Video 195
Shooting Video 196
Trimming Video Clips 198
Combining Clips in iMovie 199
Editing Transitions in iMovie 203
Adding Photos to Your Video in iMovie 205
Adding Video Titles in iMovie 208
Setting Up FaceTime 209
Placing Video Calls with FaceTime 211
Receiving Video Calls with FaceTime 212
Chapter 11 Writing with Pages 215
Creating a New Document 216
Styling Text 218
Reusing Styles 221
Formatting Text 222
Creating Lists 224
Column Layouts 226
Inserting Images 227
Using Shapes in Documents 230
Creating Tables 231
Creating Charts 233
Document Setup 235
Sharing and Printing Documents 236
Chapter 12 Spreadsheets with Numbers 239
Creating a New Spreadsheet 240
Totaling Columns 244
Averaging Columns 245
Performing Calculations 249
Formatting Tables 250
Formatting Cells 250
Formatting Whole Tables 253
Using Headers and Footers 254
Creating Forms 255
Creating Charts 258
Using Multiple Tables 260
Chapter 13 Presentations with Keynote 267
Building a Simple Presentation 268
Building Your Own Slide 270
Adding Transitions 274
Magic Move 275
Object Transitions 277
Organizing Slides 279
Playing Your Presentation 281
Presenting on an External Display 282
Chapter 14 Navigating with Maps 285
Finding a Location 286
Searching for Places and Things 288
Getting Directions 289
Setting Bookmarks 292
Using Views 294
Using Satellite View 294
Using 3D View 296
Getting Traffic Reports 298
Chapter 15 The World of Apps 301
Purchasing an App 302
Arranging Apps on Your iPad 305
Creating App Folders 306
Viewing Currently Running Apps 307
Quitting Apps 308
Finding Good Apps 309
Using iPhone/iPod touch Apps 311
Getting Help with Apps 313
Chapter 16 Using Popular and Critical Apps 317
Using Facebook 318
Using iTap VNC 320
Using GoodReader 322
Using NewsRack 325
Using Flipboard 328
Adding a Dictionary 331
Using Skype for iPad 332
Putting Notes on Your Home/Lock Screen 334
Creating Multimedia Cloud Notes with Evernote 338
Handwriting Notes 341
Using Epicurious 343
Other Useful Apps 345
Chapter 17 Games and Entertainment 349
Composing Music with GarageBand 350
Watching Movies and TV Shows with Netflix 353
Listening to Music with Pandora Radio 355
Using Game Center 356
iPad Games and Entertainment 358
Air Hockey 358
Highborn HD 359
Harbor Master HD 360
Angry Birds HD 360
Galcon Fusion 361
Plants vs Zombies HD 362
Monkey Island 2 Special Edition 362
Scrabble for iPad 363
Fieldrunners for iPad 363
Real Racing 2 HD 364
Gold Strike 364
Word Spy 365
Comics 366
Subscribing to Magazines with Newsstand 366
Chapter 18 iPad mini Accessories 369
Printing from Your iPad mini 370
iPad mini Smart Cover 372
Power Accessories and Docks 373
Video Output Adapters 375
Lightning to VGA Adapter 375
Lightning Digital AV Adapter 376
AirPlay Mirroring with Apple TV 377
Apple Wireless Keyboard 378
SD Card and USB Adapters 381
Index 383


FREE

ONE MONTH ACCESS!
WITH PURCHASE
---
Get unlimited 30-day access to thousands of Books & Training Videos about technology, professional development and digital media If you continue your subscription after your 30-day trial, you can receive 30% off a monthly subscription to the Safari Library for up to 12 months.
Other Things You Might Like
Book $17.99

eBook (Watermarked) $14.39

By Brad Miser
eBook (Watermarked) $15.99