Home > Store > Operating Systems, Server > Microsoft Servers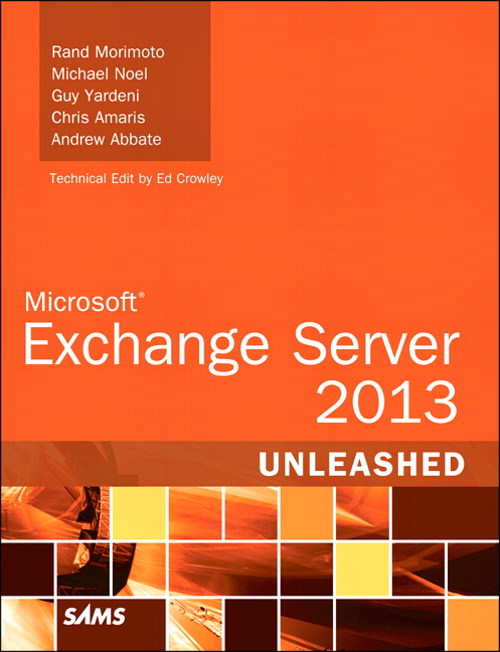 Share
|



Register your product to gain access to bonus material or receive a coupon.
Microsoft Exchange Server 2013 Unleashed
eBook (Watermarked)
Your Price: $31.99
List Price: $39.99
Includes EPUB, MOBI, and PDF

This eBook includes the following formats, accessible from your Account page after purchase:

EPUB The open industry format known for its reflowable content and usability on supported mobile devices.

MOBI The eBook format compatible with the Amazon Kindle and Amazon Kindle applications.

PDF The popular standard, used most often with the free Adobe® Reader® software.

This eBook requires no passwords or activation to read. We customize your eBook by discretely watermarking it with your name, making it uniquely yours.
Copyright 2013
Dimensions: 7" x 9-1/8"
Pages: 936
Edition: 1st
eBook (Watermarked)
ISBN-10: 0-13-305728-3
ISBN-13: 978-0-13-305728-7
Microsoft Exchange Server 2013 doesn't just add dozens of new features: It integrates multiple technologies into a common, unified communications system that can add value in many new ways. Now, five leading Exchange Server consultants help you deploy Exchange Server 2013 quickly and smoothly--and then efficiently manage, troubleshoot, and support it for years to come. More than a comprehensive, authoritative reference, Microsoft Exchange Server 2013 Unleashed presents hundreds of helpful tips and tricks based on the authors' unsurpassed early adopter experience with Exchange Server 2013 in real production environments.

Carefully and thoroughly, the authors explain what's new and different in Microsoft Exchange 2013 and guide you through architecting, planning, implementing, and transitioning to your new Exchange Server environment. They offer best practices for establishing solid Active Directory, DNS, fabric, virtualization, and PKI security environments to support Exchange; implementing high availability and site resilience; and much more.

You'll find expert discussions of security and compliance and uniquely practical and detailed coverage of day-to-day administration, management, maintenance, and optimization. The authors next turn to advanced platform integration, helping you leverage the full benefits of linking Exchange Server, SharePoint, and Unified Messaging. They conclude with a full section on Exchange Server's dramatically improved support for endpoint clients, including Apple, Android, and Microsoft smartphones and tablets.

Detailed information on how to...

Use proven best practices to install Exchange Server 2013 from scratch or to upgrade from Exchange Server 2007/2010
Integrate Active Directory, DNS, fabric, and virtualization with Exchange Server 2013
Implement certificate-based Public Key Infrastructure (PKI)
Plan, deploy, migrate to, and support public folders
Protect your users and organization with both policy-based and content-enforced security
Design and implement message archiving, retention, and eDiscovery
Administer, optimize, and document your Exchange Server 2013 environment
Architect all aspects of an integrated, enterprise-level Exchange Server 2013 environment
Integrate Exchange Server with SharePoint Site Mailboxes, Enterprise Search, and more
Leverage the robust Outlook client for Windows, Mac, Web, tablet, and mobile phones
Table of Contents
Introduction 1
Part I Microsoft Exchange Server 2013 Overview
1 Exchange Server 2013 Technology Primer 5
What Is Exchange Server 2013? 5
What's New in Exchange Server 2013? 14
Exploring the New Exchange Administration Center (EAC) 17
Architectural Changes in Exchange Server 2013 18
Improvements in Exchange Server 2013 Relative to Security 20
Improvements in Exchange Server 2013 Relative to eDiscovery and Retention 21
Changes to Public Folders in Exchange Server 2013 22
Introduction of Site Mailboxes in Exchange Server 2013 23
Exchange Server 2013 as the Focal Point for Remote and Mobile Communications 24
Integration with Lync 2013 26
Improving Unified Messaging in Exchange Server 2013 26
Making Exchange Server 2013 Extremely Reliable and Recoverable 27
Improving Configuration, Administration, and Management Through the Exchange Management Shell 29
Improving Performance Through Batch Moves and Processing 30
Understanding Mail Flow in Exchange Server 2013 31
Understanding the Importance of Active Directory for an Exchange Server 2013 Environment 32
Installing and Transitioning to Exchange Server 2013 33
Managing and Administering Exchange Server 2013 34
Summary 35
Best Practices 35
2 Understanding Core Exchange Server 2013 Design Plans 37
Planning for Exchange Server 2013 37
Understanding AD Design Concepts for Exchange Server 2013 42
Determining Exchange Server 2013 Placement 47
Configuring Exchange Server 2013 for Maximum Performance and Reliability 49
Securing and Maintaining an Exchange Server 2013 Implementation 50
Summary 51
Best Practices 51
3 Architecting an Enterprise-Level Exchange Server 2013 Environment 53
Designing Active Directory for Exchange Server 2013 53
Determining Hardware and Software Components 56
Designing Exchange Server Roles in an Exchange Server Environment 57
Designing Exchange Server Infrastructure 60
Integrating Client Access into Exchange Server 2013 Design 62
Summary 63
Best Practices 63
4 Understanding Network Services and Active Directory Domain Controller Placement for Exchange Server 2013 65
Domain Name System and Its Role in Exchange Server 2013 65
Outlining the Types of DNS Servers 67
Examining DNS Components 68
Using DNS to Route SMTP Mail in Exchange Server 2013 77
Understanding DNS Requirements for Exchange Server 2013 78
Configuring DNS to Support Exchange Servers 83
Troubleshooting DNS Problems 83
Global Catalog and Domain Controller Placement 87
Examining the Role of Domain Controllers in AD 90
Defining the Global Catalog 91
Exploring Microsoft Exchange Active Directory Topology Service 97
Understanding AD Functionality Modes and Their Relationship to Exchange Groups 99
Summary 103
Best Practices 103
5 Integrating Certificate-Based Public Key Infrastructure (PKI) in Exchange Server 2013 105
Understanding Public Key Infrastructure 106
Server Certificates in Exchange Server 2013 112
Installing a Windows Certification Authority Server 118
Securing an Exchange Server 2013 Server 122
Securing an IIS Web Server 129
Implementing Secured Email Communications with Exchange Server 2013 138
Using Outlook to Send and Receive Digitally Signed and Encrypted Emails 144
Summary 149
Best Practices 149
Part II Implementing and Transitioning to Exchange Server 2013
6 Installing and Configuring the Basics of Exchange Server 2013 for a Brand-New Environment 151
Understanding the Exchange Server 2013 Server Roles 152
Understanding the Prerequisites for Exchange Server 2013 153
Understanding High Availability and Site Resilience in Exchange Server 2013 156
Exchange Server 2013 Hardware Requirements 157
Understanding the Active Directory Requirements for Exchange Server 2013 158
Understanding Role Based Access Control 167
Planning Your Exchange Server 2013 Installation 170
Deploying Active Directory from Scratch 172
Preparing Your Environment for Exchange Server 2013 182
Installing Exchange Server 2013 192
Finalizing the Deployment 194
Summary 195
Best Practices 195
7 Transitioning from Exchange Server 2007/2010 to Exchange Server 2013 197
High-Level Guide for Transition from Exchange Server 2007/2010 to Exchange Server 2013 198
Understanding How to Transition to Exchange Server 2013 199
Deploying a Prototype Lab for the Exchange Server 2013 Transition Process 204
Migrating to a Brand-New Exchange Server 2013 Environment 206
Planning Your Transition 207
Summary 219
Best Practices 219
8 Implementing and Supporting a Highly Available Exchange Server 2013 Environment 221
Understanding Windows Failover Clustering 222
Understanding Database Availability Groups 223
Deploying a Database Availability Group 226
Comparing and Contrasting DAG Versus CCR/SCR/SCC 246
Load Balancing in Exchange Server 2013 248
Software Load Balancing in Windows 249
Summary 254
Best Practices 255
9 Public Folders 257
Understanding Public Folders 258
Planning a Public Folder Environment 261
Implementing a Public Folder Environment 264
Managing Public Folders 271
Migrating Public Folders 278
Summary 283
Best Practices 284
Part III Securing and Compliance in an Exchange Server 2013 Environment
10 Understanding Exchange Policy Enforcement Security 287
What Is Enterprise Policy Management in Exchange Server 2013? 288
Understanding Relevant Governmental Regulations for Policy Enforcement 288
Using Transport Agents in Exchange Server 2013 297
Understanding the Hub Transport Agents in Exchange Server 2013 299
Understanding Transport Agent Policies on the Edge 305
Creating Messaging Records Retention Policies 307
Utilizing Rights Management Services for Policy Enforcement 310
Exchange Server 2013 Client-Level Security Enhancements 324
Protecting Against Spam 325
Securing Outlook Web App 329
Summary 331
Best Practices 332
11 Exchange Edge Including Antispam/Anti-Malware Protection for Exchange 333
Installing and Configuring the Edge Transport Server Components 334
Utilizing the Basic Sender and Recipient Connection Filters 343
Utilizing Sender ID on an Edge Transport Server 352
Using Content Filtering to Isolate Inappropriate Content 358
Fine-Tuning Content Filtering 364
Using Content Filtering to Allow and Reject Domain-Level Content 366
Filtering Content in a Message Attachment 368
Using Sender/IP Reputation to Filter Content 371
Using Address Rewriting to Standardize on Domain Address Naming for an Organization 373
Using EdgeSync to Synchronize Active Directory Information to the Edge Transport Server 375
Implementing Safelist Aggregation for Microsoft Outlook 380
Managing and Maintaining an Edge Transport Server 382
Exchange Server-Level Security Features 386
Forefront Online Protection for Exchange 393
Summary 394
Best Practices 394
12 Designing and Implementing Message Archiving, Retention, and eDiscovery 397
Why Is Email Archiving and Retention So Important These Days? 398
What Is Archiving, Retention, and eDiscovery? 398
Archiving in Exchange Using Archive Mailboxes 399
Creating and Using an Exchange Archive Mailbox 401
Retention in Exchange Server 2013 Using Retention Policies 405
Handling Legal Hold in Exchange 412
eDiscovery and Searching for Content 415
Summary 420
Best Practices 420
Part IV Exchange Administration, Management, Maintenance, and Optimization
13 Administering an Exchange Server 2013 Environment 423
Exchange Administration Center 423
Exchange Management Shell 428
Performing Common Tasks 431
Introduction to Role Based Access Control 436
Understanding Journaling 441
Understanding Archiving 446
Server Administration 448
Summary 451
Best Practices 451
14 Exchange Server 2013 Management and Maintenance Practices 453
Proper Care and Feeding of Exchange Server 2013 454
Maintenance Tools for Exchange Server 2013 457
The Exchange Administration Center 459
The Exchange Toolbox 460
Auditing the Environment 465
Best Practices for Performing Database Maintenance 474
Prioritizing and Scheduling Maintenance Best Practices 476
Postmaintenance Procedures 482
Reducing Management and Maintenance Efforts 482
Summary 483
Best Practices 484
15 Optimizing an Exchange Server 2013 Environment 485
Examining Exchange Server 2013 Performance Improvements 486
Analyzing Capacity and Performance 491
Optimizing Exchange Server 2013 Servers 494
Monitoring Exchange Server 2013 503
Analyzing and Monitoring Core Elements 504
Properly Sizing Exchange Server 2013 510
Monitoring Exchange Server with System Center Operations Manager 515
Summary 516
Best Practices 517
16 Backing Up the Exchange Server 2013 Environment 519
Understanding the Importance of Backups 519
Establishing Service Level Agreements 521
Supporting Backups with Documentation 523
Logging Daily Backup Results and Evaluation 526
Roles and Responsibilities 527
Developing a Backup Strategy 528
What to Back Up on Exchange Servers 532
The Need for Backups with Database Availability Groups 536
Backing Up Windows Server and Exchange Server 2013 537
Backing Up Specific Windows Services 538
Recovering Exchange Server Application and Exchange Server Data 542
Protecting Exchange Servers with System Center 2012 Data Protection Manager 546
Summary 555
Best Practices 556
17 Using Microsoft System Center Operations Manager to Monitor Exchange Server 2013 557
Exchange Server 2013 Monitoring 558
Understanding How OpsMgr Works 559
OpsMgr Architecture Components 564
Securing OpsMgr 576
Fault Tolerance and Disaster Recovery 581
Understanding OpsMgr Components 587
Putting It All Together in a Design 592
Installing OpsMgr 2012 600
Configuring OpsMgr 614
Administering OpsMgr 624
Exploring the Exchange Server 2013 Management Pack 630
Summary 641
Best Practices 641
18 Documenting an Exchange Server 2013 Environment 643
Benefits of Documentation 644
Exchange Server 2013 Project Documentation 646
Exchange Server 2013 Environment Documentation 656
Exchange Server 2013 Administration and Maintenance Documents 659
Disaster Recovery Documentation 662
Performance Documentation 665
Security Documentation 666
Training Documentation 667
Summary 668
Best Practices 668
Part V Platform Integration in an Exchange Server 2013 Environment
19 Designing and Configuring Unified Messaging in Exchange Server 2013 669
Unified Messaging Features 669
Unified Messaging Architecture 676
Unified Messaging Installation 689
Monitoring and Troubleshooting Unified Messaging 700
Unified Messaging Shell Commands 713
SIP Protocol 716
Summary 718
Best Practices 718
20 Integrating Exchange with SharePoint Site Mailboxes, Enterprise Search, and More 721
Understanding the History of SharePoint Technologies 722
Identifying the Need for SharePoint 2013 726
Exploring Basic SharePoint Features 727
Exploring End-User Features in SharePoint 729
Enabling Site Mailbox Functionality in SharePoint 2013 734
Customizing and Developing SharePoint Sites 741
Summary 742
Best Practices 742
Part VI Client Access to Exchange
21 Getting the Most Out of the Microsoft Outlook Client 743
Outlook over the Years 744
Highlighted Features in Outlook 2013 745
Security Enhancements in Outlook 2013 756
Implementing Outlook Anywhere 763
Deploying Outlook 2013 766
Using Outlook 2013 768
Leveraging Social Media in Outlook 777
Using Cached Exchange Mode for Offline Functionality 779
Summary 783
Best Practices 784
22 Leveraging the Capabilities of the Outlook Web App (OWA) Client 785
Understanding Outlook Web App (OWA) 786
Using Outlook Web App 2013 788
Using the Calendar in OWA 802
Using Tasks in OWA 805
Using Contacts in OWA 806
The Options Page 807
Signing Out of OWA 2013 818
Summary 818
Best Practices 819
23 Mobility and Mobile Device Support in Exchange Server 2013 821
Understanding Mobility Enhancements in Exchange Server 2013 822
Enabling ActiveSync in Exchange Server 2013 823
Securing Access to ActiveSync with Secure Sockets Layer (SSL) Encryption 824
Enabling Offline Outlook Web App (OWA) in Exchange Server 2013 829
Summary 832
Best Practices 832
Index 833


FREE

ONE MONTH ACCESS!
WITH PURCHASE
---
Get unlimited 30-day access to thousands of Books & Training Videos about technology, professional development and digital media If you continue your subscription after your 30-day trial, you can receive 30% off a monthly subscription to the Safari Library for up to 12 months.
Other Things You Might Like

eBook (Watermarked) $31.99