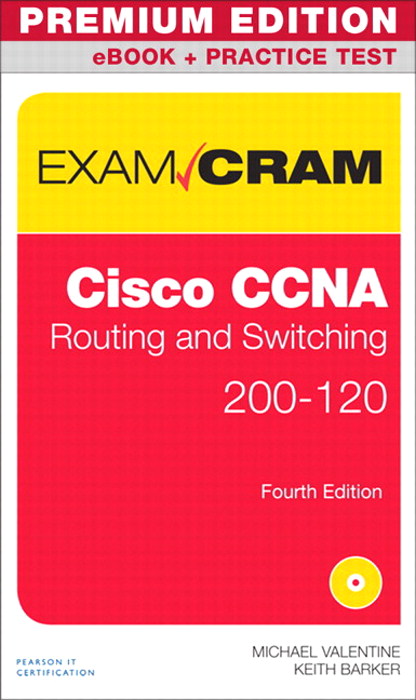 Share
|



Register your product to gain access to bonus material or receive a coupon.
CCNA Routing and Switching 200-120 Exam Cram Premium Edition eBook and Practice Test, 4th Edition
Premium Edition eBook
Your Price: $35.99
List Price: $44.99
Copyright 2014
Dimensions: 6" x 9"
Pages: 750
Edition: 4th
Premium Edition eBook
ISBN-10: 0-13-339274-0
ISBN-13: 978-0-13-339274-6
The exciting new Cisco CCNA Routing and Switching 200-120 Exam Cram Premium Edition eBook and Practice Testis a digital-only certification preparation product combining an eBook with enhanced Pearson IT Certification Practice Test. The Premium Edition eBook and Practice Test contains the following items:
The CCNA Routing and Switching 200-120 Premium Edition Practice Test, including four full practice exams and enhanced practice test features
PDF, EPUB, and Kindle/Mobi formats of the Cisco CCNA Routing and Switching 200-120 Exam Cram from Pearson IT Certification, which are accessible via your PC, tablet, and Smartphone
About the Premium Edition Practice Test
This Premium Edition contains an enhanced version of the Pearson IT Certification Practice Test (PCPT) software with hundreds of practice exam questions. This integrated learning package:
Allows you to focus on individual topic areas or take complete, timed exams
Includes direct links from each question to detailed tutorials to help you understand the concepts behind the questions
Provides unique sets of exam-realistic practice questions
Tracks your performance and provides feedback on a module-by-module basis, laying out a complete assessment of your knowledge to help you focus your study where it is needed most
Pearson IT Certification Practice Test minimum system requirements:
Pearson IT Certification Practice Test minimum system requirements:
Windows XP (SP3), Windows Vista (SP2), Windows 7, or Windows 8; Microsoft .NET Framework 4.0 Client; Pentium-class 1GHz processor (or equivalent); 512MB RAM; 650MB disk space plus 50MB for each downloaded practice exam; access to the Internet to register and download your practice exams
About the Premium Edition eBook
Cisco CCNA Routing and Switching 200-120 Exam Cram is the perfect study guide to help you pass the Cisco CCNA 200-120 exam, providing coverage and practice questions for every exam topic. The book contains an extensive set of preparation tools such as exam objective mapping; a self-assessment section that helps you evaluate your motivations and exam readiness; concise, easy-to-read exam topic overviews; Exam Alerts that highlight key concepts; bullet lists and summaries for easy review; Cram Savers, Cram Quizzes, and chapter-ending practice questions that help you assess your knowledge and test your understanding; Notes that indicate areas of concern or specialty training; Tips to help you build a better foundation of knowledge; and an extensive glossary of terms and acronyms. The book also contains the extremely useful Cram Sheet tear-out that represents a collection of the most difficult-to-remember facts and numbers you should memorize before taking the test.
Covers the critical information you'll need to know to score higher on your CCNA exam!
· Identify the protocols that operate at specific OSI layers
· Learn the details of custom subnetting with IPv4
· Understand and implement IPv6
· Connect, configure, and manage Cisco routers and switches
· Set up security for routers and switches
· Create VLANs and set up switch-to-switch trunk links
· Filter traffic from one network to another with access control lists (ACLs)
· Deploy Network Address Translation (NAT) and IOS router DHCP services
· Learn to predict and verify Spanning Tree Protocol (STP)
· Configure and verify OSPFv2, OSPFv3, and EIGRP
· Leverage redundancy protocols including HSRP and GLBP
· Implement WAN technologies including PPP, HDLC, and Frame Relay
· Troubleshoot switches and routers, including routing protocols
Mike Valentine has been in the IT field for 16 years, focusing on network design and implementation. He is a Cisco Certified Systems Instructor (#31461) and specializes in Cisco Unified Communications instruction as well as CCNA and CCNP courses. His accessible, humorous, and effective teaching style has demystified Cisco for hundreds of students since he began teaching in 2002.
Keith Barker, CCIE No. 6783 R/S & Security, is a 27-year veteran of the networking industry. He currently works at CBT Nuggets. His past experience includes EDS, Blue Cross, Paramount Pictures, and KnowledgeNET, and he has delivered CCIE-level training for several years.
FREE

ONE MONTH ACCESS!
WITH PURCHASE
---
Get unlimited 30-day access to thousands of Books & Training Videos about technology, professional development and digital media If you continue your subscription after your 30-day trial, you can receive 30% off a monthly subscription to the Safari Library for up to 12 months.
Other Things You Might Like
Book $27.99