Home > Store > Programming > C/C++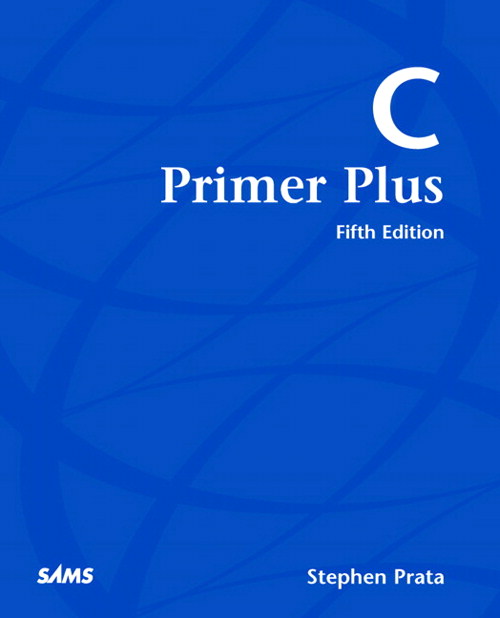 Share
|



Register your product to gain access to bonus material or receive a coupon.
C Primer Plus, 5th Edition
Book
This product currently is not for sale.
eBook (Adobe DRM)
Your Price: $35.19
List Price: $43.99

ℹ This eBook requires the free Adobe® Digital Editions software.

Before downloading this DRM-encrypted PDF, be sure to:

Install the free Adobe Digital Editions software on your machine. Adobe Digital Editions only works on Macintosh and Windows, and requires the Adobe Flash Player. Please see the official system requirements.
Authorize your copy of Adobe Digital Editions using your Adobe ID (select AdobeID as the eBook vendor). If you don't already have an Adobe ID, you can create one here.
Copyright 2005
Dimensions: 7-3/8" x 9-1/8"
Pages: 984
Edition: 5th
Book
ISBN-10: 0-672-32696-5
ISBN-13: 978-0-672-32696-7
eBook (Adobe DRM)
ISBN-10: 0-7686-6599-X
ISBN-13: 978-0-7686-6599-4
The new classic! C Primer Plus, now in its 5th edition, has been revised to include over 20 new programming exercises, newly improved examples and the new ANSI/ISO standard, C99. Task-oriented examples will teach you the fundamentals of C programming. From extended integer types and compound literals to Boolean support and variable-length arrays, you will learn to create practical and real-world applications with C programming. Review questions and programming exercises at the end of each chapter will reinforce what you have learned. This friendly and easy-to-use self-study guide will help you understand the fundamentals of this core programming language.
Downloads
Solutions to a selected subset of Programming Exercises (zipped Word and text document): 104 KB - c5sol.zip
All the code developed for the book in one convenient download - 104 KB -- c5ex.zip
Online Sample Chapters
C Language Data Types: An Understandable Guide for Beginners
Table of Contents
1. Getting Ready.
2. Introducing C.
3. Data and C.
4. Character Strings and Formatted Input/Output.
5. Operators, Expressions, and Statements.
6. C Control Statements: Looping.
7. C Control Statements: Branching and Jumps.
8. Character Input/Output and Input Validation.
9. Functions.
10. Arrays and Pointers.
11. Character Strings and String Functions.
12. Storage Classes, Linkage, and Memory Management.
13. File Input/Output.
14. Structures and Other Data Forms.
15. Bit Fiddling.
16. The C Preprocessor and the C Library.
17. Advanced Data Representation.
Appendix A. Answers to the Review Questions.
Appendix B. Reference Section.
FREE

ONE MONTH ACCESS!
WITH PURCHASE
---
Get unlimited 30-day access to thousands of Books & Training Videos about technology, professional development and digital media If you continue your subscription after your 30-day trial, you can receive 30% off a monthly subscription to the Safari Library for up to 12 months.
Other Things You Might Like

Book $43.99