With today's "connected life" running 24/7, we recognize it's hard to keep up with all your favorite websites and tech resources. The IT List is here to help you cut through the noise. Check back each Friday for a quick digest of articles, resources, events, promotions, and other goodies worth a first or second look on InformIT.

The IT List: What You Missed This Week on InformIT [11/8/13]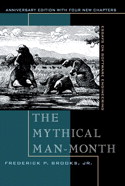 1. A Tech Classic Helps Modern Business: Few books on software project management have been as influential and timeless as The Mythical Man-Month. With a blend of software engineering facts and thought-provoking opinions, celebrated computer scientist Fred Brooks offers insight for anyone managing complex projects.

The Everything Store, a new book by Brad Stone recounting the evolution of Amazon and CEO Jeff Bezos, is receiving a lot of attention and commentary week. Books credited in the bibliography were recently revealed, including perennial favorite Mythical Man-Month. Read "The Books That Helped Jeff Bezos Create Amazon" on Fast Company to learn more.
2. Learn a New Programming Language: Go programmer Siddhartha Singh explains what makes Go different and when you should consider using it. Using examples of successful programs, he shows how easily you can set up the Go environment, build programs, and run them. Rather than just focusing on the syntax, learn the important motivating factors for considering Go as your language of choice.
Remember: For a limited time, save 40% off featured programming books, eBooks & video tutorials for all learning levels – no experience to seasoned programmer!
3. New Video Training: Design Patterns in Java LiveLessons is a clear, concise introduction to one of the most important concepts in software engineering–design patterns. It introduces patterns both conceptually and through the application of many classic "Gang of Four" design patterns to the development of a case study application written in Java – includes 4+ hours of instruction! Watch a sample lesson in the player below.

Watch 30 additional LiveLessons sample lessons on InformIT.
4. Women in Tech:
Author Erica Sadun talks about her career path, advice for those who want to get into iOS development, and who is stealing all of her gadgets.
Read the Q&A.
Have a great weekend. See you next Friday!