With today's "connected life" running 24/7, we recognize it's hard to keep up with all your favorite websites and tech resources. The IT List is here to help you cut through the noise. Check back each Friday for a quick digest of articles, resources, events, promotions, and other goodies worth a first or second glance on InformIT.
The IT List: What You Missed This Week on InformIT [11/1/13]
1. Suggested Reading: Most software projects aren't as complex as the ACA website, Healthcare.gov, but any software project can benefit from smart project management and development. Jess Johnson takes a look at some books – including celebrated classic The Mythical Man-Month by Fred Brooks – about running a software project and recovering from failure, plus some specific guides for front-end optimization, scalability, security, testing, and refactoring to see how that advice can be applied to healthcare.gov. See top picks and recommendations.
2. New Video Training: In Lean Change LiveLessons, Jeff Anderson and Alexis Hui provide training on how to lead and execute sustainable, successful agile change initiatives using the Lean Change method. These lessons showcase hands-on, practical tools that apply two key concepts, negotiated change and validated learning, to help change agents iterate through an Agile change. Watch sample content in the player below.
3. Gift Suggestions: It's never too early to start crossing names off your holiday shopping list. Do you have a fellow geek or tech lover in your family? Check out some awesome new titles from our friends at Que Publishing.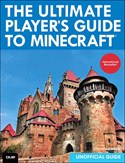 The Ultimate Player's Guide to Minecraft:
Minecraft is WAY more than a game: it's an alternate universe of creation, exhilaration, survival, adventure, passion. Author Stephen O'Brien has been obsessing over Minecraft since its earliest betas and has seen it all! He takes readers deep inside craft and mine, cave and menagerie, farm and village. He'll reveal combat traps and tricks you need to know, teach you enchantments of unimaginable power, help you survive where few dare to go, and own the infinite worlds of Minecraft!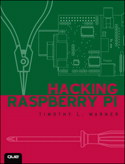 Raspberry Pi is taking off like a rocket! You can use this amazing, dirt-cheap, credit card-sized computer to learn powerful hardware hacking techniques as you build incredibly creative and useful projects! This complete, full-color guide requires absolutely no experience with either hardware hacking or computer programming. Colorful photos guide you through each project, and the step-by-step instructions are stunningly clear and easy!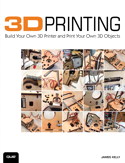 3D Printing: Build Your Own 3D Printer and Print Your Own 3D Objects:
Packed with colorful photos and screenshots, "3D Printing: Build Your Own 3D Printer and Print Your Own 3D Objects" explains all the crucial details other books skip. You'll walk through choosing and assembling your new 3D printer kit, brainstorming and designing new objects with free software, and then printing them on your brand-new 3D printer.
Have a great weekend. See you next Friday!