Interested in learning iOS development? Programming in Objective-C starts from the very beginning, brings you through the basics of Objective-C, Object Oriented Programming, XCode, and iOS programming.
The book makes no assumptions about prior experience with object-oriented programming languages or with the C language (which Objective-C is based upon). Because of this, both beginners and experienced programmers alike can use this book to quickly and effectively learn the fundamentals of Objective-C. Readers can also learn the concepts of object-oriented programming without having to first learn all of the intricacies of the underlying C programming language. Pre-order the sixth edition, releasing in December!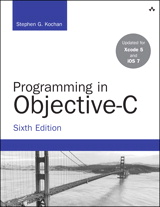 Reader Quotes:
"The best book on any programming language that I've ever read. If you want to learn Objective-C, buy it."–Calvin Wolcott

"An excellent resource for a new programmer who wants to learn Objective-C as their first programming language–a woefully underserved market."–Pat Hughes

Author Stephen Kochan is the President of ClassroomM, Inc., a site devoted to education, training, and development of mobile applications. Steve has been programming on Macintosh computers since the introduction of the first Mac in 1984. Steve spent several years working at AT&T Bell Laboratories. While he was there, he worked on performance measurement tools and developed and taught courses in C programming and the Unix System.
This book and other programming books are part of our Learn a Programming Language promotion showcasing titles for any level from novice to experienced programmers. Plus stop-by and enter to win an eBook of your choice!