Home > Blogs > Help Send InformIT to SXSW 2014
Help Send InformIT to SXSW 2014
Because of technical and cultural changes, the industry of writing, publishing, and distributing books is changing rapidly. Be sure to vote for the South by Southwest 2014 panel Writing and Publishing in the Modern Word -- featuring Mark Taub (InformIT), Aaron Hillegass (Big Nerd Ranch), Susan Loper (Intelligent English/Big Nerd Ranch), and Ray Wenderlich (Ray Wenderlich/Razeware) -- to hear what the future holds.
Speakers will discuss:
What are the ins and outs of eBook publishing: formats, pricing, distribution, and DRM? When is print-on-demand cost-effective? What works as an Amazon Single?
How do you promote a book to busy people in a noisy world? How do you deal with online reviews?
What are the challenges of translations and international distribution?
iBooks Author: Wonderful or Awful?
How do you enhance your book with other media: video, audio, apps and reader forums?
And more!
Visit the SXSW Panel Picker and cast your vote by September 6, 2013. Hope to see you in Austin!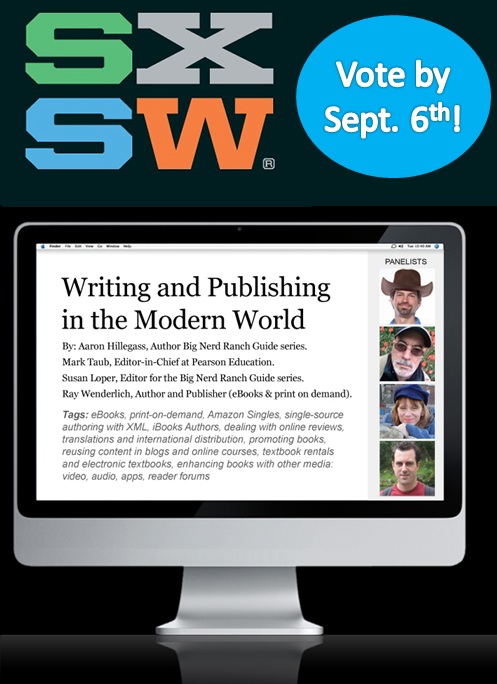 Become an InformIT Member
Take advantage of special member promotions, everyday discounts, quick access to saved content, and more! Join Today.
Other Things You Might Like

CompTIA A+ Practice Questions Exam Cram Core 1 (220-1001) and Core 2 (220-1002)
Mastering Professional Scrum: Coaches' Notes for Busting Myths, Solving Challenges, and Growing Agility
eBook (Watermarked)  $22.39