Home > Blogs > Gifts for Geeks, Part 8: R2-D2 Webcam & VoIP Phone
Gifts for Geeks, Part 8: R2-D2 Webcam & VoIP Phone
What could be cooler than a remote controlled R2-D2? How about a remote controlled R2-D2 that's also a webcam and VoIP phone?

Yup. Hammacher Schlemmer and Sharper Image are both selling this little guy. He wirelessly transmits real-time audio and video to your PC, and he has a sensor to warn you if he's about to drive off of your desk if your joy at driving R2 around leaves you unaware of potential falls.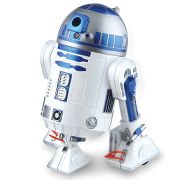 Here's where I'm a bit lost, though. He comes with a lightsaber that acts as his remote control, and as far as Hammacher Schlemmer is concerned, that's about all he does. The Sharper Image, however, also claims that the lightsaber is a USB-powered VoIP phone that works with Skype. The photo on Hammacher Schlemmer's website clearly shows a phone keypad on the lightsaber, and it's about $30 cheaper there than at The Sharper Image (R2 is in their 2007 holiday catalog but not on their website). Could the Hammacher Schlemmer droid be a scaled-down version, or is their web description lacking a key feature?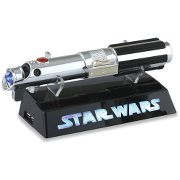 Either way it's a cool toy for geeks and Star Wars fans alike, but at $350-380, only the hardcore will likely find it under their tree this year.

Become an InformIT Member
Take advantage of special member promotions, everyday discounts, quick access to saved content, and more! Join Today.
Other Things You Might Like
Microsoft Power BI Dashboards Step by Step

Photoshop for Lightroom Users, 2nd Edition