Core Python Programming is a well-known, recommended resource for tech professionals and students with some programming experience looking to strengthen their skill set with another language. Today we take a look at why you should make room for it on your bookshelf or digital library.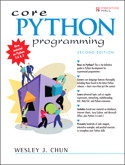 Python is an agile, robust, expressive, fully object-oriented, extensible, and scalable programming language. Using practical code examples, leading Python developer and trainer Wesley Chun introduces all the fundamentals of Python programming in Core Python Programming: syntax, objects and memory management, data types, operators, files and I/O, functions, generators, error handling and exceptions, loops, iterators, functional programming, object-oriented programming and more.
In Chun's own words, "Knowing more about how Python works under the covers, including the relationship between data objects and memory management, will make you a much more effective Python programmer coming out of the gate."
Most importantly – after you learn the core fundamentals of Python, he shows you WHAT you can do with your new skills by diving into advanced topics like regular expressions, multithreading, GUI development, and more.
So… What's the buzz?
This book is aimed at the intermediate level programmer who already has a good understanding of basic Python syntax and the operating environment. No installation instructions here! – Tom Brander
This is an excellent book. It is well organized, thorough, and readable. I highly recommend it for any programmer that wants to learn Python, likes books, and prefers a systematic approach to a quick dive. – Eric Wilson
Rookie or pro, this is the complete book on Python. Author does a great job teaching without getting overly technical or verbose. – Richard J. Frieh
Want More?
- - - - - - - - - - - - - - - - - - - - - - - - - - - - - - - - - - - - - - - - - - - - - - - - - - - - - - - - - - - - - - - - - - - - - - - - - - - - - - - - -