Software developers know the thing you can count on in your career is change. Microsoft is redefining the way apps are developed -- are you ready to get on board?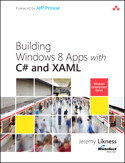 The Windows 8 platform features Windows Runtime (WindowsRT), a new framework for building applications that provides capabilities never before available on a Windows machine. "You will need to adopt a new interface that elevates touch to a first-class citizen but always provides ways to navigate using the mouse and keyboard," says Jeremy Likness, author of new release Building Apps with C# and XAML. "You will have to get used to code that calls native unmanaged components in a way that is almost transparent, and deal with a new set of controls and components that previously did not exist."

This is the first practical guide to building breakthrough applications for Windows 8 from project templates through publication to the new Windows Store. Likness illuminates the entire apps lifecycle, from planning and Model-View-View Model (MVVM) based design through coding, testing, packaging, and deployment.
Fill in the blank to this week's #TuesdayTrivia for a chance to add an eBook copy of Building Windows 8 Apps with C# and XAML to your digital bookshelf – 3 winners in all! Click here for hint.
Replacing the Start menu, a vertical toolbar known as the ________ Bar (accessed by swiping from the right edge of a touchscreen, or pointing the cursor at hotspots in the right corners of a screen) provides access to system and app-related functions in Windows 8. Click here for hint.

Rules: Answer question by leaving a comment below (one per person, all duplicates will be discarded) by 12:01 am EST on November 10, 2012. Three winners will be randomly selected from all correct answers and notified by a comment from the InformIT team on their post.
Want to learn more?
>Online Sample Chapter: Dependency Properties in XAML for Windows 8 Apps

>Online Sample Chapter: An Overview of Windows 8 Sensor APIs
>Windows 8 App Development Resource Center: Special discounts on available print and digital tiles, plus pre-orders!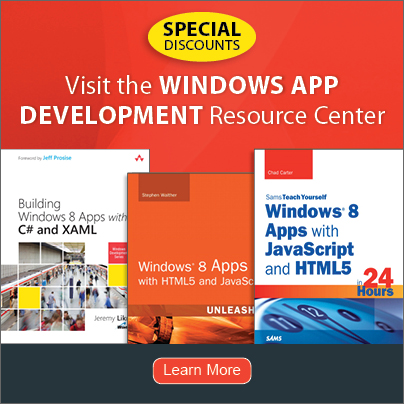 >Expert Advice: Connect with Jeremy Likness on Twitter twitter.com/jeremylikness
Tell your friends! We'll be announcing #TuesdayTrivia twice a month via @informIT. Stay tuned for more great prizes.