Home > Store > Data > Data Analytics and Visualization
Working with Big Data LiveLessons (Video Training): Infrastructure, Algorithms, and Visualizations
Copyright 2013
Edition: 1st
Downloadable Video
ISBN-10: 0-13-335895-X
ISBN-13: 978-0-13-335895-7
Register your product to gain access to bonus material or receive a coupon.
6+ Hours of Video Instruction
Working with Big Data: Infrastructure, Algorithms, and Visualizations LiveLessons presents a high level overview of big data and how to use key tools to solve your data challenges. This introduction to the three areas of big data includes:

• Infrastructure - how to store and process big data
• Algorithms - how to integrate algorithms into your big data stack and an introduction to classification
• Visualizations - an introduction to creating visualizations in JavaScript using D3.js

The goal was not to be exhaustive, but rather, to provide a higher level view of how all the pieces of a big data architecture work together.


Paul Dix is the author of "Service Oriented Design with Ruby and Rails." He is a frequent speaker at conferences and user groups including Web 2.0, RubyConf, RailsConf, The Gotham Ruby Conference, and Scotland on Rails. Paul is the founder and organizer of the NYC Machine Learning Meetup, which has over 2,900 members. In the past he has worked at startups and larger companies like Google, Microsoft, and McAfee. Currently, Paul is a co-founder at Errplane, a cloud based service for monitoring and alerting on application performance and metrics. He lives in New York City.

Lesson 1:
In Unstructured Storage and Hadoop you learn how to set up Hadoop, load files into the Hadoop File System (HDFS), and write your first map reduce job.

Lesson 2:
In Structured Storage and Cassandra you will set up Cassandra, learn how to model data in Cassandra's column oriented storage, use Cassandra from a Ruby library, and write data into Cassandra from a Hadoop map reduce job.

Lesson3:
Real Time Processing and Messaging is about real-time processing with messaging systems. Specifically, you will learn about Kafka, an open-source distributed messaging system. You'll install Kafka, read and write data from the messaging server, write data into Hadoop, and learn how to mplement highly available and scalable message consumers.

Lesson 4:
Working with Machine Learning Algorithms introduces you to machine learning and the k-nearest neighbors algorithm. In it you will implement k-nearest neighbors, prepare raw text for use with machine learning algorithms, and make predictions using k-nearest neighbors.

Lesson 5:
In Experimentation and Running Algorithms in Production you learn how to test the accuracy of machine
learning models and how to integrate them into a running big data architecture.

Lesson 6:
Basic Visualizations teaches you about D3, a Javascript toolkit for creating visualizations. In it, you will write a map reduce job to prepare raw data for use in visualizations and then use that data to create a bar chart and a time series.
LiveLessons Video Training series publishes hundreds of hands-on, expert-led video tutorials covering a wide selection of technology topics designed to teach you the skills you need to succeed. This professional and personal technology video series features world-leading author instructors published by your trusted technology brands: Addison-Wesley, Cisco Press, IBM Press, Pearson IT Certification, Prentice Hall, Sams, and Que. Topics include: IT Certification, Programming, Web Development, Mobile Development, Home & Office Technologies, Business & Management, and more. View All LiveLessons
http://www.informit.com/imprint/series_detail.aspx?ser=2185116
Downloadable Video
Your Price: $239.99
List Price: $299.99

Accessible from your Account page after purchase. Requires the free QuickTime Player software.

Videos can be viewed on: Windows 8, Windows XP, Vista, 7, and all versions of Macintosh OS X including the iPad, and other platforms that support the industry standard h.264 video codec.
FREE

ONE MONTH ACCESS!
WITH PURCHASE
---
Get unlimited 30-day access to thousands of Books & Training Videos about technology, professional development and digital media If you continue your subscription after your 30-day trial, you can receive 30% off a monthly subscription to the Safari Library for up to 12 months.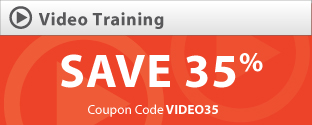 Other Things You Might Like
Downloadable Video $239.99