Video
This video clip has been formatted and modified to fit this page. The actual video product provides a larger screen size and higher resolution, as well as standard player control tools such as fast forward, reverse, and scrubbing.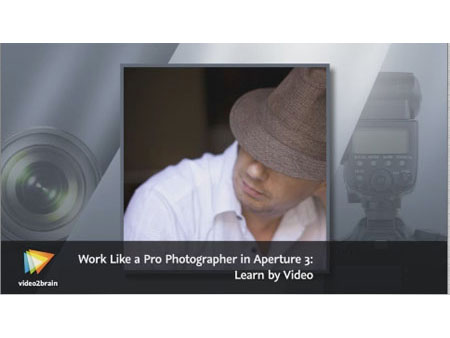 You need to upgrade your Flash Player. You need version 9 or above to view this video. You may download it here. You may also see this message if you have JavaScript turned off. If this is the case, please enable JavaScript and reload the page.

Copyright 2012
Dimensions: 7-3/8" x 9"
Pages: 48
Edition: 1st
DVD
ISBN-10: 0-321-78681-5
ISBN-13: 978-0-321-78681-4
This innovative product uses interactive video to introduce viewers to pro-level techniques in Aperture 3, including advanced photo management practices that are easy to maintain and ensure that viewers can find 'that photo' for years to come. The video demonstrates efficient methods of separating the best shots from the rest, then shows basic image enhancement and retouching techniques, including correcting exposure, applying color corrections and enhancements, and batch retouching, all in record time. Finally, this product shows the quickest ways to get shots online and in print.

Experienced instructor Joseph Linaschke presents up to 4 hours of exceptional quality video tutorials, complete with lesson files, assessment quizzes, and review materials. The video is wrapped in a unique interface that allows the viewer to jump to any topic and also bookmark individual sections for later review. The unique Watch-and-Work mode shrinks the video into a small window to allow the student to work alongside the video. Project files used in the lessons are included on the disc so viewers can practice what they've learned, and interactive review questions help reinforce freshly gained knowledge.

The DVD-ROM is bundled with a printed booklet that provides supplemental material to enhance the video training.
