Home > Store > Home & Office Computing > Microsoft Windows Desktop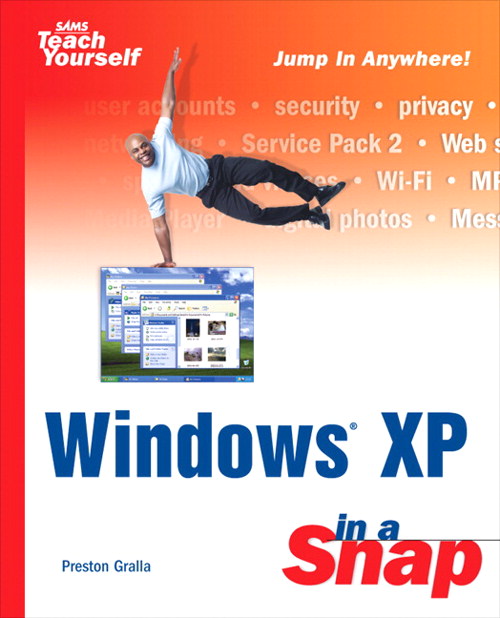 Share
|



Register your product to gain access to bonus material or receive a coupon.
Windows XP in a Snap
Book
This product currently is not for sale.
eBook (Adobe DRM)
Your Price: $15.99
List Price: $19.99

ℹ This eBook requires the free Adobe® Digital Editions software.

Before downloading this DRM-encrypted PDF, be sure to:

Install the free Adobe Digital Editions software on your machine. Adobe Digital Editions only works on Macintosh and Windows, and requires the Adobe Flash Player. Please see the official system requirements.
Authorize your copy of Adobe Digital Editions using your Adobe ID (select AdobeID as the eBook vendor). If you don't already have an Adobe ID, you can create one here.
Copyright 2005
Dimensions: 7-3/8" x 9-1/8"
Pages: 432
Edition: 1st
Book
ISBN-10: 0-672-32671-X
ISBN-13: 978-0-672-32671-4
eBook (Adobe DRM)
ISBN-10: 0-7686-6362-8
ISBN-13: 978-0-7686-6362-4
You have a great computer with the Windows XP operating system. You surf the web, send e-mail and play the occasional game of Solitaire. There are more programs on it than you know what to do with, but you don't delete any of them in case you ever figure out what they do. Windows XP In a Snap can show you all of that and more than you even knew was possible. Did you know you can learn to set up a wireless network at home? Customize your desktop to launch your favorite programs upon start-up? Even build a music library from your CDs? More than 140 essential tips, tricks and techniques will show you how to do all of this, as well as how to stop spam, maximize your computer's performance and troubleshoot hardware problems. Windows XP In a Snap makes it easy for your PC to perform at the top of its game!
Table of Contents
I. MAKING WINDOWS XP WORK THE WAY YOU WANT.
1. Start Here.
Coming from Earlier Versions of Windows.
The Difference Between Home Edition and XP Professional.
The Nickel Tour of Windows XP.
The Structure of a Hard Disk.
Using the Windows Interface.
Basic Mouse Operations.
Basic Window Operations.
2. Mastering Startup, Login, and Shutdown.
About Windows XP Startup and Login.
Create a Multiboot Menu for Customized Startups.
Build Your Own Welcome Screen.
Use Passwords for Better Security.
Create a New User Account.
Use Your Own Picture for a User Account.
Log On Automatically.
Turn On Fast User Switching.
About Windows XP Shutdowns.
Use Hibernation and Standby.
3. Customizing Your Desktop.
Change Your Desktop's Appearance.
Create Your Own Screensaver.
Use a Picture from the Web as Your Background/ Wallpaper.
Clean Up Your Desktop Icons.
Change Your Desktop Icons.
Build Your Own Themes.
About Getting More Themes Online.
Rearrange the Start Menu.
Customize the Taskbar.
Build Your Own Toolbar.
Turn On the Address Bar.
Use the Quick Launch Toolbar.
Customize the Date and Time.
About Customizing Your Desktop with TweakUI.
4. Customizing the Rest of Windows XP.
Change Your System Sounds.
Record and Use Your Own System Sounds.
Change Your Mouse Settings.
Create Keyboard Shortcuts to Launch Programs.
Start Programs Automatically on Startup.
Stop Programs from Running on Startup.
5. Getting More Out of Windows Explorer and Search.
About Windows Explorer.
Customize Your Folder View.
Use the Filmstrip View.
About Sharing Files and Folders with Other Accounts.
Make Your Files and Folders Private.
Protect a File or Folder with Encryption.
Get More Disk Space by Using Compression.
Change What Program Opens a File (File Association).
About Windows XP Search.
Kill the Search Dog.
Find Files and Folders Faster.
Change the Default Folder for Saving Files.
Customize Windows Explorer with TweakUI.
II. NETWORKING AND THE INTERNET.
6. Networking Your PC.
Install a Home Router.
Create a New Network Installation.
Share Files and Folders Across the Network.
Share a Printer.
Browse the Network with My Network Places.
Map a Network Drive.
About Troubleshooting Network Problems.
7. Surfing the Web.
Take Control of Your Favorites.
Control Your History List.
Power Up Internet Explorer Search.
Clean Up Cookies and Delete Temporary Files.
Find Information Faster with the Google Toolbar.
Rearrange Your Internet Explorer Toolbar.
Create a Custom Toolbar for Internet Explorer.
Read Websites Offline.
8. Going Wireless.
About Wireless (Wi-Fi) Computing.
Install a Wi-Fi Router.
Install a Wi-Fi Network Adapter.
About Wireless Printing.
Connect to a HotSpot or Wi-Fi Network.
About Wi-Fi Security.
About Solving Wi-Fi Connection Problems.
9. Keeping Yourself Safe Online.
About Firewalls.
Protect Yourself with the Windows Firewall.
Customize the Windows Firewall for Maximum Protection.
Protect Yourself with a Better Free Firewall.
Stop Pop-Ups.
Find and Kill Spyware.
About Internet Security Levels.
Protect Your Privacy by Managing Your Cookies.
Protect Yourself Against Viruses.
Protect Yourself Against Email Worms.
10. Email and Instant Messaging.
Customize Outlook Express.
Create a Personal Signature.
Create an Email Business Card.
Use Multiple Email Accounts.
Organize Your Mailboxes.
Automate Your Mail Handling by Creating Mail Rules.
About Dealing with Attachments.
About Spam.
Slam Spam.
Import Messages from Another Email Program.
Sign Up for Windows Messenger.
Customize Your Buddy List.
About Sending Instant Messages.
Send a File or Photo.
Have a Voice or Video Conversation.
Customize Your Messenger Settings.
Get.NET Alerts.
III. ENTERTAINMENT, DIGITAL PICTURES, AND GRAPHICS.
11. That's Entertainment. Music and Video.
About Windows Media Player.
Play a CD or DVD.
Customize How Your Music Sounds.
Customize Windows Media Player's Appearance.
Listen to Internet Radio Stations.
About Audio File Formats.
Copy Music from an Audio CD.
Manage Your Music and Media Library.
Create a Playlist.
Burn an Audio CD.
About Copying Music to an MP3 Player.
About Finding, Sharing, and Buying Music Online.
12. Using Photos and Graphics.
Import Photos from a Digital Camera.
Scan In Photos.
Convert Between Image Formats.
Change Photo Resolution and Size.
Capture a Screenshot.
Print Better Photos.
Create an Online Photo Album.
Put Any Picture on Your Desktop.
IV. TROUBLESHOOTING AND OPTIMIZING XP.
13. Solving Hardware Problems.
Install New Hardware.
Uninstall Hardware.
Troubleshoot Hardware Problems.
Get System Information.
About Updating Drivers.
14. Fine-Tuning, Optimizing, and Protecting Your PC.
Balance Performance and Visual Effects.
Turn Off Unneeded Programs and Services.
Create and Use Power Schemes for Laptops.
Use ClearType for Better Laptop Resolution.
Get System Updates Automatically.
About Backing Up Your Hard Disk.
Protect Your System with System Restore.
Free Up Space on Your Hard Disk.
Defragment Your Hard Disk.
FREE

ONE MONTH ACCESS!
WITH PURCHASE
---
Get unlimited 30-day access to thousands of Books & Training Videos about technology, professional development and digital media If you continue your subscription after your 30-day trial, you can receive 30% off a monthly subscription to the Safari Library for up to 12 months.
Other Things You Might Like

By Greg Perry
eBook (Adobe DRM) $22.39

Book $21.59
eBook (Adobe DRM) $31.99