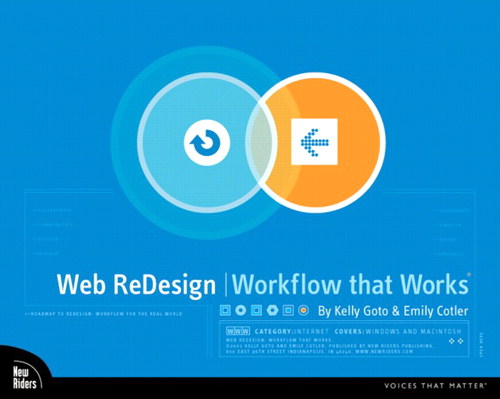 Share
|



Register your product to gain access to bonus material or receive a coupon.
Web ReDesign: Workflow that Works
Book
This product currently is not for sale.
Copyright 2002
Dimensions: Special (all other)
Pages: 272
Edition: 1st
Book
ISBN-10: 0-7357-1062-7
ISBN-13: 978-0-7357-1062-7
The book follows a road tested experiential methodology to expose the critical steps to planning, budgeting, organizing, and managing a web design or redesign project from conceptualization through launch. The authors use a sound pedagogical style that is appealing; easy to access; and full of forms, checklists, and worksheets to assist readers in working through their own projects. The page design will allow for easy browsing of material. In addition, the intuitive organization will make it easy for readers to find the material they need. See the attached table of contents.
Downloadable Sample Chapter
Click below for Sample Chapter related to this title:
0735710627.pdf
Table of Contents


Foreword by Jeffrey Veen.


Preface.


Introduction.


Case Study: Baby Center.


1. Keys to a Successful Redesign.

Why This Book Right Now? Presenting a Workflow that Works. Case Study: Smug.
2. One Process Fits All.
Phase 1: Defining the Project. Phase 2: Developing Site Structure. Phase 3: Visual Design and Testing. Phase 4: Production and QA. Phase 5: Launch and Beyond. Chapter Summary. Case Study: LiquidMedium.
3. Phase 1: Defining the Project.
Gathering Information. Understanding Your Audience. Analyzing Your Industry. Discovery Summary. Determining Overall Goals. Preparing a Creative Brief. Creating a Project Plan. Setting the Budget. Creating Schedules. Assigning Your Project Team. Setting Up Staging Areas. Kicking Off the Project. Phase 1 Summary. Case Study: Internap.
4. Phase 2: Developing Site Structure.
Addressing Content. Auditing Existing Content. Outlining Content. Creating a Content Delivery Plan. Sitemapping. Setting Naming Conventions. Wireframing. Addressing Navigation. Naming and Labeling. Defining Key User Paths. Phase 2 Summary. Case Study: K2 Skates.
5. Phase 3:Visual Design and Testing.
Starting the Creative Process. Confirming Flow and Functionality. Creating Graphic Templates. Creating a Design Style Guide. Phase 3 Summary. Case Study: DiverseWorks.
6. Phase 4: Production and QA.
Assessing Project Status. Establishing Guidelines. Setting File Structure. Slicing and Optimization. Creating HTML Templates and Pages. Implementing Light Scripting. Populating Pages. Integrating Backend Development. Understanding Quality Assurance Testing. Creating a QA Plan. Prioritizing and Fixing Bugs. Conducting a Final Check. Phase 4 Summary. Case Study: Janus.
7. Phase 5: Launch and Beyond.
Handing Off. Going Live. Maintaining the Site. Phase 5 Summary. Case Study: Food.com.
8. Testing for Usability.
Understanding Usability. Conducting Usability Tests: A Four-Step Process. Chapter Summary. Case Study: Casey Claybourne.
9. Analyzing Your Competition.
Formal Industry Analysis vs. Informal Features Analysis. Conducting an Analysis. Chapter Summary.
Index.
FREE

ONE MONTH ACCESS!
WITH PURCHASE
---
Get unlimited 30-day access to thousands of Books & Training Videos about technology, professional development and digital media If you continue your subscription after your 30-day trial, you can receive 30% off a monthly subscription to the Safari Library for up to 12 months.
Other Things You Might Like
Downloadable Video $119.99
Book $31.99
Downloadable Video $119.99