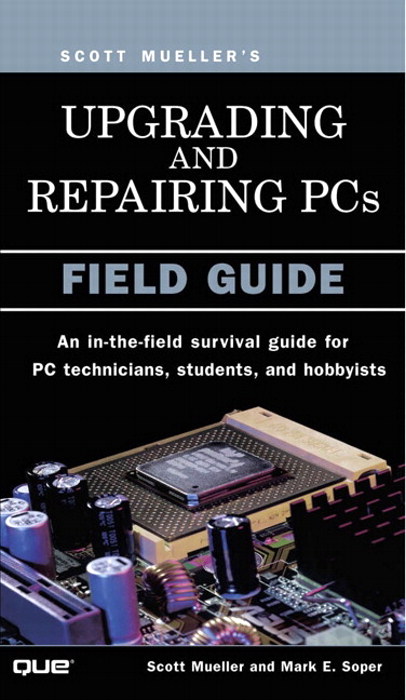 Share
|



Register your product to gain access to bonus material or receive a coupon.
Upgrading and Repairing PCs: Field Guide, Adobe Reader
Published Oct 23, 2001 by Que.
eBook (Adobe DRM)
Your Price: $19.19
List Price: $23.99

ℹ This eBook requires the free Adobe® Digital Editions software.

Before downloading this DRM-encrypted PDF, be sure to:

Install the free Adobe Digital Editions software on your machine. Adobe Digital Editions only works on Macintosh and Windows, and requires the Adobe Flash Player. Please see the official system requirements.
Authorize your copy of Adobe Digital Editions using your Adobe ID (select AdobeID as the eBook vendor). If you don't already have an Adobe ID, you can create one here.
Copyright 2002
Pages: 368
Edition: 1st
eBook (Adobe DRM)
ISBN-10: 0-7686-5652-4
ISBN-13: 978-0-7686-5652-7
Upgrading and Repairing PCs: Field Guide is a portable, "essentials" version of Upgrading and Repairing PCs, 13th Edition - the bestselling PC hardware book of all-time. Weighing less than half a pound, this tiny book packs a hefty punch - containing the essential information you need to upgrade and repair PCs, whether you're a hardcore pro or a weekend warrior. All of this information fits nicely in your toolkit, briefcase or backpack and be there to rescue you when you're out of your office and away from your trusty copy of Upgrading and Repairing PCs.
Use the connector quick reference section to identify most any connector or port you run across while servicing PCs out in the wild!
Who says detailed coverage must come in a big package? This diminutive book makes up for its tiny size by providing you with a level of detail that exceeds that found in some bigger (in size and name) competitor books.
Hundreds of detailed tables boil down complicated settings, standards and specifications into an easy to read - and easy to find - format.
All of this detailed information easily fits in your toolkit, briefcase or book bag-right where you need it!
Table of Contents


Introduction.


1. General Technical Reference.

PC Subsystem Components Quick Reference. The Motherboard and Its Components. Understanding Bits and Bytes. Standard Capacity Abbreviations and Meanings. Glossary of Essential Terms. Hexadecimal/ASCII Conversions. Windows Release/Version Numbers.
2. System Components and Configuration.
Processors and Their Data Bus Widths. Differences Between PC/XT and AT Systems. Intel and Compatible Processor Specifications. Troubleshooting Processor Problems. Motherboard Form Factors. Which Motherboard Is Which? PC99 Color-Coding for Ports. Power Supplies. Memory Types. Other Add-On Card Configuration Issues. Expansion Slots.
3. BIOS Configurations and Upgrades.
What the BIOS Is and What It Does. When a BIOS Update Is Necessary. How BIOS Updates Are Performed. Where BIOS Updates Come From. Precautions to Take Before Updating a BIOS. How to Recover from a Failed BIOS Update Procedure. Plug-and-Play BIOS. Other BIOS Troubleshooting Tips. Soft BIOS CPU Speed and Multiplier Settings. Determining Which BIOS You Have. Determining the Motherboard Manufacturer for BIOS Upgrades. Accessing the BIOS Setup Programs. How the BIOS Reports Errors. Microid Research Beep Codes. Other BIOS and Motherboard Manufacturers' Beep and POST Codes. Reading BIOS Error Codes. BIOS Configuration Worksheet.
4. SCSI and ATA Hard Drives and Optical Drives.
Understanding Hard Disk Terminology. IDE/ATA Hard Drive Identification. ATA Standards. Using LBA Mode. Sources for BIOS Upgrades and Alternatives for Large ATA Hard Disk Support. Standard and Alternative Jumper Settings. Improving Hard-Disk Speed. Ultra DMA. Bus-Mastering Chipsets for ATA. Benefits of Manual Drive Typing. Troubleshooting ATA Installation. Serial ATA. SCSI. Single-Ended Versus Differential SCSI. SCSI Drive and Device Configuration. SCSI Configuration Troubleshooting. Hard Disk Preparation. Using FDISK. Benefits of Hard-Disk Partitioning. How Disk Partitioning and the Operating System Create and Allocate Drive Letters. Third-Party Hard-Disk Installation Programs. Drive Migration Data-Transfer Methods. Hard-Disk Drive Troubleshooting and Repair. Optical Drive Interface Types. MS-DOS Command-Line Access to CD-ROM Drives for Reloading Windows. Troubleshooting Optical Drives.
5. Floppy, Removable, Tape, and Flash Memory Storage.
Floppy Drives. Removable Storage Drives. Types of Flash Memory Devices. Tape Backup Drives and Media.
6. Serial and Parallel Ports and Devices.
Understanding Serial Ports. UARTs. High-Speed Serial Ports (ESP and Super ESP). Serial Port Configuration. Modems. Parallel Port Connectors. Printers.
7. USB and IEEE-1394 Ports and Devices.
Universal Serial Bus. IEEE-1394.
8. Keyboards, Mice, and Input Devices.
Keyboard Designs. Using Windows Keys. Key Switch Types. Adjusting Keyboard Parameters in Windows. Keyboard Layouts and Scan Codes. Keyboard Connectors. USB Keyboard Requirements. Keyboard Troubleshooting and Repair. Keyboard Connector Voltage and Signal Specifications. Keyboard Error Codes. Mice and Pointing Devices. Mouse Troubleshooting.
9. Video and Audio.
Monitor Resolution. Monitor Power-Management Modes. VGA Video Connector Pinouts. Video RAM. Memory, Resolution, and Color Depth. Determining the Amount of RAM on Your Display Card. Local-Bus Video Standards. Refresh Rates. Setting Up Multiple Monitor Support in Windows 98/Me/2000/XP. Multimedia Devices. Troubleshooting Video Capture Devices. Audio I/O Connectors. Sound Quality Standards. Configuring Sound Cards. Troubleshooting Audio Hardware.
10. Networking.
Client/Server Versus Peer-to-Peer Networking. Choosing Network Hardware and Software. Network Protocols. Selecting a Network Data-Link Protocol (Specification). Network Cable Connectors. Wire Pairing for Twisted-Pair Cabling. Network Cabling Distance Limitations. Specialized Network Options. TCP/IP Network Protocol Settings. Troubleshooting Networks. Internet Connection Sharing (ICS). Direct Cable Connections.
11. Tools and Techniques.
General Information. Hardware Tools and Their Uses.
12. Connector Quick Reference.
Serial Ports and Cables. Keyboard and Mouse Ports. Video Connectors. Sound Card Ports. Network and Modem Ports and Cables. Index.
FREE

ONE MONTH ACCESS!
WITH PURCHASE
---
Get unlimited 30-day access to thousands of Books & Training Videos about technology, professional development and digital media If you continue your subscription after your 30-day trial, you can receive 30% off a monthly subscription to the Safari Library for up to 12 months.
Other Things You Might Like
By Alan Luber
eBook (Adobe DRM) $15.99

Book $27.99