Home > Store > Networking > Network Administration & Management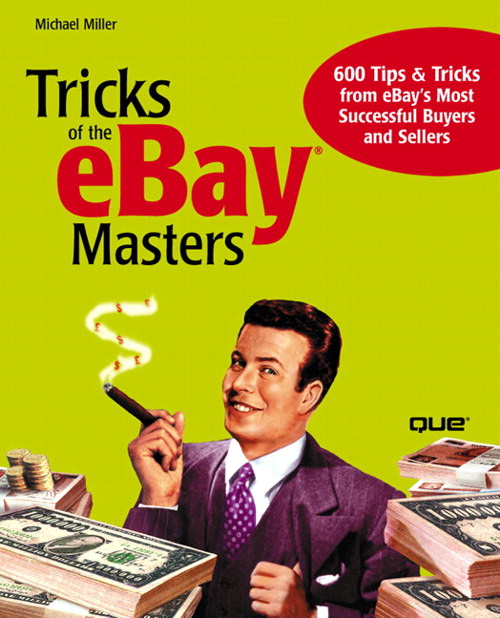 Share
|



Register your product to gain access to bonus material or receive a coupon.
Tricks of the eBay Masters, Adobe Reader
Published Feb 14, 2006 by Que.
eBook (Adobe DRM)
Your Price: $15.99
List Price: $19.99

ℹ This eBook requires the free Adobe® Digital Editions software.

Before downloading this DRM-encrypted PDF, be sure to:

Install the free Adobe Digital Editions software on your machine. Adobe Digital Editions only works on Macintosh and Windows, and requires the Adobe Flash Player. Please see the official system requirements.
Authorize your copy of Adobe Digital Editions using your Adobe ID (select AdobeID as the eBook vendor). If you don't already have an Adobe ID, you can create one here.
Copyright 2005
Pages: 432
Edition: 1st
eBook (Adobe DRM)
ISBN-10: 0-7686-6446-2
ISBN-13: 978-0-7686-6446-1
Ever wonder how eBay PowerSellers got to be so successful? Wonder no more. Tricks of the eBay Masters is full of advice and over 600 tricks from expert eBay users. They learned by doing and are now going to pass on their wisdom to you. Find out how to jazz up your auction listings with HTML, how to increase buyer traffic through key words and how to use photos to increase your selling potential. You'll even get tips on where to find items to sell, how to pack your items better and how to ship cheaply. Also find out what not to do as the experts give you examples of mistakes they made early in their eBay careers and how not to repeat them. Increase your auction income and successful bidding through Tricks of the eBay Masters.
Table of Contents
Introduction.
Who Are the eBay Masters?
Where Can You Find the eBay Masters?
How the Tricks Are Organized.
Tricks Credits.
One Last Word About the eBay Masters.
Let Me Know What You Think.
I. TRICKS THAT ANY EBAY MEMBER CAN USE.
1. How to Get Smarter About Buying and Selling on eBay.
Choosing an ID.
Learning More About eBay.
Creating Your Own About Me Page.
Avoiding Scams and Spams.
General Advice.
2. How to Deal with Feedback.
Using Feedback as a Buying Tool.
Building Up Your Own Feedback.
Leaving Feedback.
Handling Negative Feedback.
II. TRICKS FOR MORE SUCCESSFUL BIDDING.
3. How to Find What You Want to Buy.
Using eBay's Search Feature.
Fine-Tuning Your Search.
Searching for Bargains.
4. How to Be a Smarter-and Safer-Buyer.
Before You Bid.
Bid Smart.
Managing Your Bids.
After the Auction.
How to Shop for Cars.
How to Protect Yourself from Fraud.
What to Do If You Get Ripped Off.
5. How to Win More Auctions.
Win with Proxy Bidding.
Win with Sniping.
Other Tricks for Winning Auctions.
III. TRICKS FOR MORE SUCCESSFUL SELLING.
6. How to Make the Jump from Buyer to Seller.
Starting to Sell.
Making a Business of It.
PowerSeller-Pros and Cons.
Other Ways and Places to Sell.
7. How to Find Merchandise to Sell.
Doing the Research.
Picking the Right Merchandise to Sell.
Where to Find Merchandise.
8. How to Maximize Your Close Rate.
Setting the Initial Price.
Using Buy It Now.
Using Reserve Pricing.
Choosing the Right End Time.
Choosing When to List.
Listing Options.
Offering Incentives.
Mid-Auction Strategies.
If It Doesn't Sell.
Promoting Your Auctions.
9. How to Write Better Titles and Descriptions.
Writing a More Powerful Title.
Writing a More Effective Description.
Details, Details, Details...
10. How to Enhance Your Product Listings with HTML.
Simple Steps to Better-Looking Listings.
Using HTML in Your Listings.
Making Fancy Listings with HTML.
Using Tables.
HTML Editors and Tools.
What Not to Do.
11. How to Display Better Product Photos.
Using the Right Equipment.
Setting Up Your Shot.
Lighting Your Shot.
Shooting Different Types of Items.
Optimizing Your Images for eBay.
Choosing an Image Host.
Adding Pictures to Your Listings.
Keeping Your Photos from Being Copied.
12. How to Better Manage Your Auctions.
Managing Your Workflow.
Using Auction Management Software and Services.
Using Accounting Software.
13. How to Handle Customer Payments.
Payment Methods.
Dealing with Problem Payers.
14. How to Pack and Ship More Efficiently.
Setting Shipping/Handling Charges.
Choosing a Shipping Carrier.
Confirmation and Insurance.
Labels, Invoices, and Postage.
Boxes and Packing Supplies.
General Packing and Shipping Advice.
Packing and Shipping Specific Types of Items.
15. How to Sell and Ship Internationally.
Selling Internationally.
International Payments.
Shipping Internationally.
16. How to Create Happier Customers.
General Advice.
Shipping with an Extra Touch.
17. How to Deal with Customer Problems-and Problem Customers.
Handling Customer Complaints.
Dealing with Problem Customers.
18. How to Sell Specific Types of Items.
Clothing.
Art.
Books.
Automobiles.
19. How to Sell More Products in an eBay Store.
Benefits of Opening an eBay Store.
Setting Up and Managing Your eBay Store.
Promoting Your eBay Store.
Additional Selling Solutions.
20. How to Make Money as a Trading Assistant.
Setting Up Your Consignment Business.
Managing Your Business.
Promoting Your Business-and Finding New Clients.
Index.
FREE

ONE MONTH ACCESS!
WITH PURCHASE
---
Get unlimited 30-day access to thousands of Books & Training Videos about technology, professional development and digital media If you continue your subscription after your 30-day trial, you can receive 30% off a monthly subscription to the Safari Library for up to 12 months.
Other Things You Might Like
eBook (Watermarked) $15.99

Book $19.99