Home > Store > Security > Software Security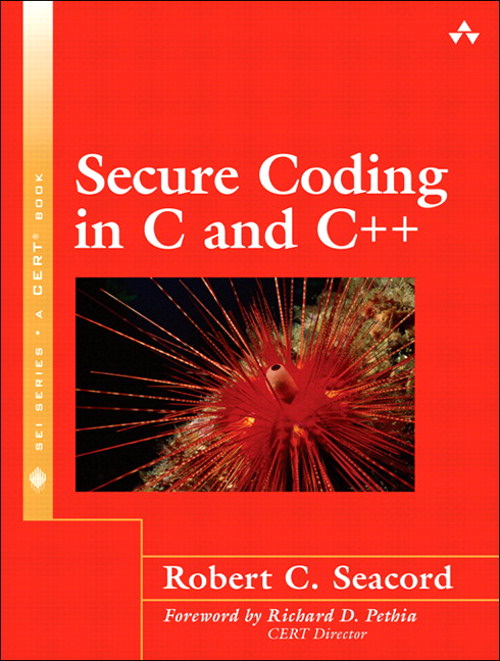 Share
|



Register your product to gain access to bonus material or receive a coupon.
Secure Coding in C and C++
eBook (Adobe DRM)
Your Price: $35.19
List Price: $43.99

ℹ This eBook requires the free Adobe® Digital Editions software.

Before downloading this DRM-encrypted PDF, be sure to:

Install the free Adobe Digital Editions software on your machine. Adobe Digital Editions only works on Macintosh and Windows, and requires the Adobe Flash Player. Please see the official system requirements.
Authorize your copy of Adobe Digital Editions using your Adobe ID (select AdobeID as the eBook vendor). If you don't already have an Adobe ID, you can create one here.
Copyright 2006
Dimensions: 7 X 9-1/4
Pages: 368
Edition: 1st
eBook (Adobe DRM)
ISBN-10: 0-7686-8486-2
ISBN-13: 978-0-7686-8486-5
"The security of information systems has not improved at a rate consistent with the growth and sophistication of the attacks being made against them. To address this problem, we must improve the underlying strategies and techniques used to create our systems. Specifically, we must build security in from the start, rather than append it as an afterthought. That's the point of Secure Coding in C and C++. In careful detail, this book shows software developers how to build high-quality systems that are less vulnerable to costly and even catastrophic attack. It's a book that every developer should read before the start of any serious project."
--Frank Abagnale, author, lecturer, and leading consultant on fraud prevention and secure documents
Learn the Root Causes of Software Vulnerabilities and How to Avoid Them
Commonly exploited software vulnerabilities are usually caused by avoidable software defects. Having analyzed nearly 18,000 vulnerability reports over the past ten years, the CERT/Coordination Center (CERT/CC) has determined that a relatively small number of root causes account for most of them. This book identifies and explains these causes and shows the steps that can be taken to prevent exploitation. Moreover, this book encourages programmers to adopt security best practices and develop a security mindset that can help protect software from tomorrow's attacks, not just today's.
Drawing on the CERT/CC's reports and conclusions, Robert Seacord systematically identifies the program errors most likely to lead to security breaches, shows how they can be exploited, reviews the potential consequences, and presents secure alternatives.
Coverage includes technical detail on how to
Improve the overall security of any C/C++ application
Thwart buffer overflows and stack-smashing attacks that exploit insecure string manipulation logic
Avoid vulnerabilities and security flaws resulting from the incorrect use of dynamic memory management functions
Eliminate integer-related problems: integer overflows, sign errors, and truncation errors
Correctly use formatted output functions without introducing format-string vulnerabilities
Avoid I/O vulnerabilities, including race conditions
Secure Coding in C and C++ presents hundreds of examples of secure code, insecure code, and exploits, implemented for Windows and Linux. If you're responsible for creating secure C or C++ software--or for keeping it safe--no other book offers you this much detailed, expert assistance.
Table of Contents
Foreword.
Preface.
About the Author.
1. Running with Scissors.
Gauging the Threat
Security Concepts
C and C++
Development Platforms
Summary
Further Reading
2. Strings.
String Characteristics
Common String Manipulation Errors
String Vulnerabilities
Process Memory Organization
Stack Smashing
Code Injection
Arc Injection
Mitigation Strategies
Notable Vulnerabilities
Summary
Further Reading
3. Pointer Subterfuge.
Data Locations
Function Pointers
Data Pointers
Modifying the Instruction Pointer
Global Offset Table
The .dtors Section
Virtual Pointers
The atexit() and on_exit() Functions
The longjmp() Function
Exception Handling
Mitigation Strategies
Summary
Further Reading
4. Dynamic Memory Management.
Dynamic Memory Management
Common Dynamic Memory Management Errors
Doug Lea's Memory Allocator
RtlHeap
Mitigation Strategies
Notable Vulnerabilities
Summary
Further Reading
5. Integer Security.
Integers
Integer Conversions
Integer Error Conditions
Integer Operations
Vulnerabilities
Nonexceptional Integer Logic Errors
Mitigation Strategies
Notable Vulnerabilities
Summary
Further Reading
6. Formatted Output.
Variadic Functions
Formatted Output Functions
Exploiting Formatted Output Functions
Stack Randomization
Mitigation Strategies
Notable Vulnerabilities
Summary
Further Reading
7. File I/O.
Concurrency
Time of Check, Time of Use
Files as Locks and File Locking
File System Exploits
Mitigation Strategies
Summary
8. Recommended Practices.
Secure Software Development Principles
Systems Quality Requirements Engineering
Threat Modeling
Use/Misuse Cases
Architecture and Design
Off-the-Shelf Software
Compiler Checks
Input Validation
Data Sanitization
Static Analysis
Quality Assurance
Memory Permissions
Defense in Depth
TSP-Secure
Summary
Further Reading
References.
Acronyms.
Index.
FREE

ONE MONTH ACCESS!
WITH PURCHASE
---
Get unlimited 30-day access to thousands of Books & Training Videos about technology, professional development and digital media If you continue your subscription after your 30-day trial, you can receive 30% off a monthly subscription to the Safari Library for up to 12 months.
Other Things You Might Like
eBook (Watermarked) $47.99
Book $23.99