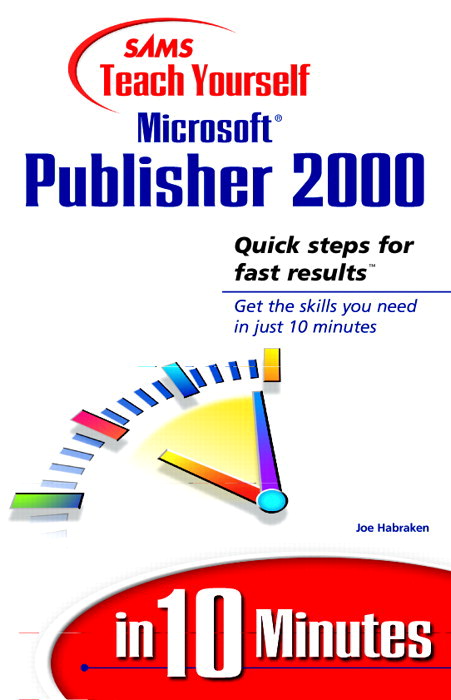 Share
|



Register your product to gain access to bonus material or receive a coupon.
Sams Teach Yourself Microsoft Publisher 2000 in 10 Minutes, Adobe Reader
eBook (Adobe DRM)
Sorry, this book is no longer in print.

ℹ This eBook requires the free Adobe® Digital Editions software.

Before downloading this DRM-encrypted PDF, be sure to:

Install the free Adobe Digital Editions software on your machine. Adobe Digital Editions only works on Macintosh and Windows, and requires the Adobe Flash Player. Please see the official system requirements.
Authorize your copy of Adobe Digital Editions using your Adobe ID (select AdobeID as the eBook vendor). If you don't already have an Adobe ID, you can create one here.
Copyright 2004
Pages: 224
Edition: 1st
eBook (Adobe DRM)
ISBN-10: 0-7686-5924-8
ISBN-13: 978-0-7686-5924-5
Sams Teach Yourself Microsoft Publisher 2000 in 10 Minutes is the easiest way to learn the most important tasks that every user should know in Publisher 2000, the newest announced member of the Office 2000 family. Microsoft is opening up a whole new user base for the Publisher application. Users of Office who in the past have tried to force Word to perform complex desktop publishing tasks that it is not well suited to, will now have Publisher which is a much better tool for the job. Publisher's new standard Office interface will make it look more familiar and inviting to experienced Office users.
Table of Contents


= Introduction.

The What and Why of Microsoft Publisher . Why Sams Teach Yourself Yourself Microsoft Publisher . 2000 in 10 Minutes? Installing Publisher . Conventions Used in This Book.
1. What's New in Publisher 2000.
Getting to Know Publisher. New Features in Publisher 2000.
2. Getting Started With Publisher.
Starting Publisher. Deciding How to Create a New Publication. Using Menus and Toolbars. Understanding Dialog Boxes. Exiting Publisher.
3. Creating A New Publication.
Planning Your Publication. Using the Publication Wizards. Saving Your Publication.
4. Using Design Sets And Templates.
Understanding the Publication Design Sets. Selecting the Design Set. Completing the Publication. Adding Your Own Design and Color Schemes.
5. Viewing Your Publications
Changing the Publication Display. Using the Zoom Feature. Scrolling in the Publication. Working with Rulers and Guide Lines.
6. Working With Existing Publications.
Opening an Existing Publication. Completing a Wizard-Based Publication. Adding Pages to a Publication. Saving a Revised Document Under a New Name. Closing a Publication.
7. Getting Help in Publisher.
Using the Office Assistant. Getting Help Without the Assistant. What's This? Getting Help Online.
8. Working With Publication Frames.
Inserting a Frame. Sizing a Frame. Moving a Frame. Copying a Frame. Grouping Frames. Arranging Frames in Layers.
9. Enhancing Frames With Borders And Colors.
Adding Borders to Frames. Changing Border Attributes. Using Fill Colors. Using Fill Effects. Applying Shading.
10. Changing How Text Looks.
Adding Text to Your Publications. Working with Fonts. Changing Font Attributes. Changing Font. Colors. Aligning Text in a Frame. Adding Text Mastheads. Connecting Text Frames.
11. Working With Graphics.
Inserting a Picture. Using Clip Art. Scaling Pictures. Cropping Pictures. Changing Picture Colors.
12. Adding Special Objects To Your Publications
Using the Design Gallery. Editing Design Gallery Objects. Inserting Objects from Other Applications. Inserting Video and Audio. Acquiring Images from Scanners and Other Sources.
13. Drawing Objects In Publisher.
Using the Drawing Tools. Formatting Drawing Objects. Rotating an Object. Drawing with Microsoft Draw.
14. Working With Line Spacing, Indents, And Lists.
Setting Line Spacing in a Text Frame. Indenting Text. Setting Tabs. Working with Numbered Lists. Adding Bullets to Your Text Lists.
15. Working With Publication Tables.
Inserting a Table. Sizing and Moving Tables. Sizing Table Columns and Rows. Adding Columns and Rows to the Table. Using Special Cell Formats. Filling Your Table with Information. Formatting the Table Automatically. Formatting the Table Manually.
16. Formatting Publication Pages.
Changing Page Margins. Adding Page Borders. Working in the Publication Background.
17. Fine-Tuning Publisher Publications.
Using the Spell Checker. Controlling Hyphenation in Text Frames. Using the Design Checker. Setting Up AutoCorrect.
18. Printing and Outputting Publisher Publications.
Previewing the Publication. Printing the Publication. Working with Print Options. Troubleshooting Printing Problems. Working with an Outside Print Service. Using Pack and Go.
19. Mass Mailing Publications.
Understanding the Mail Merge Feature. Building a Mailing List. Starting the Merge and Inserting Merge Codes. Completing the Merge.
20. Creating Publications on Special Paper.
Creating Trifold Brochures. Creating Business Cards. Creating Envelopes. Creating Mailing Labels.
21. CREATING A PUBLISHER WEB SITE.
What Is the World Wide Web? Creating a Web Site Using the Web Site Wizard. Converting an Existing Publication to a Web Site. Adding and Removing Hyperlinks. Viewing Your Web Site. Publishing Your Web Site.
FREE

ONE MONTH ACCESS!
WITH PURCHASE
---
Get unlimited 30-day access to thousands of Books & Training Videos about technology, professional development and digital media If you continue your subscription after your 30-day trial, you can receive 30% off a monthly subscription to the Safari Library for up to 12 months.
Other Things You Might Like
By Francis DeRespinis, Peter Hayward, Jana Jenkins, Amy Laird, Leslie McDonald, Eric Radzinski, Laura Bellamy, Michelle Carey, Jenifer Schlotfeldt, Gretchen Hargis, Ann Kilty Hernandez, Polly Hughes, Deirdre Longo, Shannon Rouiller, Elizabeth Wilde
eBook (Watermarked) $74.39