Home > Store > Home & Office Computing > Microsoft Applications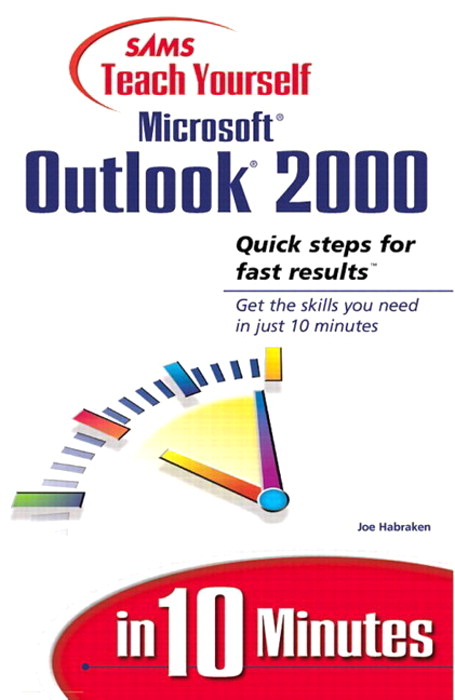 Share
|



Register your product to gain access to bonus material or receive a coupon.
Sams Teach Yourself Microsoft Outlook 2000 in 10 Minutes, Adobe Reader
eBook (Adobe DRM)
Sorry, this book is no longer in print.

ℹ This eBook requires the free Adobe® Digital Editions software.

Before downloading this DRM-encrypted PDF, be sure to:

Install the free Adobe Digital Editions software on your machine. Adobe Digital Editions only works on Macintosh and Windows, and requires the Adobe Flash Player. Please see the official system requirements.
Authorize your copy of Adobe Digital Editions using your Adobe ID (select AdobeID as the eBook vendor). If you don't already have an Adobe ID, you can create one here.
Copyright 1999
Pages: 272
Edition: 1st
eBook (Adobe DRM)
ISBN-10: 0-7686-6079-3
ISBN-13: 978-0-7686-6079-1
Sams Teach Yourself Microsoft Outlook 2000 in 10 Minutes focuses on the essentials of installing and using Outlook 2000, covering what entry-level users need to know in the shortest amount of time possible.
Table of Contents


1. What's New in Outlook 2000

Getting Organized with Outlook 2000. Understanding Outlook's Folders. New Features in Outlook 2000. Other Features You Should Be Aware Of.
2. Getting Started with Outlook.
Starting Outlook. Understanding the Outlook Window. Using the Mouse in Outlook. Exiting Outlook. Do I Need to Log Off?
3. Understanding the Outlook Configurations.
Choosing Your Outlook Installation. Installation Considerations. Internet Only Email. Corporate Email. Making Your Installation Decision.
4. Using Outlook's Tools.
Using the Outlook Bar. Using the Folder List. Changing Views. Creating Custom Views. Using Outlook Today.
5. Getting Help.
Using the Office Assistant. Getting Help Without the Assistant. Using the Answer Wizard. Using the Index. What's This?
6. Creating Mail.
Composing a Message. Entering an Address in a Message. Formatting Text. Checking Spelling. Sending Mail. Recalling a Message.
7. Working with Received Mail.
Reading Mail. Saving an Attachment. Answering Mail. Printing Mail. Closing a Message.
8. Managing Electronic Mail.
Deleting Mail. Forwarding Mail. Saving Mail to a Folder. Using the Organize Tool. Using the Rules Wizard.
9. Attaching Items to a Message.
Attaching a File. Understanding Attachment Format Types. Attaching Outlook Items. Inserting an Object.
10. Organizing Messages.
Saving a Draft. Viewing Sent Items and Changing Defaults. Creating Folders. Moving Items to Another Folder.
11. Setting Mail Options.
Customizing Options. Using Message Flags.
12. Using the Contact and Personal Address Books. Using the
Postoffice Address List. Using the Personal Address Book. Importing Address Books and Contact Lists.
13. Creating a Contacts List.
Creating a New Contact. Viewing the Contacts List. Communicating with a Contact. Viewing a Map of a Contact's Address.
14. Planning a Meeting.
Scheduling a Meeting. Working Out Meeting Details. Inviting Others to the Meeting. Editing a Meeting.
15. Using the Calendar.
Navigating the Calendar. Creating an Appointment. Scheduling a Recurring Appointment. Planning Events.
16. Creating a Task List.
Entering a Task. Viewing Tasks. Managing Tasks. Recording Statistics About a Task.
17. Using the Journal.
Creating a Journal Entry. Viewing Journal Entries.
18. Using Outlook Notes.
Creating Notes. Setting Note Options. Managing Individual Notes. Viewing Notes.
19. Printing in Outlook.
Choosing Page Setup. Previewing Before Printing. Printing Items. Setting Printer Properties.
20. Saving, Opening, and Finding Outlook Items. Saving,
Opening, and Using Items. Finding Items. Using the Advanced Find Feature.
21. Using Outlook Integration, Forms, and Templates.
Creating a Task from a Mail Message. Creating an Appointment from a Mail Message. Create a Note from Any Item. Using Outlook Forms and Templates.
22. Sharing Data with Office Applications.
Creating a New Office Document. Creating an Outlook Item from an Office File. Importing and Exporting Files. Linking and Embedding Objects.
23. Archiving Items.
Using AutoArchive. Archiving Manually. Retrieving Archived Files. Deleting Archived Files.
24. Customizing Outlook.
Setting Outlook Options. Setting Email Options. Setting Calendar Options. Setting Mail Services and Mail Format Options. Other Options Dialog Box Tabs.
25. Managing Faxes with Outlook.
Setting Up the Fax Service. Sending Faxes. Receiving and Processing Faxes. Reading Faxes. Using WinFax.
26. Outlook 2000 and the Internet.
Using Newsgroups. Setting Up the Newsreader. Reading Newsgroup Postings. Posting to Newsgroups. Launching Internet Explorer. Launching Microsoft NetMeeting. Working with Net Folders.
Index.
FREE

ONE MONTH ACCESS!
WITH PURCHASE
---
Get unlimited 30-day access to thousands of Books & Training Videos about technology, professional development and digital media If you continue your subscription after your 30-day trial, you can receive 30% off a monthly subscription to the Safari Library for up to 12 months.
Other Things You Might Like
eBook (Watermarked) $15.99