Home > Store > Graphics & Web Design > Photoshop & Adobe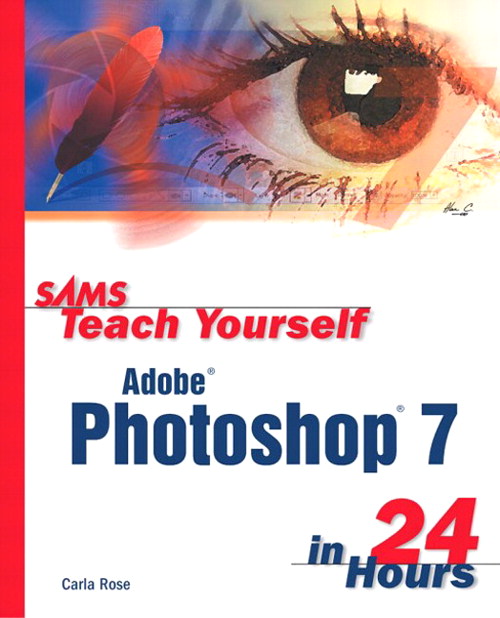 Share
|



Register your product to gain access to bonus material or receive a coupon.
Sams Teach Yourself Adobe Photoshop 7 in 24 Hours
Book
This product currently is not for sale.
Copyright 2002
Dimensions: 7-3/8" x 9-1/8"
Pages: 480
Edition: 1st
Book
ISBN-10: 0-672-32388-5
ISBN-13: 978-0-672-32388-1
Adobe Photoshop is the world's leading image manipulation software. Used by both professional and amateur graphic designers, it is the de facto standard for print Web publishing.
New painting engine;
Image browser;
Enhanced Web workflow;
More editing features;
Compliance with Mac OS X.
Sams Teach Yourself Adobe Photoshop 7 in 24 Hours is an easily accessible tutorial that uses a friendly, conversational approach to teach readers the basics. Photoshop is an immense tool and can be intimidating for the beginning user, but the book makes it easy to learn the basic techniques involved in creating and manipulating images with Photoshop.
Downloads
All the graphics files used for the examples in the book - 13,339 kb -- files.zip
The graphics files for Hour 3 - 1,903 kb -- Hour03.zip
The graphics files for Hour 4 - 928 kb -- Hour04.zip
The graphics files for Hour 5 - 1,260 kb -- Hour05.zip
The graphics files for Hour 6 - 347 kb -- Hour06.zip
The graphics files for Hour 10 - 1,593 kb -- Hour10.zip
The graphics files for Hour 11 - 260 kb -- Hour11.zip
The graphics files for Hour 12 - 748 kb -- Hour12.zip
The graphics files for Hour 13 - 29 kb -- Hour13.zip
The graphics files for Hour 16 - 2,379 kb -- Hour16.zip
The graphics files for Hour 17 - 1,360 kb -- Hour17.zip
The graphics files for Hour 18 - 848 kb -- Hour18.zip
The graphics files for Hour 20 - 349 kb -- Hour20.zip
The graphics files for Hour 21 - 207 kb -- Hour21.zip
The graphics files for Hour 22 - 1,113 kb -- Hour22.zip
The graphics files for Hour 24 - 23 kb -- Hour24.zip

Online Sample Chapters
Photoshop 7 Filters to Distort and Other Funky Effects
Photoshop 7 Filters to Make Your Picture Artistic
Repairing Black-and-White Photos in Photoshop 7
Repairing Color Photos in Photoshop 7
Table of Contents
(NOTE: Each chapter concludes with a Summary, Q&A, Quiz, Quiz Answers, and Exercises.)

Introduction.


Hour 1. The Basics.

Finding Your Way Around. The Toolbox. Tool Options Bar. What's on the Menus? Setting Preferences.
Hour 2. Opening and Saving.
Working with Files. Saving Your Work. Undoing and Redoing.
Hour 3. Selection Modes.
The Selection Tools. The Selection Menu. Selecting Large Areas. Cutting and Copying. Cropping.
Hour 4. Transformations.
Resizing. Rotating. Flipping. Selection Transformations. Liquify.
Hour 5. Color Modes and Color Models.
Color Models. The Modes and Models of Color.
Hour 6. Adjusting Color.
Adjusting by Eye with Variations. Making Other Adjustments. Adjustment Layers. Channels.
Hour 7. Paintbrushes and Art Tools.
The Brushes Palette. Brushes.
Hour 8. Digital Painting.
Foreground and Background Colors. Selecting Colors. Blending Modes.
Hour 9. Moving Paint.
Smudges. Focus Tools. The Toning Tools.
Hour 10. Advanced Painting Techniques.
Simulating Different Media.
Hour 11. Layers.
Using the Layers Palette. Working with Multiple Layers.
Hour 12. Using Masks.
Applying Masks. Using Quick Mask. Layer Masks.
Hour 13. Paths.
Creating Paths. Editing Paths. Using Paths.
Hour 14. Filters That Improve Your Picture.
Sharpen Filters. Blur Filters. Fading Filters.
Hour 15. Filters to Make Your Picture Artistic.
Artistic Filters. Brush Strokes. Sketch Filters.
Hour 16. Filters to Distort and Other Funky Effects.
Distort Filters. Pixelate Filters. Stylize. Combining Filters.
Hour 17. Adding Type to Pictures.
The Type Tools. Setting Type. Creating Drop Shadows. Cutting and Filling Type. Adding Glows. Creating Bevel and Emboss Effects. Warping Text. Checking Your Spelling.
Hour 18. Special Effects and Useful Tricks.
Glows. Lighting Effects. Reflections. Extracting Selections. Notepad. Contact Sheets and Picture Packages. Working Efficiently.
Hour 19. Photoshop Plug-Ins and Add-Ons.
Where to Get Plug-Ins. How to Install Plug-Ins. Alien Skin's Eye Candy. Kai's Power Tools. Auto FX Photo/Graphic Edges. Flaming Pear. Vivid Details Test Strip. Genuine Fractals. Andromeda.
Hour 20. Compositing.
Sources for Images. Making One Picture from Two. Realistic Composites. Replacing a Background. Composites from Nothing.
Hour 21. Photo Repair-Black-and-White.
Easy Fixes. Using the Eyedropper. Using the Clone Stamp. Healing Brush and Patch Tools. Cleaning Up a Picture, Step by Step. Applying Tints. Vignetting.
Hour 22. Photo Repair-Color.
Color Retouching. Removing.
Hour 23. Printing.
Choosing a Printer. Preparing to Print. Printing the Page. Preparing the Image. Papers.
Hour 24. Photoshop for the Web.
Jumping into ImageReady. File Formats and File Size. Preparing Backgrounds. Building Animations. Web Photo Gallery. Creating Slices. Creating a Rollover Effect. Preparing Text for the Web. Making Pages Load Faster.
Appendix A. Photoshop 7 Palette Quick Reference.
Navigator Palette. Info Palette. Color Palette. Swatches Palette. Styles Palette. History Palette. Actions Palette. Layers Palette. Channels Palette. Paths Palette.
Index.
Errata
The errata for the book is available here in Adobe Portable Document Format (PDF) format. You will need Adobe's Acrobat Reader to view these files. If you do not have the Acrobat Reader installed, you may go to Adobe Systems' web site to download this free reader.
Click on the links below to display the PDF file in a new window. Right-click on the link and select Save As if you want to download it to your hard drive.
Errata for the book - 42 kb --
0672323885.pdf
FREE

ONE MONTH ACCESS!
WITH PURCHASE
---
Get unlimited 30-day access to thousands of Books & Training Videos about technology, professional development and digital media If you continue your subscription after your 30-day trial, you can receive 30% off a monthly subscription to the Safari Library for up to 12 months.
Other Things You Might Like

By Carla Rose
Book $19.99