Home > Store > Home & Office Computing > Other Applications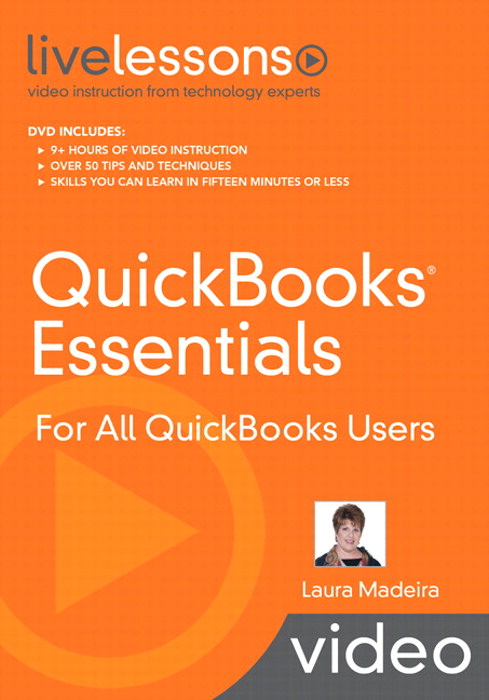 Share
|



Register your product to gain access to bonus material or receive a coupon.
QuickBooks Essentials LiveLessons (Video Training): For All QuickBooks Users
DVD
Your Price: $35.99
List Price: $44.99
Usually ships in 24 hours.
Copyright 2010
Edition: 1st
DVD
ISBN-10: 0-7897-3928-3
ISBN-13: 978-0-7897-3928-5
DVD includes:
Nine+ hours of video instruction
Over 50 tips and techniques
Skills you can learn in fifteen minutes or less
For every entrepreneur, manager, accountant, and bookkeeper who wants to master QuickBooks fast!
Laura Madeira, QuickBooks Advanced Certified ProAdvisor and member of the elite Intuit Trainer Writer Network shares with you her practical expertise in using the QuickBooks software.
Are you a business owner? Do you need help with your accounting software setup? Would you like a consultant to help you learn? In this video Laura is your own personal consultant as she provides easy to follow instructions on how to properly setup and use your QuickBooks software. Click play to follow along as Laura helps you learn how to use the many features of QuickBooks. Laura makes business accounting with QuickBooks "easy" for the non-accountant business owner with her straightforward approach to learning explaining both the "why" and "how" of an activity.
Laura Madeira, Advanced Certified QuickBooks ProAdvisor and member of the elite Intuit Trainer/Writer Network. Laura has presented to thousands of users the "What's New for QuickBooks" each fall. Laura is the author of QuickBooks 2010 Solutions Guide and co-author of QuickBooks 2010 on Demand.
Looking for a better way to master today's rapidly changing technologies? Want expert help, but don't have the time or energy to read a book? Can't find classroom training worth the money? Discover LiveLessons: self-paced, personal video instruction from the world's leading experts. LiveLessons are DVD video courses organized into bite-sized, self-contained sessions–you'll learn key skills in as little as 15 minutes!
System Requirements
OPERATING SYSTEM: Windows 98, 2000, XP, or Vista
MULTIMEDIA: DVD drive; 1024 x 768 or higher display; sound card with speakers
COMPUTER: 500MHz or higher CPU; 128MB RAM or more
$39.99 USA / $47.99 CAN
Excerpts
QuickBooks Essentials (Video Training): Homepage and Navigation
QuickBooks Essentials (Video Training): Inventory Reporting
Table of Contents
LiveLesson Structure 1
Who Should Use This Product 1
Playing the DVD 1
LiveLessons DVD System Requirements 1
Introduction 2
Lesson 1 Getting Around QuickBooks 3
Advanced Tip 4
Adding Favorite Reports to Icon Bar 4
Lesson 2 In-Product Tutorials 5
Advanced Tip 5
Using the Learning Center 5
Lesson 3 Preferences 7
Advanced Tip 7
Defaulting QuickBooks Open Windows 7
Lesson 4 Help Options 8
Advanced Tip 8
Live Community 8
Lesson 5 Using QuickBooks Sample Company Data 9
Advanced Tip 9
Viewing Sample Data Files 9
Lesson 6 Converting from Other Accounting Software 11
Advanced Tip 11
Converting from Another Software 11
Lesson 7 Easy Step Interview 12
Advanced Tip 12
Selecting an Industry-Specific Chart of Accounts 12
Lesson 8 Setting Up Users and Permissions 14
Advanced Tip 14
Assigning External Accountant User Type 14
Lesson 9 Modifying the Chart of Accounts 16
Assets 16
Liabilities 17
Equity 17
Income 17
Cost of Good Sold 17
Expense 17
Other Income and Other Expense 17
Lesson 10 Creating a QuickBooks Backup 18
Advanced Tip 18
Simplifying the Backup Process 18
Lesson 11 Selecting a Company File to Open 20
Advanced Tip 20
Removing Unwanted Listings in Open Previous Company
Dialog 20
Lesson 12 Item List Purpose and Types 22
Advanced Tip 23
Making all Items Two-Sided 23
Lesson 13 Adding to or Modifying Your Items List 25
Advanced Tip 25
Merging Two Items 25
Lesson 14 Importing List Data from Excel 27
Lesson 15 Other Lists in QuickBooks 28
Advanced Tip 28
Using a Combination of Lists 28
Lesson 16 Memorized Transaction List 30
Advanced Tip 30
Creating a Memorized Transaction Group 30
Lesson 17 List Reports 32
Advanced Tip 32
Reviewing the Payroll Items List Report 32
Lesson 18 Inventory Item Types 34
Advanced Tip 34
Changing an Item Type 34
Lesson 19 Importing List Data from Excel 36
Advanced Tip 36
Using the Import from Excel 36
Lesson 20 Successful Inventory Processes 38
Advanced Tip 38
When You Have Negative Inventory Stock Levels 38
Lesson 21 Adjusting Inventory 40
Advanced Tip 40
Selecting the Proper Adjustment Account 40
Lesson 22 Inventory Reporting 41
Advanced Tip 41
Reconciling the Inventory Valuation Summary Report
with the Balance Sheet Inventory Balance 41
Lesson 23 Customize Home Page Vendor Activities 43
Advanced Tip 43
Setting My Preferences for Checking 43
Lesson 24 Vendor Center Activities 44
Advanced Tip 44
When a Vendor Is Also a Customer 44
Lesson 25 Entering Vendor Bills 46
Advanced Tip 46
Duplicating a Vendor Transaction 46
Lesson 26 Paying Vendor Bills 47
Advanced Tip 47
Adjusting Alignment of Your Printed Bill Payment Checks 47
Lesson 27 Accounts Payable Reporting 48
Advanced Tip 48
Importance of Reviewing Your Unpaid Bills Report 48
Lesson 28 Customize Home Page Customer Activities 49
Lesson 29 Customer Center Activities 50
Advanced Tip 50
Lesson 30 Creating Customer Invoices 51
Advanced Tip 51
Downloading Custom Designed Invoice Forms 51
Lesson 31 Receiving Payment from Your Customers 52
Advanced Tip 52
When a Customer Pays an Invoice Short 52
Lesson 32 Accounts Receivable Reporting 54
Advanced Tip 54
Importance of Reviewing Your Open Invoices Report 54
Lesson 33 Learn About Payroll Options 55
Advanced Tip 55
Choosing a Payroll Option 55
Lesson 34 Using the Payroll Setup Wizard 57
Advanced Tip 57
Using the Payroll Setup Checklist in QuickBooks 57
Lesson 35 Paying Employees and Payroll Liabilities 58
Advanced Tip 58
Defaulting Your State Unemployment State 58
Lesson 36 Printing Paychecks and Liability Payments 60
Advanced Tip 60
Reprinting a Lost Payroll Check 60
Lesson 37 Adjusting Payroll Liabilities 62
Advanced Tip 62
Using Run Payroll Checkup to Help Identify Payroll Errors 62
Lesson 38 Preparing State and Federal Payroll Forms 63
Advanced Tip 63
Letting Intuit Take Care of Your Payroll Liabilities Payments
and Reporting 63
Lesson 39 Payroll Reporting 64
Advanced Tip 64
Reviewing the Payroll Item Listing Report 64
Lesson 40 Accounting Basics 66
Advanced Tip 66
Viewing Transactions in Debit and Credit Format 66
Lesson 41 Reporting Preferences 67
Lesson 42 Using the Report Center 68
Lesson 43 Modifying Reports 69
Advanced Tip 69
Easily Hiding Columns in a Displayed Report 69
Lesson 44 Memorizing Reports 70
Advanced Tip 70
Lesson 45 Using the Write Check Form 72
Advanced Tip 72
Recording Drafts from Your Bank Account 72
Lesson 46 Printing Checks 73
Advanced Tip 73
Adjusting Alignment of Your Printed Write Check Forms 73
Lesson 47 Transferring Funds Between Bank Accounts 74
Lesson 48 Reconciling the Bank Account 75
Advanced Tip 75
Review Uncleared Bank Transactions 75
Lesson 49 Troubleshooting Bank Reconciliation Errors 77
Advanced Tip 77
Reviewing Previous Bank Reconciliation Reports 77
Lesson 50 Loan Manager 78
Lesson 51 Planning and Budgeting 79
Advanced Tip 79
Easily Create Your First QuickBooks Budget! 79
Lesson 52 Year-End Guide 80
Lesson 53 Syncing QuickBooks Lists with Microsoft Outlook Contacts 81
Lesson 54 Using the QuickBooks Timer 82
Lesson 55 Methods of Sharing Your Data 83
Advanced Tip 83
Working in Your File While Your Accountant Reviews
the Data 83
Lesson 56 Creating an Accountant's Copy 84
Advanced Tip 84
Sending the File via Intuit's Secure Accountant's Copy File
Transfer Service 84
Lesson 57 Benefits of Working with an Accountant's Copy 86
Lesson 58 Limitations of Working with an Accountant's Copy 87
Advanced Tip 87
Some Specific Limitations for the Business Owner and
Accountant 87
Lesson 59 Importing Accountant's Changes 89
Advanced Tip 89
Canceling an Accountant's Copy 89
FREE

ONE MONTH ACCESS!
WITH PURCHASE
---
Get unlimited 30-day access to thousands of Books & Training Videos about technology, professional development and digital media If you continue your subscription after your 30-day trial, you can receive 30% off a monthly subscription to the Safari Library for up to 12 months.
Other Things You Might Like
Book $27.99
eBook (Watermarked) $22.39
Book $35.99