Home > Store > Programming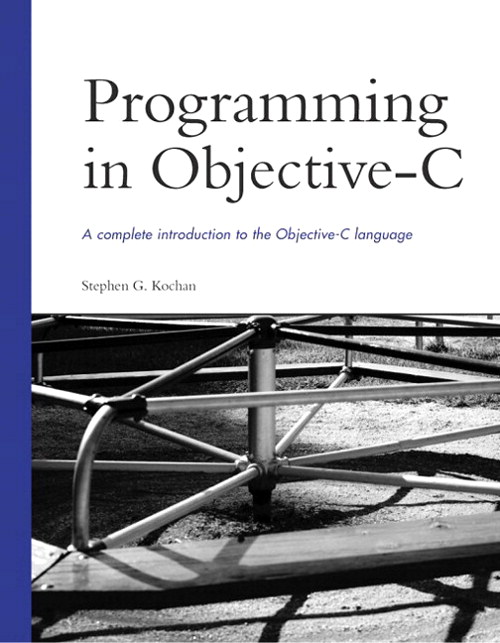 Share
|



Register your product to gain access to bonus material or receive a coupon.
Programming in Objective-C, Adobe Reader
Published Dec 8, 2003 by Que.
eBook (Adobe DRM)
Your Price: $25.59
List Price: $31.99

ℹ This eBook requires the free Adobe® Digital Editions software.

Before downloading this DRM-encrypted PDF, be sure to:

Install the free Adobe Digital Editions software on your machine. Adobe Digital Editions only works on Macintosh and Windows, and requires the Adobe Flash Player. Please see the official system requirements.
Authorize your copy of Adobe Digital Editions using your Adobe ID (select AdobeID as the eBook vendor). If you don't already have an Adobe ID, you can create one here.
Copyright 2004
Dimensions: 7 X 9
Pages: 576
Edition: 1st
eBook (Adobe DRM)
ISBN-10: 0-7686-6286-9
ISBN-13: 978-0-7686-6286-3
A new edition of this title is available, ISBN-10: 0321566157 ISBN-13: 9780321566157
Programming in Objective-C is a concise, carefully written tutorial on the basics of Objective-C and object-oriented programming. The book makes no assumption about prior experience with object-oriented programming languages or with the C language (upon which Objective-C is based). And because of this, both novice and experienced programmers alike can use this book to quickly and effectively learn the fundamentals of Objective-C. Readers can also learn the concepts of object-oriented programming without having to first learn all of the intricacies of the underlying procedural language (C). This approach, combined with many small program examples and exercises at the end of each chapter, makes it ideally suited for either classroom use or self-study. Growth is expected in this language. At the January 2003 MacWorld, it was announced that there are 5 million Mac OS X users and each of their boxes ships with Objective-C built in.
Table of Contents


Introduction.


1. Object-Oriented Programming.


2. Classes.


3. Writing a Program in Objective-C.


4. Data Types and Expressions.


5. Instance Variable.


6. Parameters.


7. Looping.


8. Decision Making.


9. Subclasses, Superclasses, and Inheritance.


10. Dynamic Binding.


11. Character Strings, Arrays, Dictionaries, Sets.


12. Working with the File System.


13. More on Instance Variables.


14. The Preprocessor.


15. Miscellaneous and Advanced Features.


16. Underlying C Features.


17. Intro to Cocoa Programming.


Appendix A. Glossary.


Appendix B. Objective-C Language Summary.


Appendix C. GCC.

FREE

ONE MONTH ACCESS!
WITH PURCHASE
---
Get unlimited 30-day access to thousands of Books & Training Videos about technology, professional development and digital media If you continue your subscription after your 30-day trial, you can receive 30% off a monthly subscription to the Safari Library for up to 12 months.
Other Things You Might Like

Book $43.99