Home > Store > Web Development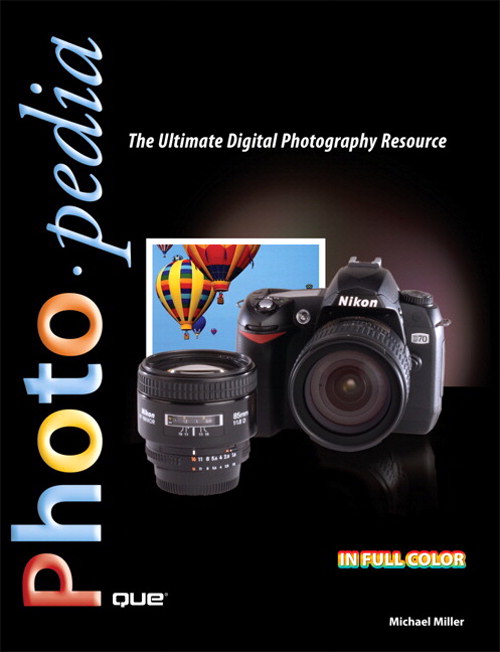 Share
|



Register your product to gain access to bonus material or receive a coupon.
Photopedia: The Ultimate Digital Photography Resource (Adobe Reader)
Published Dec 14, 2007 by Que.
eBook (Adobe DRM)
Your Price: $25.59
List Price: $31.99

ℹ This eBook requires the free Adobe® Digital Editions software.

Before downloading this DRM-encrypted PDF, be sure to:

Install the free Adobe Digital Editions software on your machine. Adobe Digital Editions only works on Macintosh and Windows, and requires the Adobe Flash Player. Please see the official system requirements.
Authorize your copy of Adobe Digital Editions using your Adobe ID (select AdobeID as the eBook vendor). If you don't already have an Adobe ID, you can create one here.
Copyright 2008
Dimensions: 7 X 9-1/8
Pages: 624
Edition: 1st
eBook (Adobe DRM)
ISBN-10: 0-7686-8010-7
ISBN-13: 978-0-7686-8010-2
Photopedia: The Ultimate Digital Photography Resource
Whether you own a low-cost point-and-shoot camera or an expensive digital SLR, great photographs are within your reach–with the help of this book. Photopedia: The Ultimate Digital Photography Resource shows you everything you need to know to take great-looking digital photos, from basic camera operation to advanced Photoshop techniques. Photopedia's easy-to-read text, accompanied by colorful photographic examples, leads you step-by-step from choosing the right digital camera to taking impressive pictures to printing your photos and sharing them via the Web.
Photopedia includes detailed instructions for taking all kinds of different photos. Want to take an attractive portrait, or a stunning action shot? Or perhaps you just want to capture shots on your upcoming vacation, or shoot some product photos for eBay? Whatever type of photo you want to take, you'll learn how in this book. Read the text, look at the pictures, and then start shooting!
HERE'S SOME OF WHAT'S COVERED INSIDE:
• Choosing the right digital camera
• Learning your camera's functions and controls
• Selecting essential camera accessories
• Using different lenses and filters
• Mastering essential photographic techniques, such as composition, lighting, color, exposure, and focus
• Choosing the best photo editing software
• Using Photoshop to edit and enhance your photos
• Shooting the perfect photo–from portraits to still life
• All aspects of digital photography from equipment, composition, digital darkroom/editing, and output.
• Shooting in black and white
• Storing, managing, and printing your photos
Michael Miller has written more than 75 nonfiction how-to books, including Que's iPodpedia: The Ultimate iPod and iTunes Resource, Googlepedia: The Ultimate Google Resource, Absolute Beginner's Guide to Computer Basics, Tricks of the eBay Masters, and Bad Pics Fixed Quick. Learn more at his website: www.molehillgroup.com.
Category: Digital Photography
User Level: Beginner to Advanced
Table of Contents
Part I: Understanding Digital Photography
1 How Digital Photography Works
2 The Digital Darkroom
Part II: Digital Camera Essentials
3 Choosing a Digital Camera
4 Operating a Point-and-Shoot Camera
5 Operating a Digital SLR Camera
Part III: Digital Camera Accessories
6 Choosing Camera Accessories
7 Managing Batteries and Storage
8 Using Different Lenses
9 Using Filters
Part IV: Photography Essentials
10 Composition
11 Lighting and Flash
12 Color
13 Exposure
14 Focus and Depth of Field
Part V: Transferring and Managing Photos
15 Storing and Managing Photos on Your PC
16 Scanning Print Photos and Slides
Part VI: Digital Photo Editing
17 Choosing Photo Editing Software
18 Essential Photo Editing Techniques
19 Touching Up and Editing Your Photos
Part VII: Digital Photography Techniques
20 Portrait Photography
21 Candid Photography
22 Travel and Vacation Photography
23 Landscape and Nature Photography
24 Sports and Action Photography
25 Still Life Photography
26 Macro Photography
27 Black-and-White Photography
28 Special Shooting Conditions
Part VIII: Photo Printing and Sharing
29 Printing Your Photos
30 Sharing Photos Online
Glossary
Index
FREE

ONE MONTH ACCESS!
WITH PURCHASE
---
Get unlimited 30-day access to thousands of Books & Training Videos about technology, professional development and digital media If you continue your subscription after your 30-day trial, you can receive 30% off a monthly subscription to the Safari Library for up to 12 months.
Other Things You Might Like