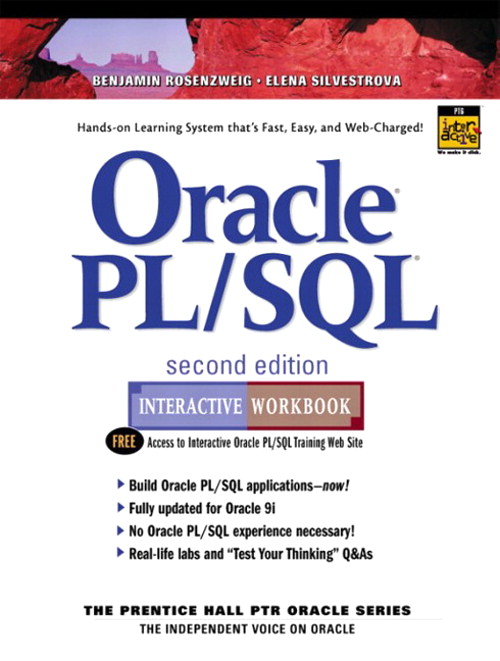 Share
|



Register your product to gain access to bonus material or receive a coupon.
Oracle PL/SQL Interactive Workbook, 2nd Edition
Book
Your Price: $31.99
List Price: $39.99
Usually ships in 24 hours.
Copyright 2003
Dimensions: 7 X 9-1/4
Pages: 688
Edition: 2nd
Book
ISBN-10: 0-13-047320-0
ISBN-13: 978-0-13-047320-2
Build Oracle PL/SQL applications—now.
Fully updated for Oracle 9i
No Oracle PL/SQL experience necessary.
Real-life labs and "Test Your Thinking" Q&As
Start developing applications with Oracle PL/SQL—fast. This integrated book-and-Web learning solution teaches all the Oracle PL/SQL skills you need, hands on, through real-world labs, exercises, projects, and a complete Web-based training site. Completely updated for Oracle 9i, it covers all the fundamentals—and a whole lot more. Master PL/SQL syntax, iterative and conditional control, scoping, anchored datatypes, cursors, triggers, security, tables, and packaging—plus powerful new techniques for working with exceptions, cursors, collections, and records. Your free Web-based training module includes a Virtual Study Lounge where you can interact with other learners, work on new projects, and get updates.
Totally integrated with a FREE, state-of-the-art Oracle 9i learning Web site.
Every Prentice Hall Oracle Interactive Workbook is fully integrated with its own exclusive Web site, giving you all this and more:
"Test Your Thinking" project solutions and detailed explanations
Additional self-review exercises with instant feedback and explanations
An exclusive Virtual Study Lounge where you can interact with other students.
Just the facts. No endless, boring discussions here. You'll learn hands on through practical exercises, self-review questions, and real-world answers. Exclusive "Test Your Thinking" projects guarantee you'll go beyond rote knowledge to really master the subject. It's an integrated learning system that's proven to work.
Dozens of exercises cover the real-world tasks that matter most.
Hundreds of self-review questions and answers make sure you understand.
FREE

ONE MONTH ACCESS!
WITH PURCHASE
---
Get unlimited 30-day access to thousands of Books & Training Videos about technology, professional development and digital media If you continue your subscription after your 30-day trial, you can receive 30% off a monthly subscription to the Safari Library for up to 12 months.
Other Things You Might Like

By Bert Scalzo
Book $39.99

Book $39.99