Home > Store > Operating Systems, Server > Microsoft Servers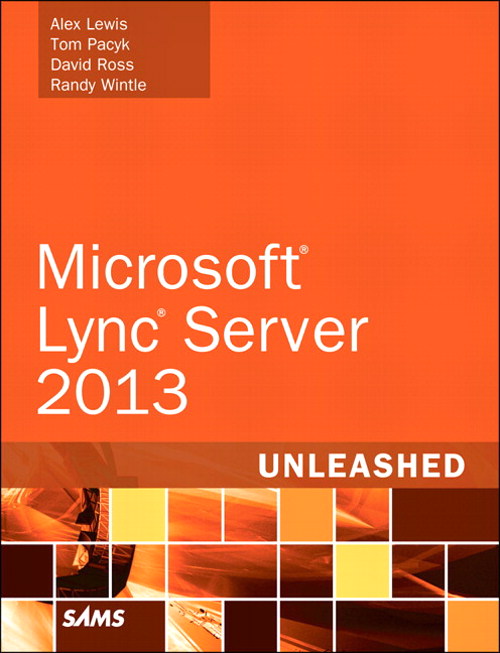 Share
|



Register your product to gain access to bonus material or receive a coupon.
Microsoft Lync Server 2013 Unleashed, 2nd Edition
Best Value Purchase
Book + eBook Bundle
Your Price: $53.99
List Price: $89.98
Includes EPUB, MOBI, and PDF

This eBook includes the following formats, accessible from your Account page after purchase:

EPUB The open industry format known for its reflowable content and usability on supported mobile devices.

MOBI The eBook format compatible with the Amazon Kindle and Amazon Kindle applications.

PDF The popular standard, used most often with the free Adobe® Reader® software.

This eBook requires no passwords or activation to read. We customize your eBook by discretely watermarking it with your name, making it uniquely yours.
Individual Purchases
Book
Your Price: $39.99
List Price: $49.99
Usually ships in 24 hours.
eBook (Watermarked)
Your Price: $31.99
List Price: $39.99
Includes EPUB, MOBI, and PDF

This eBook includes the following formats, accessible from your Account page after purchase:

EPUB The open industry format known for its reflowable content and usability on supported mobile devices.

MOBI The eBook format compatible with the Amazon Kindle and Amazon Kindle applications.

PDF The popular standard, used most often with the free Adobe® Reader® software.

This eBook requires no passwords or activation to read. We customize your eBook by discretely watermarking it with your name, making it uniquely yours.
Copyright 2013
Dimensions: 7" x 9-1/8"
Pages: 960
Edition: 2nd
Book
ISBN-10: 0-672-33615-4
ISBN-13: 978-0-672-33615-7
The most comprehensive, realistic, and useful guide to Microsoft Lync Server 2013, today's leading Unified Communications system.


Four expert Lync consultants and implementers bring together in-the-trenches guidance for all facets of planning, integration, deployment, and administration. The authors introduce Microsoft Lync Server 2013, outline what it can do, and review the key improvements Microsoft has made in this version.

They cover every form of communication Lync Server can manage, including IP voice, instant messaging, audio/video conferencing, web conferencing, and more. You'll find expert guidance on planning infrastructure, managing day-to-day operations, server roles, multi-platform clients, security, troubleshooting, and much more.

Microsoft Lync Server 2013 Unleashed contains a new section on Office 365 and Lync Online, a chapter covering coexistence between on-premise and Office 365 Lync deployments, and another introducing Lync online configuration and administration.

Throughout, the authors combine theory, step-by-step configuration instructions, and best practices from real enterprise environments. They identify common mistakes and present proven solutions and workarounds. Simply put, they tell you what works--and show how it's done.

Detailed information on how to…
• Plan for any type of deployment, from simple to highly complex--including virtualized environments
• Walk step-by-step through installation, and understand important new changes in the installation process
• Overcome obstacles to successful migration from older versions of Lync or Microsoft Office Communications Server
• Manage server roles, including Front End, Edge, Monitoring, Archiving, and Director roles
• Efficiently administer Lync Server 2013 through the Lync Server Management Shell
• Leverage Lync Server 2013's significantly improved capabilities as a PBX replacement and videoconferencing solution
• Integrate Lync with third-party video platforms, voice/video gateways, and cloud services
• Evaluate the option of providing Lync services through Microsoft Office 365 hosting
• Make the most of Lync Server 2013's dramatically upgraded web, mobile, and desktop clients


Online Sample Chapter
Feature Overview and Benefits of Microsoft Lync Server 2013
Sample Pages
Download the sample pages (includes Chapter 4 and Index)
Table of Contents
Foreword xiii
Introduction xix
PART I: LYNC SERVER 2013 OVERVIEW

Chapter 1 Getting Started with Microsoft Lync Server 2013 3
Lync Server Overview 4
Lync Server Terms and Acronyms 8
Versions and Licensing 11
Integration with Other Microsoft Applications 14
Chapter 2 What's New in Microsoft Lync Server 2013 19
Conferencing Improvements 19
High-Availability and Disaster Recovery Changes 22
Server Features 24
Persistent Chat 27
Hybrid and On-Premise Deployment Integration 27
Client Features 28
Voice Enhancements 32
Chapter 3 Feature Overview and Benefits of Microsoft Lync Server 2013 37
Presence 37
Instant Messaging 44
Web Conferencing 44
Audio and Video Conferencing 45
Dial-In Conferencing 45
Enterprise Voice 47
Remote Access 50
Archiving 51
Monitoring 51
Summary 52
Chapter 4 Business Cases for Lync Server 2013 53
Why Unified Communications 53
Return on Investment (ROI) 58
Why Lync 2013 for Unified Communications 63

PART II: MICROSOFT LYNC SERVER 2013 SERVER ROLES
Chapter 5 Microsoft Lync Server 2013 Front End Server 73
Active Directory Preparation 74
Installation 80
Configuration and Administration Overview 109
Troubleshooting 109
Best Practices 110
Chapter 6 Microsoft Lync Server 2013 Edge Server 111
Edge Server Overview 111
Edge Server Installation 115
Edge Server Configuration 125
Edge Server Administration 129
Edge Server Troubleshooting 138
Edge Server Best Practices 144
Chapter 7 Microsoft Lync Server 2013 Monitoring and Archiving 147
Monitoring Components Installation 148
Monitoring Configuration 149
Monitoring Administration 151
Monitoring Troubleshooting 155
Archiving Components Installation 156
Archiving Configuration 156
Archiving Administration 159
Archiving Troubleshooting 160
Best Practices 160
Chapter 8 Mediation Server 163
Mediation Server Overview 163
Installing Mediation Server 166
Mediation Server Configuration 172
Mediation Server Administration 174
Mediation Server Troubleshooting 176
Best Practices 180
Chapter 9 Director 181
Director Overview 181
Installing the Director Role 188
Configuring the Director 198
Administration of the Director Role 202
Director Troubleshooting 209
Best Practices 214
Chapter 10 Persistent Chat 215
Persistent Chat Overview 215
Persistent Chat Deployment 216
Configuring Persistent Chat 227
Persistent Chat Administration 240
Persistent Chat Troubleshooting 245
Best Practices 246

PART III: EXTERNAL DEPENDENCIES
Chapter 11 Dependent Services and SQL 251
Active Directory 251
Domain Name System 258
Server Certificates 260
Network Dependencies 267
Office Web Apps Server 270
SQL Server Dependencies 274
Chapter 12 Firewall and Security Requirements 291
Firewall Requirements Overview 291
Ports Required for Internal and External Access 292
Using Network Address Translation (NAT) with Lync Server 295
Reverse Proxy Requirements 296
Reverse Proxy Configuration 297
File Share Permissions 304

PART IV: ADMINISTRATION AND MANAGEMENT
Chapter 13 Monitoring Lync Server 2013 307
Understanding Key Areas to Monitor in Your Deployment 307
Monitoring the Health and Performance of Lync Server 2013 309
Chapter 14 Administration of Microsoft Lync Server 2013 333
Administration Overview 334
Using the Lync Topology Model 343
Managing Servers and Users 346
Configuring Quality of Service 351
Troubleshooting 354
Best Practices 359
Chapter 15 High-Availability and Disaster Recovery 361
Defining Business Requirements for High-Availability and Disaster Recovery 361
Designing for High-Availability 364
Designing for Disaster Recovery 370
Configuring Lync Server for High-Availability 380
Executing Disaster Recovery Procedures 388

PART V: MIGRATING FROM OLDER VERSIONS
Chapter 16 Migrating from Lync Server 2010 397
Front End and User Migration to Lync Server 2013 398
Edge Migration to Lync Server 2013 404
Completing the Migration to Lync Server 2013 413
Troubleshooting 424
Best Practices 424

PART VI: LYNC VOICE, VIDEO, AND INTEGRATION
Chapter 17 Lync Telephony and Voice Integration 429
Understanding Telephony Fundamentals 430
Integration Methods 435
End-User Scenarios 442
Analog Devices 447
Lync Voice Routing 450
Best Practices 455
Chapter 18 Advanced Lync Voice Configuration 457
Building the Lync Topology 457
Voice Routing 463
Voice Features 476
Advanced Enterprise Voice Features 480
Dial-In Conferencing 492
Response Groups 499
Best Practices 510
Chapter 19 Lync Native Video and Data Conferencing 511
Lync 2013 Peer-to-Peer Video 511
Lync Server 2013 Video Conferencing 519
Lync Server 2013 Data Conferencing 524
Chapter 20 Video Integration with Third-Party Products and Services 535
Signaling Gateways 536
Native Registration 541
Media Transcoding Gateways 543
Multipoint Control Units 545
Software Plugins 549
Summary and Comparison 549

PART VII: INTEGRATION WITH OTHER APPLICATIONS
Chapter 21 Exchange and SharePoint Integration 555
Server-to-Server Authentication 555
Exchange Integration Features 561
SharePoint Integration Features 580

PART VIII: OFFICE 365 AND LYNC ONLINE
Chapter 22 Lync Online and Hybrid Deployments 589
Overview of Lync Online and Office 365 589
System Requirements 590
Experiencing Lync Online 592
Deploying Lync Online 594
AD FS Deployment for SSO 611
Configuring Directory Synchronization 618
Lync Hybrid Deployment 623

PART IX: LYNC SERVER 2013 CLIENTS
Chapter 23 Mac Client 629
Installing the Client 630
Feature Comparison 633
Navigation and Layout 636
Managing Contacts 639
Managing Groups 640
IM Features 641
Audio/Video Calls and Conferencing 642
Making a Video Call 643
Web Conferencing 644
Client Integrations with Other Applications 644
Tuning Hardware for the Lync:Mac Client 646
Troubleshooting 648
Best Practices 648
Chapter 24 Mobile Clients 651
Mobile Clients Overview 651
Lync Server 2013 Mobility Technical Review 654
Deploying Lync 2013 Mobility 660
Chapter 25 Windows Client 669
Installing the Client 670
Navigating in the Client 671
Peer-to-Peer Conversations 677
Conferencing 682
Persistent Chat 688
Integration with Other Applications 689
Chapter 26 Browser Client 693
Lync 2013 Browser Capabilities 693
Lync Server 2013 Web App Technical Review 695
Requirements to Deploy Lync 2013 Browser Functionality 699
Chapter 27 Lync and VDI 705
VDI Basics 706
Introducing the Lync VDI Plugin 707
Protocol Partner Solutions for the Lync VDI Plugin 717
Thin Client Hardware Optimized for Lync 2013 719

PART X: PLANNING FOR DEPLOYMENT
Chapter 28 Planning for Lync Online and Hybrid Deployments 725
Comparing Topologies 725
Lync Online and Office 365 Subscription Plans 729
Planning for Lync Online 731
Planning for Single Sign-On with AD FS 740
Planning for Directory Synchronization 748
Planning for a Hybrid Deployment 750
Chapter 29 Virtualization Support 757
Virtualization Overview 758
Lync Server Virtualization Support Guidelines 763
Lync Server 2013 Virtual Machine Recommendations 766
Host Server Hardware Recommendations 769
Lync Server 2013 Sample Virtual Topologies 772
Sample Topology Considerations 783
Client and Desktop Virtualization 784
Best Practices 785
Chapter 30 Planning for Basic Lync Services 787
Determining the Scope of the Deployment 787
Determining Your Infrastructure Needs 791
Planning for Capacity 794
Planning for IM 797
Planning for Conferencing 800
Planning for Clients and Devices 802
Planning for Archiving 802
Defining Your Archiving Requirements 803
Planning for Management 805
Documenting the Plan 807
Best Practices 809
Chapter 31 Planning to Deploy External Services 813
Determining Feature Requirements 813
Planning Edge Server Architecture 819
Planning for High-Availability 827
Reverse Proxy Planning 832
Planning for Certificates 836
Network Planning Considerations 839
Preparing for Edge Servers 842
Chapter 32 Planning for Voice Deployment 847
Dial Plan 847
Voice Routing 853
Voice Resiliency 861
Call Admission Control and Media Bypass 869
Emergency Services 875
Response Groups 880
Additional Considerations 881
Best Practices 884

PART XI: ENDPOINTS
Chapter 33 UC Endpoints 889
Standalone IP Phones 890
USB Headsets, Speakerphones, and Handsets 891
Webcams 895
Conferencing Devices 896
Best Practices 896

Index 897


FREE

ONE MONTH ACCESS!
WITH PURCHASE
---
Get unlimited 30-day access to thousands of Books & Training Videos about technology, professional development and digital media If you continue your subscription after your 30-day trial, you can receive 30% off a monthly subscription to the Safari Library for up to 12 months.
Other Things You Might Like
eBook (Watermarked) $31.99