Home > Store > Software Development & Management > Management: Lifecycle, Project, Team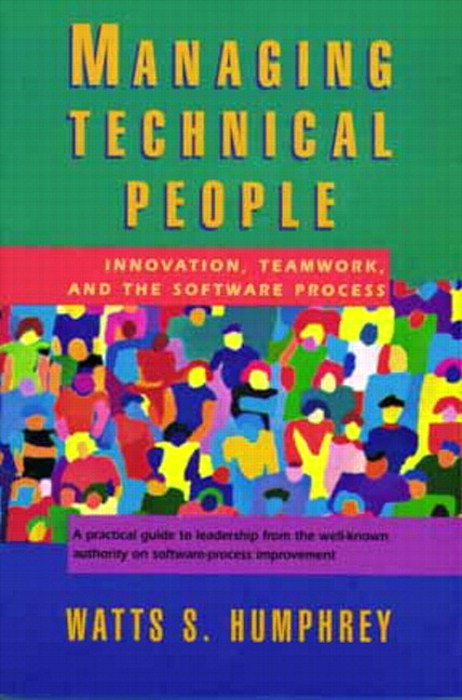 Share
|



Register your product to gain access to bonus material or receive a coupon.
Managing Technical People: Innovation, Teamwork, and the Software Process
Book
Your Price: $27.99
List Price: $34.99
Usually ships in 24 hours.
Copyright 1997
Dimensions: 6-1/4x9-1/4
Pages: 352
Edition: 1st
Book
ISBN-10: 0-201-54597-7
ISBN-13: 978-0-201-54597-5
"Suppose you needed a new computer program. You would want your programmers to give this work high priority and to dedicate their energies to its success. Although no simple procedure can ensure that they do this, there are some methods that usually work....The key is to understand and respect them as professionals and to follow sound management principles. This knowledge and these principles are the subjects of this book."
--from the Preface
This book contains best-selling author Watts Humphrey's practical insights on how to lead technical professionals. In previous books, Humphrey established process as a key factor in successful software development. His advice on how companies and individuals could improve their software process has since been widely adopted. In this new book, he demonstrates the overriding importance of people to the success of any software project. He focuses particularly on the critical role of innovative people, and gives concrete advice on how to identify, motivate, and organize these people into highly productive teams.
Drawing on experience as IBM's senior software-development executive, and expanding on an earlier work, Managing for Innovation, Humphrey presents here proven leadership practices and management techniques that can work in any organization. Given the software industry's dependence on creative human resources, managers will welcome his sound advice on the special challenges encountered in leading technical professionals, and on specific steps managers can take to encourage greater innovation while attaining yet higher levels of efficiency and quality.
0201545977B04062001
FREE

ONE MONTH ACCESS!
WITH PURCHASE
---
Get unlimited 30-day access to thousands of Books & Training Videos about technology, professional development and digital media If you continue your subscription after your 30-day trial, you can receive 30% off a monthly subscription to the Safari Library for up to 12 months.
Other Things You Might Like