Home > Store > Operating Systems, Server > MAC OS X/Other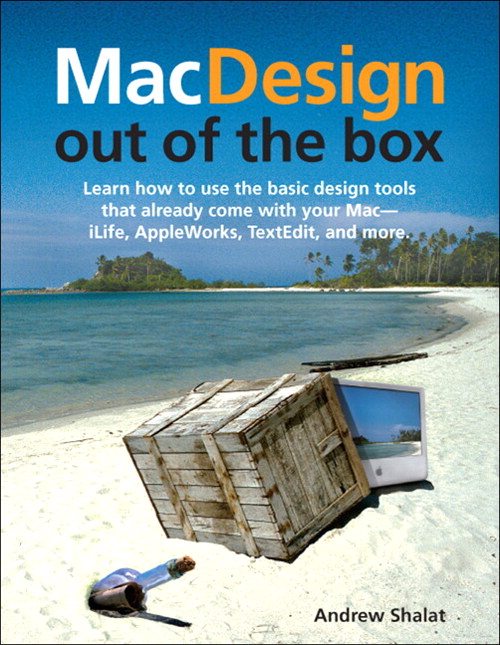 Mac Design Out of the Box
eBook (Adobe DRM)
Your Price: $19.19
List Price: $23.99

ℹ This eBook requires the free Adobe® Digital Editions software.

Before downloading this DRM-encrypted PDF, be sure to:

Install the free Adobe Digital Editions software on your machine. Adobe Digital Editions only works on Macintosh and Windows, and requires the Adobe Flash Player. Please see the official system requirements.
Authorize your copy of Adobe Digital Editions using your Adobe ID (select AdobeID as the eBook vendor). If you don't already have an Adobe ID, you can create one here.
Copyright 2006
Dimensions: 7 X 9
Pages: 272
Edition: 1st
eBook (Adobe DRM)
ISBN-10: 0-321-50253-1
ISBN-13: 978-0-321-50253-7
Learn how to use the basic design tools that already come with your Mac—iLife, AppleWorks, TextEdit, and more. What if it were just you and your Macintosh stranded on a desert island? Would you have the tools and skills necessary to design your way out of the situation—to create a flyer to stick in bottles, a Web site to alert people to your situation, a movie to document your adventure? If you'd remembered to bring along this handy guide, you would! In this witty and engaging full-color book, author Andrew Shalat shows you how to accomplish a surprising number of design projects using the Apple iLife, iWork, and AppleWorks suites of applications, .Mac services, and the tools that come with Mac OS X.

Andrew shows how to create the projects using the simplest Mac tools, from TextEdit and Grab. Then, in sections called "For a Few Bucks More," Andrew demonstrates how to create the same projects using the tools that are part of Apple's own easy-to-use and powerful software suites and services.

Divided into three main sections—print, Web, and video—this book demonstrates how to:
• Make postcards, flyers, business cards, and logos with TextEdit, AppleWorks, and Pages.
• Put together Web pages using .Mac, iWork, iPhoto, AppleWorks.
• Make videos using iPhoto, GarageBand, and iMovie.

Plus, the book offers up plenty of tips and rules of thumb to guide your design.
