Home > Store > Graphics & Web Design > Photoshop & Adobe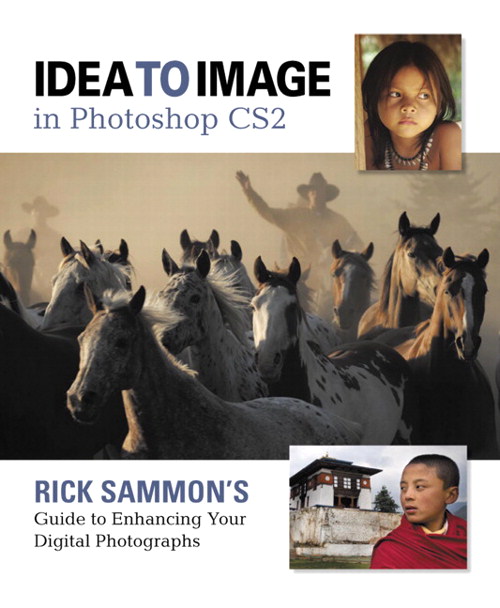 Idea to Image in Photoshop CS2: Rick Sammon's Guide to Enhancing Your Digital Photographs
eBook (Adobe DRM)
Your Price: $25.59
List Price: $31.99

ℹ This eBook requires the free Adobe® Digital Editions software.

Before downloading this DRM-encrypted PDF, be sure to:

Install the free Adobe Digital Editions software on your machine. Adobe Digital Editions only works on Macintosh and Windows, and requires the Adobe Flash Player. Please see the official system requirements.
Authorize your copy of Adobe Digital Editions using your Adobe ID (select AdobeID as the eBook vendor). If you don't already have an Adobe ID, you can create one here.
Copyright 2007
Dimensions: 7-1/2 X 9-1/8
Pages: 304
Edition: 1st
eBook (Adobe DRM)
ISBN-10: 0-321-48291-3
ISBN-13: 978-0-321-48291-4
From "America's Most Popular Photo Expert" comes this beautiful book on working and playing with the Photoshop digital darkroom.
World-famous, award-winning professional photographer and writer Rick Sammon, author of 25 books and host of 2 television programs, shares his favorite creative enhancements for turning "straight" digital pictures into more creative and imaginative images. With this book you will become not only a well-rounded photographer but also a self-motivated artist in the powerful age of digital imaging.
Rick begins the book with advice on seeing creatively and outlines his winning artistic process to help you learn to visualize the end-result before taking a picture. He then turns to the technical aspects of taking photographs, including his philosophy of using features like Camera Raw in Photoshop and how it is a must to obtain the best possible images. Step-by-step lessons follow, each showing how Rick transforms his digital photographs into compelling images. Detailed screenshots of the process accompany Rick's stunning photography and amusing anecdotes of photo shoots from around the world.
