Home > Store > Web Services > WebSphere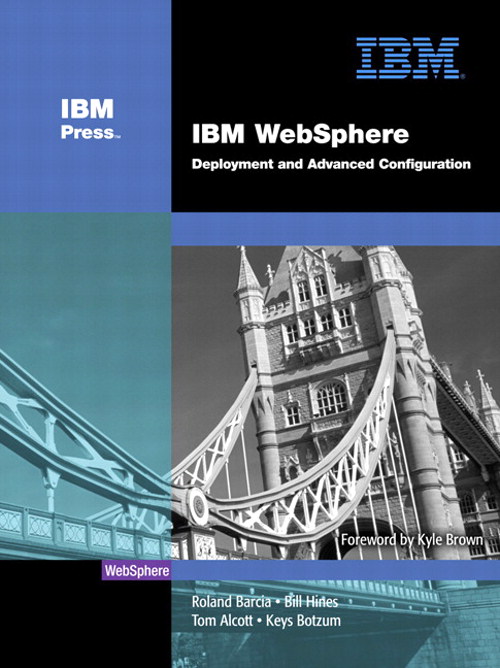 Share
|



Register your product to gain access to bonus material or receive a coupon.
IBM WebSphere: Deployment and Advanced Configuration
Book
This product currently is not for sale.
Copyright 2005
Dimensions: 7x9-1/4
Pages: 720
Edition: 1st
Book
ISBN-10: 0-13-146862-6
ISBN-13: 978-0-13-146862-7
The expert guide to deploying and managing any WebSphere Application Server V5.x application and environment
If you're a WebSphere Application Server administrator or developer, this
is your advanced guide for delivering applications rapidly, running them smoothly, and administering them efficiently. Four leading IBM consultants draw on their years of experience to illuminate the key steps involved in taking WebSphere Application Server applications from development to production. They focus on the areas most crucial to success, including application assembly and build, application and infrastructure configuration and administration, and application testing and verification. Along the way, they show how to implement automated deployment processes that can be executed frequently, reliably, and quickly—so you can get your applications to market fast. The focus is on WebSphere Application Server Version 5.1, but much of the information applies to other versions.
Coverage includes
Installing, testing, and managing WebSphere Application Server environments: clustering, security, messaging, integration, and more
Deploying and managing key J2EE technologies: JDBC, Connectors, EJB, container managed and message driven beans, transactions, JMS, JavaMail, and more
Deploying highly available, scalable multi-node WebSphere Application Server environments: clustering, distributed session management, and edge components
Advanced considerations: working with Java Management Extensions, caching, and much more
Performance-tuning tools
Troubleshooting
Leveraging key WebSphere deployment and administration tools: ANT, wsadmin, Admin Console, and the Application Server Toolkit
Advanced discussions of J2EE and architectural concepts you need to deploy successfully—with practical examples
© Copyright Pearson Education. All rights reserved.
Source Code
Download the Source Code related to this title.


Online Sample Chapter
IBM WebSphere Session Management
Downloadable Sample Chapter
Download the Sample Chapter related to this title.


Table of Contents
Foreword.
I. INTRODUCTION TO WEBSPHERE AND DEPLOYMENT.
1. Introduction.
Who Should Read This Book.
Why Concentrate So Much on Deployment?
How This Book Is Organized.
Introduction to WebSphere.
Conclusion.
2. J2EE Applications.
Understanding J2EE and J2EE Applications.
J2EE Packaging.
EAR File.
Deployment Descriptors.
EAR Deployment Descriptors.
Conclusion.
3. WAS Quick Start.
Overview of Applications Used Throughout This Book.
WAS Deployment Quick Start.
Configuring a File Sample Security Registry.
Deploying Applications to WAS.
Verify Deployment.
Conclusion.
4. Build and Deploy Procedures.
Procedures Matter.
Development and Build Terminology.
Build and Deployment Models.
Assemble Connection Model.
Assemble Export Model.
Assemble Server Model.
Automation.
Build Automation.
Deployment Automation.
Combining Build and Deployment Automation.
Configuration Automation.
Adding Configuration Automation to Build and Deploy Automation.
Conclusion.
5. WebSphere Application Server Architecture.
Runtime Architecture.
Application Clients.
Administration Clients.
WebSphere Architecture Terms.
WAS Resource Scope.
Classloaders in WebSphere.
JNDI in WAS.
Logging and Tracing in WAS.
Conclusion.
Part II. J2EE DEPLOYMENT AND ADMINISTRATION.
6. J2EE Web Applications and the Web Container.
J2EE Web Application Technologies.
Servlets.
Java Server Pages.
Filters and Life-Cycle Listeners.
J2EE Web Application Characteristics.
HTTP Session.
WAS Web Container.
Web Container Components.
Web Application Descriptors and Packaging.
Web Deployment Descriptors.
Packaging Web Application in WAR Files.
Automation.
Examining the Build Scripts.
Running the Build Process.
Conclusion.
7. JDBC as a Resource.
JDBC and J2EE Services.
Resource References.
JDBC Object Types.
JDBC Provider/Driver.
JDBC Data Source.
JDBC Connection.
JDBC Connection Pool.
SQLJ.
JDBC Isolation Levels.
J2EE Connector Architecture.
Resource Adapter.
Automation.
Examining JDBC wsadmin Scripts.
Running the Build and Deployment Process.
Conclusion.
8. J2EE Connector Architecture.
J2C Architecture.
J2C Resource Adapters.
J2C System Contracts.
J2C Common Client Interface.
WAS J2C Implementation.
WebSphere Relational Resource Adapter.
CICS Resource Adapter.
Conclusion.
9. Enterprise JavaBeans.
Introduction to Enterprise JavaBeans.
Enterprise JavaBean Types.
Enterprise JavaBean Elements.
Enterprise JavaBean Deployment with WAS.
Enterprise JavaBean Module.
Build and Deployment Analysis.
Conclusion.
10. CMP and Advanced EJB Settings.
Understanding CMP 2.0.
Abstract Schema.
Container Managed Relationships.
EJB Query Language (EJB-QL).
WebSphere Persistence Architecture.
Bean and Data Caching.
Configuring the Bean Cache.
Configuring Entity Bean Cache Options.
Configuring EJB Data Cache.
Distributed Cache Synchronization.
Dealing with Isolation Levels in CMP.
Access Intent.
Application Profiling.
Schema Mapping.
So Why Does the Deployer Care?
Automation.
Conclusion.
11. Transactions with WebSphere Application Server.
Introduction to Transactions.
ACID Properties.
Transactional Scope.
Distributed Transactions.
J2EE Applications and Transactions.
J2EE Transaction Model.
Using Transactions.
WebSphere Application Server Transaction Manager.
WebSphere Transactional Enhancements.
Distributed Transaction Failure Recovery.
Advanced Recovery Considerations.
Transaction Performance.
Transaction Troubleshooting.
Conclusion.
12. JMS and Message Driven Beans.
Understanding JMS and Message Driven Beans.
Understanding Messaging.
Java Messaging Service.
Transactional Behavior in JMS.
JMS in WebSphere Application Server.
JMS Providers.
Message Driven Beans.
Message Driven Bean Configuration.
JMS Security.
Automation.
Defining JMS Configuration with wsadmin.
Run the Build Deployment Process.
Conclusion.
13. Other Resources.
URL Resources.
URL Resources and Properties Files.
Creating a URL Resource with wsadmin.
JavaMail.
Mail Providers.
JavaMail Tips.
Creating a Mail Session with wsadmin.
Conclusion.
14. Client Applications.
What Is a "Client Application?".
Types of WAS-Supported Client Applications.
Client Application Examples.
WAS Application Clients CD.
J2EE Clients.
J2EE Client Packaging.
J2EE Clients and Resources.
Running J2EE Clients.
Thin Clients.
Pluggable Clients.
Applet Clients.
ActiveX Clients.
Conclusion.
III. MANAGING WEBSPHERE APPLICATION SERVER INFRASTRUCTURE.
15. Advanced Considerations for Build.
Application Packaging.
Understanding J2EE Packaging.
Sharing Common EJBs.
Sharing Utility Code.
Verification in Large Development Environments.
Conclusion.
16. Ideal Development and Testing Environments.
Ideal Development Environments.
Environment Stages.
Development Environment.
Development Integration Runtime.
System Test.
Performance/Load Test.
Pre-Production.
Production.
Process Matters.
Tools.
Load Tools.
Application Monitoring.
Troubleshooting.
Reducing Costs.
Pre-Production Staging.
System Test.
Performance Test.
Development Integration Test.
Conclusion.
17. JMX in WebSphere Application Server.
An Introduction to JMX.
Instrumentation Layer.
Agent Layer.
Distributed Services Layer.
JMX in WebSphere Application Server.
WAS MBeans via the MBeanInspector.
wsadmin MBean Access.
Writing Java Clients to Access MBeans.
Custom MBeans in WAS.
MBean Security.
JMX in WAS-Network Deployment.
JMX Communication in WAS.
Conclusion.
18. Security.
Why Security?
Limits and Reality.
Social Engineering.
WAS Security Architecture.
Authentication.
Authorization.
Advanced Considerations for Security Configuration.
Hardening Security.
Total System View–The Details Matter.
Infrastructure-Based Preventative Measures.
Application-Based Preventative Measures–Configuration.
Application-Based Preventative Measures–Design/Implementation.
Troubleshooting.
Conclusion.
19. WebSphere Caching.
Caching Opportunities.
Caching Implications on Performance.
Caching Static Files.
Static File Handling.
Browser Caching.
Web Server Caching.
WAS Plug-In Static Caching.
Dynamic Caching.
Dynamic Caching Options.
Dynamic Caching Concepts.
Planning for Caching.
Caching Further Out.
External Caches.
Web Tier Dynamic Caching.
Caching at the Edge.
Advanced Caching Topics.
Data Replication Service (DRS).
Troubleshooting Caching Problems.
Conclusion.
IV. WEBSPHERE APPLICATION SERVER NETWORK DEPLOYMENT.
20. WAS Network Deployment Architecture.
WebSphere Architecture Terms.
Server.
Node.
Cell.
Cluster.
Managed Processes.
Runtime Architecture.
Deployment Manager.
Node Agent.
Application Server.
JMS Server.
Administration Clients.
Web Services Gateway.
UDDI Registry.
Edge Components.
ND Cell Administration.
Cell Creation.
Namespace.
Persistent Namespace Bindings.
Distributed Replication Service.
DRS Concepts.
DRS Topologies.
DRS Configuration.
Conclusion.
21. WAS Network Deployment Clustering.
WebSphere Clustering Architecture.
Hardware Clustering.
WAS-ND Clustering.
Web Container Failover.
EJB Container Failover.
Weighted WLM.
Creating WebSphere Application Server-ND Clusters.
Application Installation and Maintenance.
Application Deployment Considerations.
Application Installation.
Application Maintenance.
Hardware Clustering and WAS-ND.
Other Components.
Firewall.
Database Server.
LDAP Server.
WAS-ND Administrative Runtime.
Node Agent High Availability.
Deployment Manager High Availability.
Topologies.
More Cells Increase Availability.
Conclusion.
22. Session Management.
Introduction to HTTP Session.
Session Tracking.
Cookies.
URL Rewriting.
SSL ID Tracking.
The Session API.
WAS Session Management Configuration.
Local and Distributed Session Options.
Distributed Sessions.
Session Tuning and Troubleshooting.
Conclusion.
23. WebSphere Edge Components.
Edge Topology.
Edge Devices.
Load Balancers.
Proxy Server.
WebSphere Edge Components Review.
Load Balancer.
Caching Proxy.
WebSphere Edge Components Implementation.
Load Balancer.
Topology Patterns on the Edge.
Conclusion.
V. Problem Determination and Server Tools.
24. Problem Determination.
Problem-Solving First Steps.
Problem Definition.
Understand the Problem.
Problem Validation.
Environment Validation.
HTTP Server Problem Determination.
Elsewhere Around the Infrastructure.
WAS General Problem Determination.
Console Messages.
WAS Logs.
Active WAS Problem Determination.
WebSphere Support and Related Utilities.
When All Else Fails.
Reproducing the Problem.
Building a Team.
Problem Determination Tools.
Power Tools.
WAS Minor Tools.
Problem Prevention.
Conclusion.
25. Performance Tuning Tools.
WAS Performance Monitoring Infrastructure.
Enabling PMI.
WebSphere-Supplied PMI Clients.
Performance Monitoring Servlet.
Tivoli Performance Viewer.
PMI Request Metrics.
Performance Advisor.
Runtime Performance Advisor.
Other Performance Tools.
WebSphere Thread Analyzer.
WebSphere Request Queues.
Performance Tuning in Practice.
Step 1–Construct a Throughput Curve.
Step 2–Test with the Performance Advisor.
Step 3–Validating the TPV Suggested Changes.
Step 4–Drill Down into Problem Components.
Step 5–Tune the Runtime or Change the Application.
Step 6–Repeat as Required.
Other Performance-Tuning Scenarios.
JVM Heap.
Pools.
Third-Party Tools.
Load Generation Tools.
Monitoring Tools.
Conclusion.
VI. APPENDIXES.
Appendix A. ANT WITH WEBSPHERE APPLICATION SERVER.
ANT Overview.
WebSphere Application Server ANT Tasks.
Common Attributes.
Assembly Tasks.
Deployment Tasks.
Administrative ANT Tasks.
Web Service ANT Tasks.
WebSphere Studio ANT.
Conclusion.
Appendix B. Deployment Checklist.
Testing.
Security
Environment.
Deployment Process.
Administration.
Appendix C. Setup Instructions for Samples.
Getting Products and Samples.
Installing Software.
WebSphere Application Server.
Application Server Toolkit.
WebSphere Studio Application Developer.
DB2 Universal Database.
Installing CVSNT.
Setting Up Examples.
Extracting WASDeployBook.zip.
Setting Up WSTRADE Database.
Viewing Source Code and Model Scripts in WebSphere Studio/ASTK.
Conclusion.
Appendix D. Web Services Gateway Clustering.
Web Services Gateway Overview.
Web Services Gateway and Channel Installation.
Web Services Gateway and Channel Configuration.
Web Services Gateway Configuration Cloning.
HTTP Server Plug-In Configuration.
Conclusion.
References.
Index.
Foreword
Just as there are two sides to every coin, there are two sides to each WebSphere project. And just as you can't have one side of a coin without another, you can't leave off one half of your WebSphere project and expect the other to succeed. I'm speaking, of course, about the two major roles involved in J2EE projects—not only application developers (or J2EE programmers) but also the role that's most often overlooked—the application deployer.
The bookshelves of any large bookstore will be well laden with books on how to develop code for J2EE application servers. In fact, most bookstores will have several that I've contributed to. It's easy for a developer to find a good, reliable source of information on how to do his job. However, that's not quite the case with a WebSphere deployer.
Why is this true? Well, I believe that one reason is that even though J2EE has always defined the different roles like deployer and system administrator, the emphasis has always been on the development role because it is the one that the authors and readers of the J2EE specs identify with the most.
This book is one of the first efforts to address this inconsistency. You see, the issue is that deployment is difficult—in many ways, planning and executing a successful application deployment is as difficult as developing the application itself. There are a myriad of issues to consider—is your topology sufficient to meet your application performance needs? Are both your network and applications secured from external intrusion and unauthorized internal access? Do you have a plan for managing upgrades to your application and to the software (application servers, databases, third-party libraries) on which your application depends? If you don't have the right answer for any of these questions, your application will not meet your user's needs, no matter how well it's written. Unfortunately, WebSphere system administrators and deployers often get the short end of the stick when educational resources are assigned. While it's often easy in many development shops to obtain authorization for a class on J2EE development, it's often harder to find a good class on administration and harder to justify the expense. Thus, there exists an urgent need for guides like the book you now hold.
This book is a wonderful resource; not only does it contain detailed instructions on how to carry out the real work of building and deploying applications, but more importantly, it also provides a wealth of information on best practices for application deployment.
I have immense respect for the authors of this book—they are the true experts in their field. When someone needs an answer on application security, topology design, or deployment, no group is more qualified to provide it than the authors assembled for this book. They've done a great job of capturing that knowledge here, and I'm sure you'll benefit from it. So sit back, grab a cup of coffee, and start reading—you'll find that the process of building and deploying your WebSphere applications will be better as a result.
Kyle Brown
Senior Technical Staff Member
IBM Software Services for WebSphere
Author of Enterprise Java Programming with IBM WebSphere, Second Edition
© Copyright Pearson Education. All rights reserved.
FREE

ONE MONTH ACCESS!
WITH PURCHASE
---
Get unlimited 30-day access to thousands of Books & Training Videos about technology, professional development and digital media If you continue your subscription after your 30-day trial, you can receive 30% off a monthly subscription to the Safari Library for up to 12 months.
Other Things You Might Like
eBook (Watermarked) $41.59
eBook (Watermarked) $35.19