Home > Store > Home & Office Computing > The Web/Virtual Worlds/Social Networking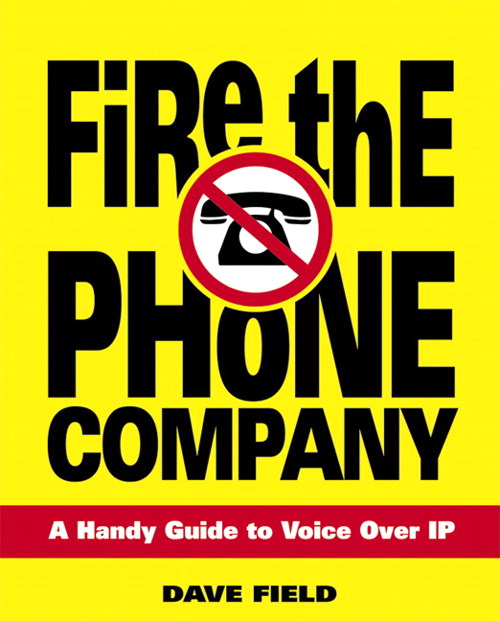 Fire the Phone Company: A Handy Guide to Voice Over IP
eBook (Adobe DRM)
Your Price: $15.99
List Price: $19.99

ℹ This eBook requires the free Adobe® Digital Editions software.

Before downloading this DRM-encrypted PDF, be sure to:

Install the free Adobe Digital Editions software on your machine. Adobe Digital Editions only works on Macintosh and Windows, and requires the Adobe Flash Player. Please see the official system requirements.
Authorize your copy of Adobe Digital Editions using your Adobe ID (select AdobeID as the eBook vendor). If you don't already have an Adobe ID, you can create one here.
Copyright 2006
Dimensions: 7-3/8 X 9-1/8
Pages: 200
Edition: 1st
eBook (Adobe DRM)
ISBN-10: 0-321-50232-9
ISBN-13: 978-0-321-50232-2
Longing to break free from the phone company's tethers? This is the place to start! Realizing that VoIP is still just an acronym to many (and an intimidating one at that), author Dave Field speaks squarely to you, the consumer, demonstrating that you don't have to be a technologist to start achieving significant savings through Internet phone services. Keeping acronyms to a minimum, introducing important terms in sidebars, and using anecdotal accounts of real-world installations to personalize the subject, this guide provides everything you need to know to evaluate, select, and install VoIP systems. After learning just what VoIP is and how it came into being, you'll quickly get down to the nitty-gritty with chapters on choosing a phone service, planning for VoIP, installing the equipment, setting up service, common VoIP problems (and their solutions!), security, getting the best value from VoIP, traveling with VoIP, and the future of VoIP. Scattered throughout, you'll find plenty of tips and sage advice to ease the way.
